Christian traditions in Malta and Gozo are as ancient as those of Ephesus, Jerusalem, Corinth, and Rome itself.
Need an idea for Lenten almsgiving?
Help us spread faith on the internet. Would you consider donating just $10, so we can continue creating free, uplifting content?
Make a Lenten donation here
"Of all the gifts brought to these shores in the course of your people's history," Pope Benedict XVI told the Maltese when he visited the country in 2010, "the gift brought by Paul was the greatest of all, and it is much to your credit that it was immediately accepted and treasured."
Benedict was referring to the famous passage in the Book of Acts commonly referred to as Paul's Shipwreck, and the saint's meeting with Publius, the chief of the island who eventually became its first bishop. The text reads:
Once safely on shore, we found out that the island was called Malta. The islanders showed us unusual kindness. They built a fire and welcomed us all because it was raining and cold.  Paul gathered a pile of brushwood and, as he put it on the fire, a viper, driven out by the heat, fastened itself on his hand. When the islanders saw the snake hanging from his hand, they said to each other, "This man must be a murderer; for though he escaped from the sea, the goddess Justice has not allowed him to live." But Paul shook the snake off into the fire and suffered no ill effects. The people expected him to swell up or suddenly fall dead; but after waiting a long time and seeing nothing unusual happen to him, they changed their minds and said he was a god. 

There was an estate nearby that belonged to Publius, the chief official of the island. He welcomed us to his home and showed us generous hospitality for three days. His father was sick in bed, suffering from fever and dysentery. Paul went in to see him and, after prayer, placed his hands on him and healed him. When this had happened, the rest of the sick on the island came and were cured. They honored us in many ways; and when we were ready to sail, they furnished us with the supplies we needed.

Acts 28:1-10.
St. Paul
Paul was shipwrecked off the northwestern coast of Malta on his way to trial in Rome in the year 60. He was forced to spend the winter months there. It was during those three months when he established the roots of Maltese Christianity — Christianity in the archipelago thus being as ancient as in Ephesus, Jerusalem, Corinth, and Rome itself.
As professor Stanley Fiorini (Senior Research Fellow, University of Malta; Emeritus Professor of Mathematics) once explained to Aleteia, this uninterrupted two-millennia-long tradition of rich Christian heritage is not so well known for a number of reasons.
"First of all," Fiorini explained, "the minuscule size of the island (a mere 100 square miles and an overall population of at most 10,000) does not favor visibility. Furthermore, this aspect of Maltese history has been overshadowed by the more visible Neolithic or Temple Period overground and underground remains — which are indeed disproportionately numerous for the islands' size. The fact that all these prehistoric, archaeological riches date back to 5,500 B.C. is also, incidentally, a reflection of our religiosity — albeit non-Christian in this case."
Now, the Book of Acts states no record of Paul making any conversions among the Maltese, but it documents his performing many miracles of healing. Again, Fiorini explains that "imagining the energetic, mercurial Paul sitting idle for three months twiddling his thumbs and not raising a finger to preach the Gospel is simply inviable."
Marinella Bandini | ALETEIA
And whereas it is true that Christianity in the islands did not spread like fire (there is clear evidence of pagan religions still doing well in the 2nd century), it is also true that by the 4th century Christian communities were thriving in the archipelago: the earliest and most prominent evidence for Christianity are the catacombs, with their characteristic agape tables.
The fact that Christianity has been in Malta for about as long as it has been on earth implies that the treasures of the Church are also to be found here, namely saints other than Paul.
St. Agatha
Tradition tells us that Agatha, known as Agatha of Sicily, escaped to the neighboring island of Malta in the time before her martyrdom around the year 251.
Naturally, the young virgin sought out a place to pray, finding a cave where she spent time in communion with her Divine Spouse. This site became a church already in the 3rd century and catacombs developed in the following century.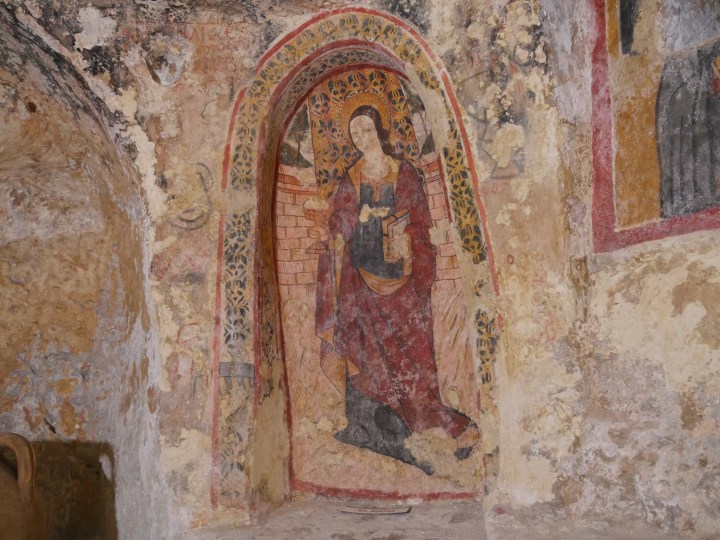 The story of Agatha is mostly known for her gruesome torture and martyrdom, including the severing of her breasts. But tradition states that she escaped from Sicily to Malta for a time, living in today's Rabat, which used to be part of Mdina – then called Melite, from the Greek word meaning honey.
Devotion to Agatha, thus somehow a hometown martyr, endured on the island down through the centuries. In the 1500s, it took a leap forward when she was said to have saved the Maltese during an attack of the Ottomans.
A cloistered nun in Mdina told the islanders to take a statue of Agatha to the bastions of the city and the Ottomans would be repelled. With this success, Agatha was praised for her patronage of the island.
"The Maltese always ask the protection and intercession of St. Agatha," affirms Br. Dominc Borg, the caretaker of her catacombs, adding that the Maltese attribute to her intercession that they were saved from the attack.
She is considered a patron of the island and is still much beloved today, especially by those seeking healing from breast cancer. Each year a Mass is celebrated in petition and thanksgiving for those who are suffering from this illness.
St. Helena of Constantinople
Maltese devotion to other early saints, besides Paul and Publius, is witness to the millennia-long Christian tradition of the archipelago. That is the case of St. Helena of Constantinople. She was married to the Roman emperor Constantius I Chlorus, who renounced her for political reasons. When her son Constantine I the Great became emperor at in 306, he made her empress, and under his influence she later became a Christian. She was devoted to her eldest grandson, Crispus Caesar, whom Constantine made titular ruler of Gaul, but a mysterious embroilment in the imperial family culminated with the execution of Crispus and Fausta, Constantine's second wife and Crispus's stepmother. Thereafter, the story became current that Fausta had accused Crispus of attempting to seduce her — hence Crispus's execution in 326. When the deceit was discovered, Fausta, in turn, was either executed or took her own life. 
Under the weight of this family tragedy, for both political and devotional reasons, and to make expiation for the sins of her family, Helena made a pilgrimage to the Holy Land. She caused churches to be built on the reputed sites of Christ's Nativity (in Bethlehem) and Ascension (near Jerusalem).
Reverend Nicholas Doublet, quoting Fiorini, explains that in Bormla "there is a partially troglodytic [cave] church, which goes back to at least the 7th century, and a harbor city in the south east of Malta known also as Città Cospicua, dedicated to St. Helena."
In this church, a Latin inscription survives, while a Greek inscription that once was inscribed around the pediment of the church has been destroyed. "Fiorini," Doubet explains, "ties the Greek inscription, which had been copied by Ciantar and published in his Malta illustrata in 1772, to Theodorus, the exiled nephew of Emperor Heraclius. He was exiled to Gaudomelite in 637AD, accused of having conspired against his uncle."
Fiorini also highlights that not just any Tom, Dick and Harry in 7th-century Malta would have been responsible for having a prayer of dedication in Greek sculpted on a church pediment. Being the former Emperor's own nephew, he was a sufficiently important person to be able to carry out the enterprise that may have consisted not only in erecting the inscription but also in establishing the church of St. Helena. The dedication of the church to St. Helena (Emperor Constantine's mother) is also very appropriate.
St. George
On Gozo, the tiny sister island to Malta's north, St. George is a favorite, celebrated in the third week of July.
"The first thing that parents teach their children after 'mama' and 'papa,' would be 'Viva St. George,'" says George Frances Vella, a local historian. After that, he says, a hymn to St. George, sung in the local Maltese language, is the next thing children learn.
"We are Christian by faith, we are Roman Catholic by denomination, if I can call it that, but we are Georgiani, which means we belong to St. George. Although he is a saint who lived 1,700 years ago and we hardly know anything about him … there is a sense of identification with him that is so strong, we consider ourselves Georgiani … as if he is the grandfather of the family."
Vella noted how Mary Meilak, the first Maltese woman to publish a book of collected poetry, and a native of Gozo, has a poem in which she refers to St. George as a member of the family.
St. Catherine of Alexandria
Certain countries are placed on the planet in such a strategic place that their history is bound to be one of changing sovereignty and power. Such is very much the case for Malta.
Not long after the turn of the first millennium, under Norman rule, Christianity regained ground in Malta from Islam.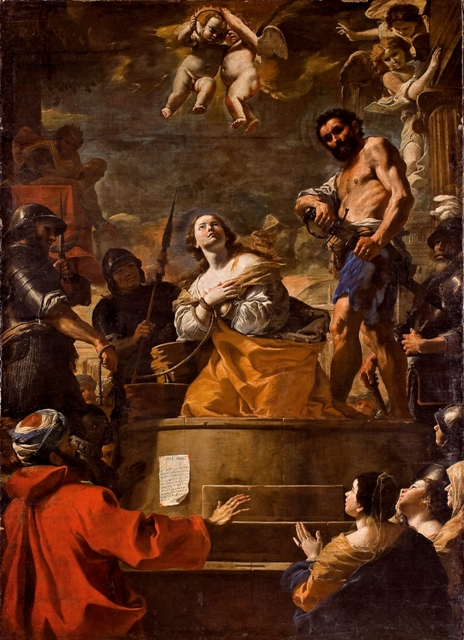 Historian Reverend Gino Cauchi explains:
"With the arrival of Byzantine monks, Eastern saints are brought to Malta, and among them is Catherine of Alexandria. (Michael the Archangel and Nicholas of Myra are also important arrivals.)
Not only the church but also the town of Żejtun is dedicated to Catherine, and on old maps, it is known as the Town of Catherine. 
When the Knights Hospitallers arrive from Rhodes some centuries later, they also bring devotion to Catherine, and in fact the church in the newly established Valletta after the Great Siege, facing Our Lady of Victory and only separated by a few feet, is dedicated to Catherine."
Other saints
While certain saints have especially captured the hearts of the Maltese through the centuries, in a land as Catholic as the island, it's to be expected that any number of the Church Triumphant would win devotion.
The love of the Maltese for our older brothers and sisters is reflected in churches, of course, but also in much smaller signs of devotion. The corners of the streets of Valleta are signs of the enthusiasm of those who lived (or still live) in the homes or convents of the block. And on house after house, visitors will find the particular devotion of the resident manifested in a plaque or statue hanging by the front door.
One of the winsome characteristics of such devotion to the saints is the chance to find unique signs of homage.
Just one example in this regard suffices:
At Qormi, one can find an image depicting a father holding an infant in his arms. At first glance, a visitor would assume the statue represents Joseph and Baby Jesus. But no. This is in fact Jesus' grandfather, Joachim, and Baby Mary.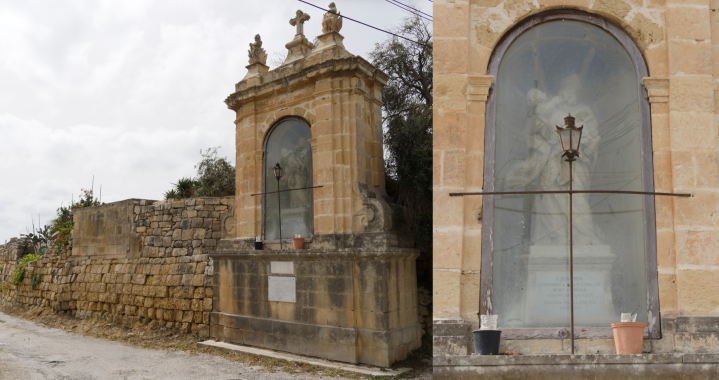 This content has been brought to you in partnership with the Malta Tourism Authority