His astonishing progress after the never-before-seen surgery has even amazed the scientific community.
What can God do in your life with one Bible verse a day?
Subscribe to Aleteia's new service and bring Scripture into your morning:
Just one verse each day.
Click to bring God's word to your inbox
After being electrocuted at his workplace, Felix Gretarsson had to have both arms amputated at the age of 26. The first man in the world to have both arms transplanted (the operation took place in January 2021 in Lyon, France), he is gradually recovering his ability to make everyday gestures.
An electrician in Iceland, he was electrocuted while repairing a high-voltage line supplying more than 500 homes. Perched 30 feet in the air, he was thrown to the ground. The fire consumed his hands, but he felt nothing. In a state of shock, he felt no pain in his spine and neck, broken in three places. "It was not a good morning," he told Stefan Mitchell, a reporter for 7News. He was placed in an induced coma for three months, and underwent no less than 54 operations. To save his life, the doctors had to cut off both his arms.
A long descent into hell
This accident turned his life upside down. When doctors reduced his dosage of painkillers, he became addicted to other substances. "I had smoked some weed before but this is where it kind of went, just took over," he told Daily Mail reporter Bridie Pearson-Jones. He fell into a downward spiral that cost him his job and his relationship. His drug abuse damaged his liver and complicated his condition, Mitchell reports. He couldn't even visit his young daughters anymore.
He finally had a moment of clarity and decided to enter a drug rehabilitation center. Because of his liver condition, he told 7News, "They couldn't give me drugs to help me come down. So it was just cold turkey. It took three months to detox me." Once he overcame his addictions, he was able to get a liver transplant. He was on his way back to a more normal life.
Eventually, he managed to convince a French surgeon, Jean-Michel Dubernard, a pioneer in transplant surgery, to perform a never-before-seen transplant of both arms. The operation, which lasted 15 long hours, took place in January 2021 in Lyon.
The Daily Mail reports the surprise of the scientific community in reaction to his astonishing progress after the surgery. Indeed, although the doctors estimated that, with the nerves growing at the normal average of one millimeter per day, he would be able to regain the use of his hand in two years, he started to move his fingers only nine months after the operation. 7News reports that "Felix's nerves were growing 5 to 10 times faster." But Felix had to relearn everything.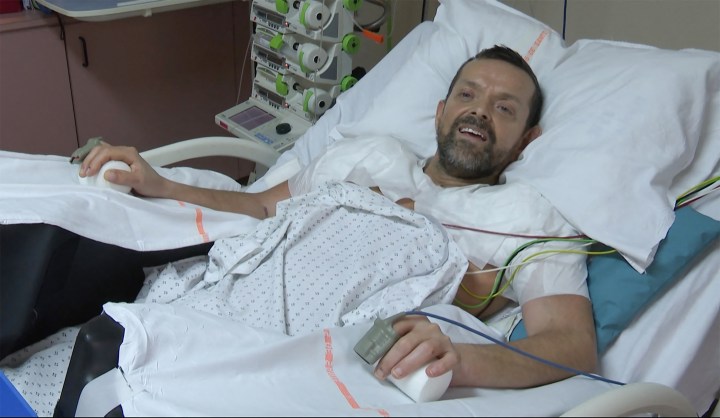 BELLOTA FILMS / FÉLIX GRETARSSON : HOSPICES CIVILS DE LYON / AFP
While he couldn't feel his hands in the first few months, he can now steer his car with his hands, not his feet. He's also learning to use his phone normally. Previously, he had no choice but to use his nose or tongue to write on the screen. To strengthen his hand muscles, he goes to the gym regularly. "I'm not putting any serious weight on, I'm trying to put on muscles but at the same time growing nerves," he told Daily Mail.
A long (re)learning process
Felix still has to overcome many difficulties to get back to his daily routine, but the 49-year-old marvels at the new life he has in front of him every day: "So I'm kind of living in a fairy-tale, there's always something new. Sometimes the bad things that happen to us are the reason the good things can happen to us further down the line. If I hadn't lost my arms I wouldn't be living in France with my wife today," he told Pearson-Jones.
Felix gains more independence every day: "I can go to a café and I don't have to ask somebody to go into my pocket to get the change. To take a shower and just not be dependent on people in these daily tasks …"
He is full of gratitude for all the people who have helped him after his accident, including the many people who donated to help him afford the very expensive surgery and rehabilitation.
He told 7News, "Since my accident in '98, my life has just been one blessing after another. I'm privileged to always receive the goodness of people. And it's a privilege to be an Icelander. We are such a small nation. I mean, we are 360,000 people in total."
He shared a video on Instagram of himself doing everyday things with his new arms. Since he doesn't have full strength and mobility, he struggles at times, but compared to having no arms at all, it's a miracle.