Again: Teresa de Ávila is neither Thérèse de Lisieux nor Teresa Benedicta of the Cross.
What can God do in your life with one Bible verse a day?
Subscribe to Aleteia's new service and bring Scripture into your morning:
Just one verse each day.
Click to bring God's word to your inbox
We all know at least one St. Teresa. But how do we tell one Teresa from another? Whereas there are at least 126 saints and blessed named John, the number of canonized Teresas in the Catholic church is relatively lower. But the (comparatively few) Teresas celebrated in the Liturgical Calendar (or included in the Sanctorale) are tremendously popular, and with good reason. However, their popularity sometimes works against them. All three of the most popular were Discalced Carmelites, thus they wore the same habits! Sohow can you tell Teresa de Ávila from Thérèse de Lisieux, or even from Teresa Benedicta of the Cross?
Distinguishing Teresas can be relatively easy if one understands the basics of Christian religious symbolism and iconography. Some knowledge of both history and hagiography helps too! Most holy men and women who share the same name (think of Isidore of Sevilla, who is oftentimes confused with Isidore the Farmer) are often mistaken for one another. Here, we offer an easy guide to spot a Teresa (or Thérèse) when you see her.
Teresa de Ávila
Teresa of Ávila was born Teresa Sánchez de Cepeda y Ahumada, in Ávila, Castile (hence of Ávila) in the year 1515. She is also called St. Teresa of Jesus, as that was the name she took when she joined the Carmelites. Born in a converso family, she is one of the most (if not the most) prominent Spanish mystic, religious reformer, author, and theologian. In fact, Teresa was the first woman to be declared a Doctor of the Church, by Pope Paul VI in 1970. Active during the Catholic Reformation (the Spanish Contrarreforma), she reformed the Carmelite Orders, including its branches for both women and men. John of the Cross was the first man to join her reform, which became known as the Discalced Carmelites. Being a prominent author, she is often depicted holding a quill in her hand, wearing the Carmelite habit.
Teresa only agreed to pose for a portrait once, when she was 61 years old. When it was finished, Teresa jokingly told the painter, the Carmelite Fray Juan de la Miseria, "May God forgive you, Fray Juan, for you've portrayed me ugly and bleary." Following Juan's portrait, she is typically represented as a relatively mature woman. Bernini's Ecstasy of Saint Teresa, below, is the opposite of Fray Juan's portrait.
Thérèse de Lisieux
Thérèse of Lisieux was born Marie Françoise-Thérèse Martin. Don't let the "de Lisieux" fool you: she was born in Alençon, France, in 1873. Thérèsemoved to Lisieux after her mother died, when she was barely 4 and a half years old.
Thérèse is also known as St. Thérèse of the Child Jesus and the Holy Face, as that was the name that she chose for herself when she joined the Discalced Carmelites. But she is known, perhaps more popularly, as "The Little Flower" — a nickname that alludes to a passage in her memoir, Story of a Soul.
Ten years after her mother died, in 1887, Thérèse approached her 63-year-old father Louis one Sunday afternoon and told him that she wanted to enter Carmel before Christmas. Louis picked a little white flower from the garden they were sitting in and gave it to her, explaining the care with which God brought it into being and preserved it until that day. Thérèse later wrote: "While I listened, I believed I was hearing my own story." To Therese, the flower seemed a symbol of herself, "destined to live in another soil."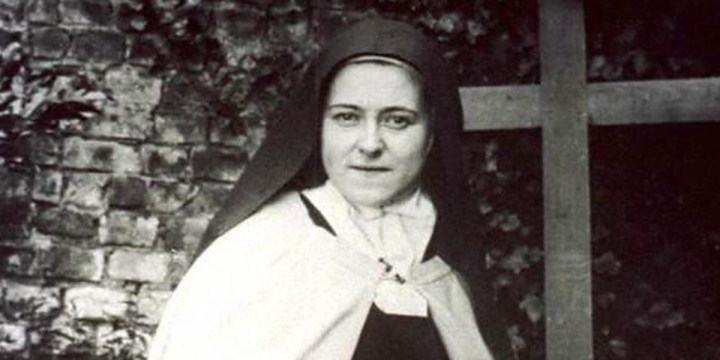 MYCHELE DANIAU | AFP
Whereas sometimes Teresa de Ávila is also referred to as "Teresa La Grande" (the Great One), in French Thérèse de Lisieux is also known as "la petite Thérèse," little Thérèse. In Spanish, she is often called "Teresita," in the diminutive, to distinguish her from Teresa de Jesús. She always represented holding a crucifix covered with roses in her arms. Tradition claims that if you pray a novena to St. Thérèse, she will eventually give you a rose. This reference too comes from a passage in her autobiography.
Shortly before she died, she wrote "my mission, to make God loved, will begin after my death […] I will spend my heaven doing good on earth. I will let fall a shower of roses." Like Teresa de Ávila, she is also a Doctor of the Church.
Teresa Benedicta Of the Cross
Maybe you know her as St. Edith Stein. Her religious name, however, is Teresia Benedicta a Cruce, Teresa Benedicta of the Cross. Born in 1891, shewas executed in Auschwitz, perhaps on August 9, 1942, seven days after she was arrested by the S.S. in the Netherlands. She was a German Jewish philosopher who converted to Christianity and became a Discalced Carmelite nun. Canonized as a martyr, she is one of the six patron saints of Europe.
Edith was baptized in the Catholic Church on January 1, 1922. At that point, she already wanted to become a Discalced Carmelite nun. In 1933, when the German government required an "Aryan certificate" for civil servants as part of its Law for the Restoration of the Professional Civil Service, she was forced to quit her job as a professor at the Institute for Pedagogy at Münster.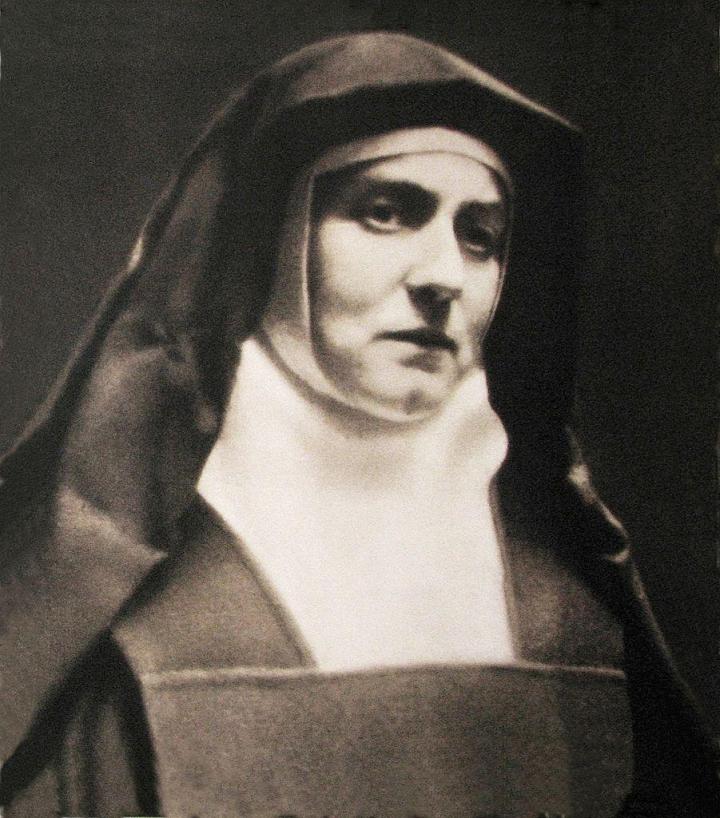 She was admitted as a postulant to the Discalced Carmelite monastery in Cologne that very same year, and received the Carmelite habit in April 1934, when she took the name Teresia Benedicta a Cruce: Teresia, in honor of Saint Teresa of Ávila, and Benedicta, for St. Benedict of Nursia.
She is often represented wearing the Carmelite habit with a yellow magen David (the star of David) on her breast, the Jewish Badge that the Nazis forced all Jews of over six years of age to wear.