At least three different legends try to explain why Christ's right arm is lowered, as if gently gesturing to those who go out to greet him.
What can God do in your life with one Bible verse a day?
Subscribe to Aleteia's new service and bring Scripture into your morning:
Just one verse each day.
Click to bring God's word to your inbox
For several reasons, the Cristo de la Vega is unique. The beloved image is carried in procession through the streets of Toledo, Spain, on Good Friday. Rather than being nailed to the cross, in this depiction Christ's right arm is reaching down, as if gently gesturing to those who go out to greet him.
This image is also paraded every Friday between Easter and Pentecost (seven Fridays in total), commemorating the Seven Last Words. The distinctive pose of the Cristo de la Vega invites the question of why is it that Christ's right arm is not nailed to the cross. At least three different legends try to explain it. In all of them, the sacred image plays the role of either judge or witness, miraculously responding to a request.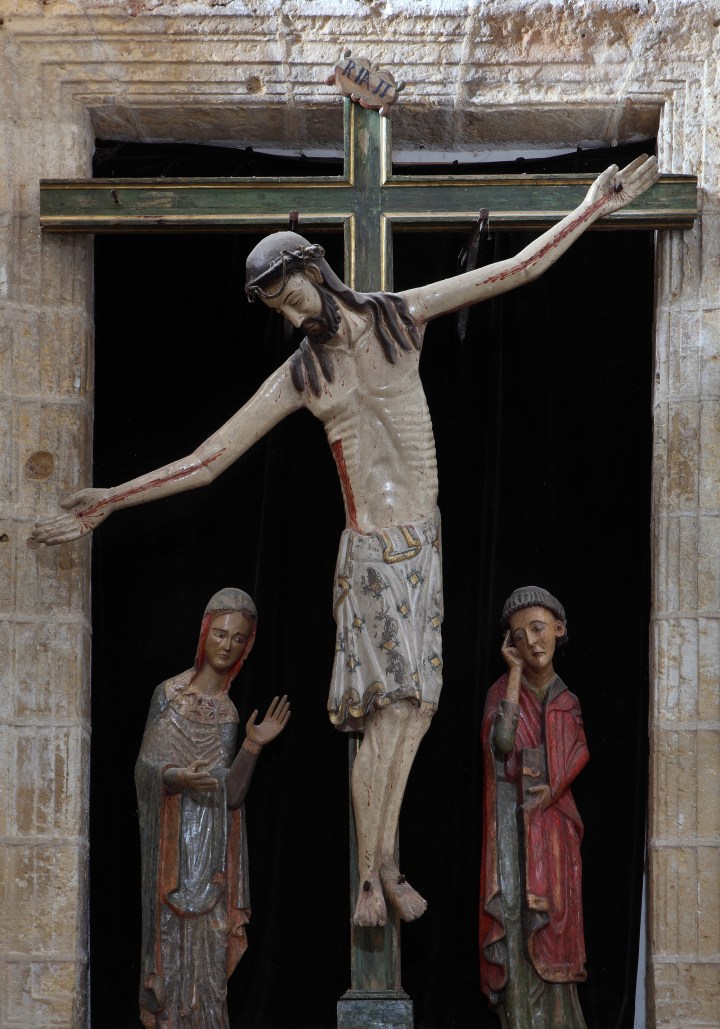 MANUEL COHEN via AFP
Money owed
As Mónica Arrizabalaga explains to ABC, Father Antonio de Quintadueñas wrote a compendium called "Saints of the Imperial City of Toledo" in 1651. His account of the legend of the Cristo de la Vega reads as follows (the translation is ours):
On the main altar of the church, I saw the image of Christ Our Lord. Tall in stature and with a fallen right arm, some claim that a Jew was not willing to pay a certain amount of money to a Christian, arguing he didn't owe him anything, naming the Holy Christ as his witness. In that very same moment, the image took down its arm, pointing at the Christian, implying the debt was real.
The legend of two knights
The 19th-century chronicler Sixto Ramón Parro tells another story. In his book, "Toledo en la mano" (Toledo in your Hands) he claims that two knights held a duel right in front of the hermitage where the image of Christ is preserved. The one who had first insulted his rival immediately fell to the ground, and the victor spared his life. As they walked together to pray before the holy image, the Christ gestured towards the winning knight, lowering his arm in approval for his noble behavior.
An Italian saint
Quintadueñas's compendium suggests that the Cristo de la Vega could be a copy of the one found in the chapel of San Miniato, in Florence. In fact, the story of the two knights might be a variation of this one. Legend has it that, when he was still a soldier, St. Giovanni Gualberto (not to be confused with St. Galgano) took revenge on an old enemy. Once defeated, the man begged for mercy, kneeling with arms outstretched. Gualberto pardoned him and walked into a neighboring monastery to pray before a crucifix. The image lowered its right arm, as if blessing him. Gualberto then became a Benedictine monk.
Leemage via AFP
Another explanation
Inspiring legends aside, art historians explain that the image could have just been part of a sculptural group of a Descent from the Cross (also referred to as The Deposition of Christ), a relatively common motif in European Christian art. Although no other images are preserved, the sculptural group would have included representations of the Virgin Mary, Joseph of Arimathea, and Nicodemus.