The Benedictine monks of the Monastery of Santo Domingo de Silos have left their monastery for the first time in 187 years.
Benedictine monks, who take a vow of stability as part of their religious consecration, are not known to readily leave their monasteries. Forced out by encroaching wildfires, the monks of the the Monastery of Santo Domingo de Silos, located in Burgos Province in Northern Spain, and some 500 other residents of the area, have been evacuated.
The fire, which began Sunday, has affected some 3,000 hectares of land. Thanks to the heroic efforts of Spanish firefighters, the fire has been brought under control and the medieval monastery has been successfully preserved.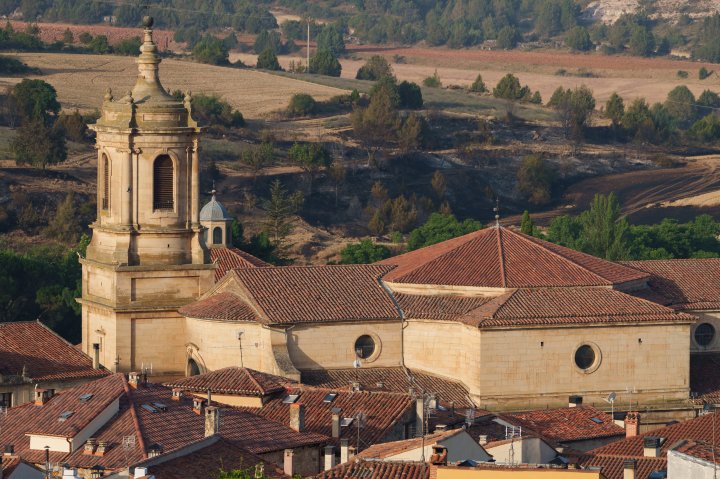 AFP
Reports say that the wildfire has caused significant environmental damage in Teide National Park. The cause of the fire has not yet been reported.
According to the Spanish national weather office, the heatwave that began July 9 combined with drought affecting the entire Iberian Peninsula means that the country faced an "extreme" risk of wildfires. More than 222,358 hectares have been consumed in Spain since the beginning of the year, the European Forest Fire Information System reports. Spain is the country most affected by wildfires on the continent.
The monks are currently being hosted by the nuns of the Benedictine monastery of Santa María in the nearby town of Aranda de Duero.
A renowned monastery
Santo Domingo, which was originally called San Sebastián de Silos, dates to the 7th century, but was refounded by the French Solemnes congregation in 1880. Since that time, the monastery has become renown for its Gregorian chant. Its monks produced a chart-topping album, titled Chant, in 1994. The album spent 53 weeks on the Billboard 200, peaking at number three.
The monastery has been a site of pilgrimage for centuries. The mother of the famous 12th-century Dominican founder St. Dominic de Guzman frequented the monastery, and named her son after its saintly abbot.