"Kindred Spirits" stands as a reminder to always help a friend in need.
In Bailick Park in Midleton, County Cork, there is a beautiful outdoor structure that honors a long-standing friendship between the country of Ireland and the Choctaw Nation.
It might appear strange that the two peoples struck up such a meaningful relationship, considering the thousands of miles that divide them geographically. But it was born out of exceptional circumstances.
I've previously written about the potato famine in Ireland, when nearly one million people starved to death, and how the Choctaw tribe came to the help of the Irish by raising funds to send to the struggling people.
It was an act of kindness that was made all the more meaningful considering many Choctaw hadn't survived the Trail of Tears, when the tribe was forced to leave their ancestral lands and walk 500 miles in harsh winter conditions a few decades before.
Their incredible generosity led to the beginning of a beautiful bond between the two peoples — one that enabled Ireland to reciprocate the generosity of the Choctaw people 173 years later during the COVID pandemic, when so many of the tribe were impacted by the pandemic.
As a result of the enduring friendship, the "Kindred Spirits" structure stands proudly for all to see. It consists of nine giant stainless steel feathers that have been formed in the shape of an empty bowl, representing the gift of food.
"I wanted to show the courage, fragility and humanity that they displayed in my work," shared the creator, artist Alex Pentak.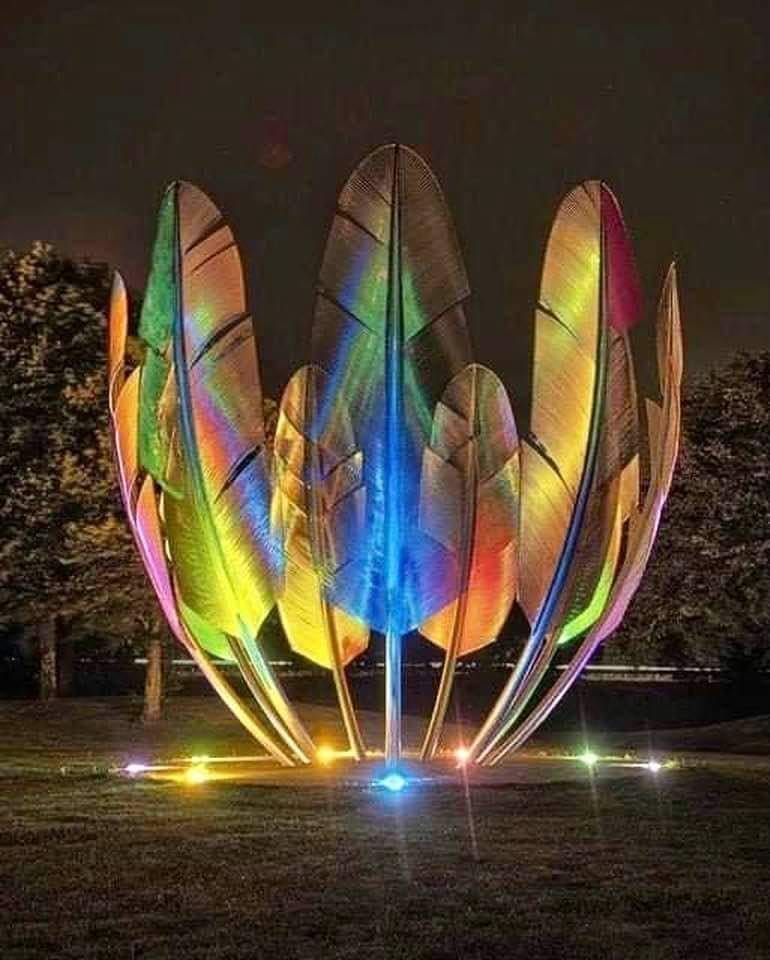 What is particularly beautiful about the structure is how it seems delicate, but there's a sense of strength in the stainless steel. Not only does this refer to the enduring friendship created through difficult times, but reminds us what incredible things humans can achieve when they come together.
The two peoples have used the strength of their friendship to help others suffering from famine. And a former Irish president is even an honorary Choctaw Chief.
The structure is a truly wonderful reminder to us all to always reach out to those in need, even if they're complete strangers from completely different walks of life.