The damages are estimated at $75,000, but the presence of a school on the church property makes the occurrence all the more concerning.
A Catholic church near Denver, Colorado, has been shot at twice in three days in August. The parish is now praying for the conversion of the unknown assailant, who is still at large, and they're tightening their security. The incident is the latest in a trend of vandalism of Church properties that has risen drastically in recent years.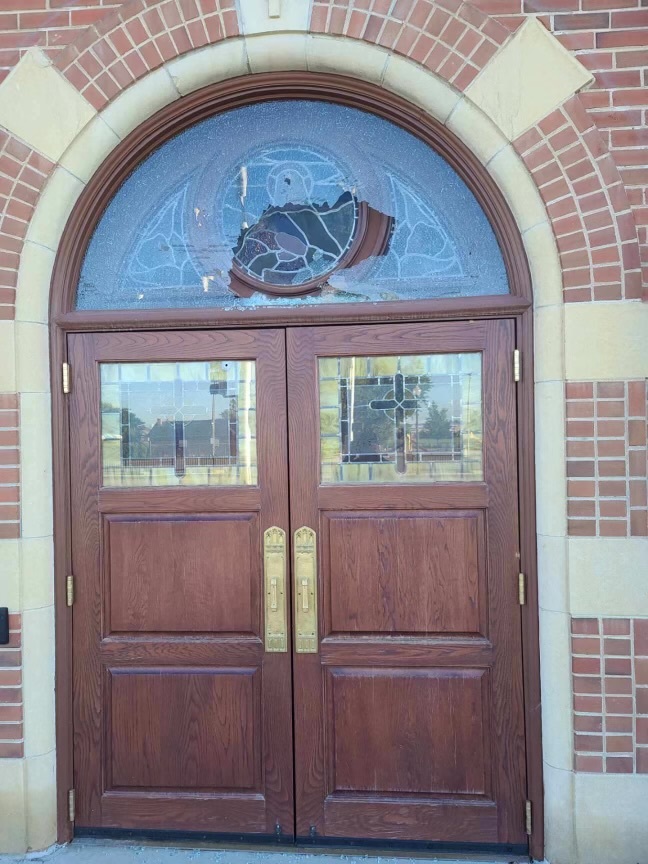 Assumption of the Blessed Virgin Mary Catholic Church | Provided
Shooting
CNA reports that two separate shootings occurred in the early morning hours of August 6 and 8 at Assumption of the Blessed Virgin Mary RC Church. On August 6, security cameras captured footage of an unidentifiable motorcyclist firing a pistol at the church as they past the property. Deacon Derrick Johnson told CNA: 
"These incidents happened after hours," Johnson said. "We don't believe they are targeting people. Just targeting the church for whatever reason."
It was reported that three shots were fired on the first night, leaving two bullet holes in the door and one in the stained glass window set within the door. While searching the scene two of the bullets were discovered and handed over to authorities.
Things were quiet the next night, but on the morning of August 8, parish staff found another fresh bullet had been fired into the stained glass above the door. This bullet broke the protective glass panel protecting the stained glass, but not the artwork itself. The bullet from the second shooting was also recovered. 
Grade school
The doors of the church were custom made for the entryway and it is estimated that the damages to the church stand at around $75,000. The parish was founded over a century ago, in 1912, serving the community as a place of worship and a grade school.
While Deacon Derrick suggested that the assailant was targeting the church and not parishioners, the presence of their Catholic school on the same property makes the incidents all the more concerning. The parish currently has 130 students enrolled in its K-12 program. 
The shootings took place while school was out of session, so no students were in danger and classes were not disrupted. Still, the dangers presented by such violence will be a constant reminder to remain vigilant in the upcoming school year. Deacon Derrick said: 
"Hopefully it's limited to a late-night incident. We will be taking the highest security precautions for the school as we always do." Johnson told CNA, "We are absolutely conscious of security, between our security team and ensuring that we have adequate camera coverage and lighting in front of the parish. We'll do our best to make sure that whoever did this is prosecuted."
The deacon noted that until authorities narrow down a suspect, all the parish can do is pray for this troubled soul. Deacon Derrick also noted that while justice must be served, the church still cares for the assailant. He said: 
"We're praying for whatever is going on in the life of the person who did this," the deacon said. "The parish is here for them."