A short but intense itinerary, the Carthusian Camino can be covered in just two days.
What can God do in your life with one Bible verse a day?
Subscribe to Aleteia's new service and bring Scripture into your morning:
Just one verse each day.
Click to bring God's word to your inbox
The great Carthusian Monastery of Escaladei was founded in 1194 by Alfonso II of Aragón in the north of the Iberian Peninsula, in Catalonia, about two hours away from Barcelona. The charterhouse soon became a local center of economic, political, and spiritual power. In fact, the area — a renowned wine-producing region — is still known as El Priorat (that is, the Priory) in a straightforward reference to this monastery.
Around the 13th century, having received royal protection and important donations from King Jaume I ("the Conqueror"), Escaladei acquired great prestige, including legal feudal jurisdiction over the neighboring towns and lands. In short, the Carthusians promoted economic, social and cultural activity in the area, so establishing a network of routes going to and from the monastery became necessary. This network would eventually become the Carthusian Camino.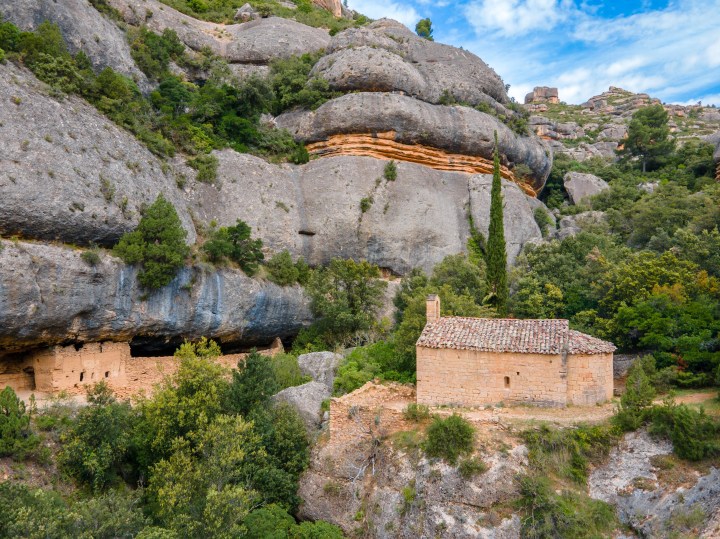 Shutterstock
The first roads leading to the monastery were used by monks and laymen alike to cross the mountains and valleys of what is nowadays the Natural Reserve of Montsant – Catalan for "Holy Mountain." An intricate network of subsidiary roads led to villages, towns, and hermitages that can still be visited. This is how the Carthusian Camino was born. Some of these hermitages, like the Hermitage of Puigcerver, which sits high atop a hill with breathtaking views to the Mediterranean, offer pilgrims room and board services for very affordable prices.
The Carthusian Camino
Tradition claims that the original Carthusian Camino was wide enough as to be used by shepherds when taking their herds down the mountain, all the way to Reus. This path eventually led to the Royal Road, which connected the Mediterranean shore to the northern city of Lleida, a commercial route that remained busy until the 16th century.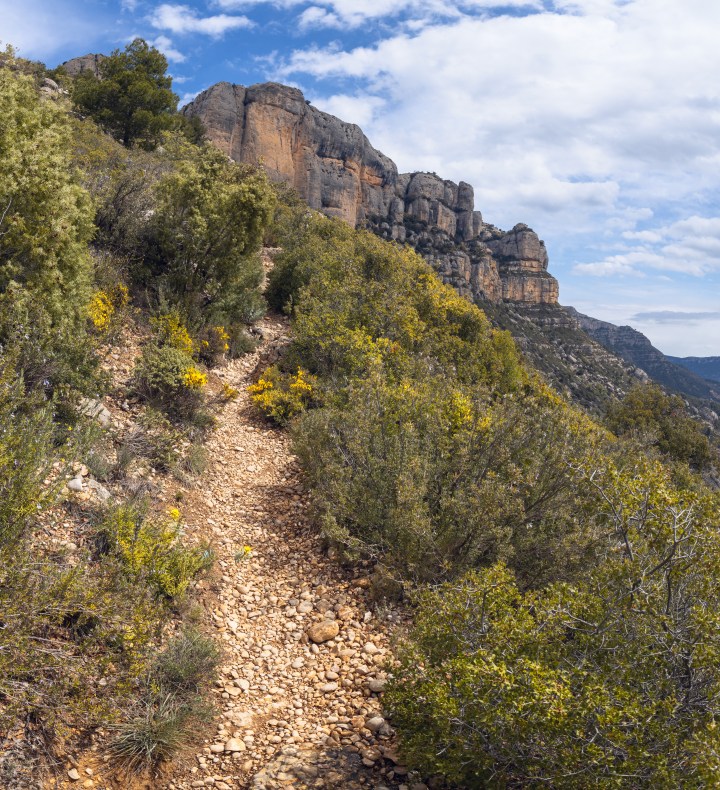 Shutterstock
These old paths and roads are typical of the Iberian landscape and have tremendous historical value today. Walking the Carthusian roads of the Montsant allow the pilgrim-trekker to discover its natural, cultural and spiritual history and beauty.
There are three different itineraries the pilgrim can choose. These itineraries can be done separately or can be combined to cover all the Carthusian Route in just two days ­– an ideal plan for the weekend.   
Day one: the Crossing of the Serra Major, from Cabacés to Albarca, takes the pilgrim through the forests and valleys of the Montsant for about 19 kilometers.
Day two: the Route of the Carthusians properly, is divided into two sections. Section A, which is almost 13 kilometers long, goes from Albarca to the impressive ruins of the Charterhouse of Escaladei. Section B goes from the Charterhouse to Cabacés, for another good 11 kilometers.
The Cartoixa d'Escaladei: God's Ladder
Local legends claim that, as the Carthusians were crossing the Sierra del Montsant, they met a shepherd who told them he saw some angels who were climbing the steep cliffs of the mountain range using a ladder that went all the way up to the clouds. The monks saw this as a sign from God, the shepherd's story resembling that of Jacob's ladder (Gen. 28:11-19).  They thus decided to build their charterhouse there, and call it Scala Dei, "God's Ladder." 
Shutterstock