The former quarterback is ensuring that his students receive more than just his sports knowledge.
There was an unusual sight at the Shrine of the Most Blessed Sacrament, in Alabama, on August 12. The former professional football quarterback Philip Rivers arrived accompanied by 70 students from St. Michael's Catholic High School in Fairhope, where Rivers is now the head coach.
A year before announcing his retirement from the professional football league in 2021, the dad-of-nine shared: " I (had) two childhood dreams. One was playing in the NFL. I still love that. The other was to be a high school football coach as my dad was."
And he is taking his role very much to heart. Not only is Rivers ensuring the athletic progress of his students, he's also seeing to the spiritual needs of his students before a game.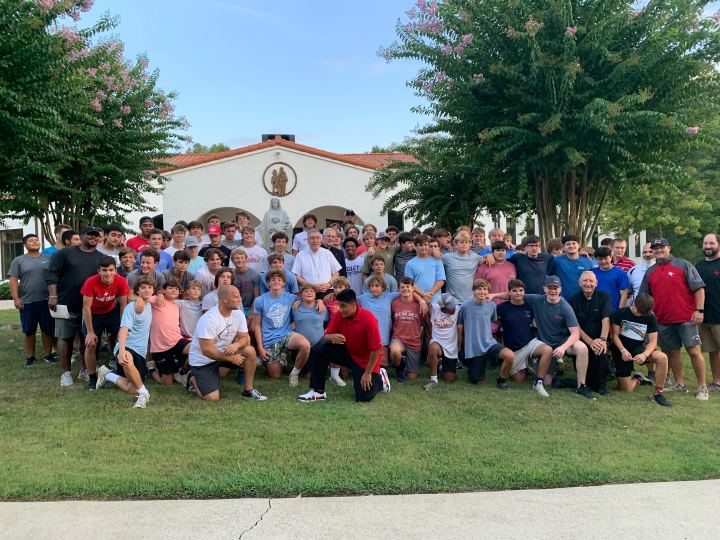 Photo courtesy of Bishop Robert J. Baker
In fact, the 70 junior varsity and varsity football players stopped at the shrine as they were heading to River's high school alma mater, Athens High School, for a pre-season game, according to One Voice. Yet before donning their football gear, the team spent time together camping and then did some team building at the Diocese of Birmingham's Camp Tekawitha in Springville.
En route to the game the team also visited the Cenacolo Community and then the shrine, where they were able to go to a noon Mass celebrated by Bishop Emeritus Robert Baker, spend time in adoration of the Blessed Sacrament, and participate in a talk about Mother Angelica.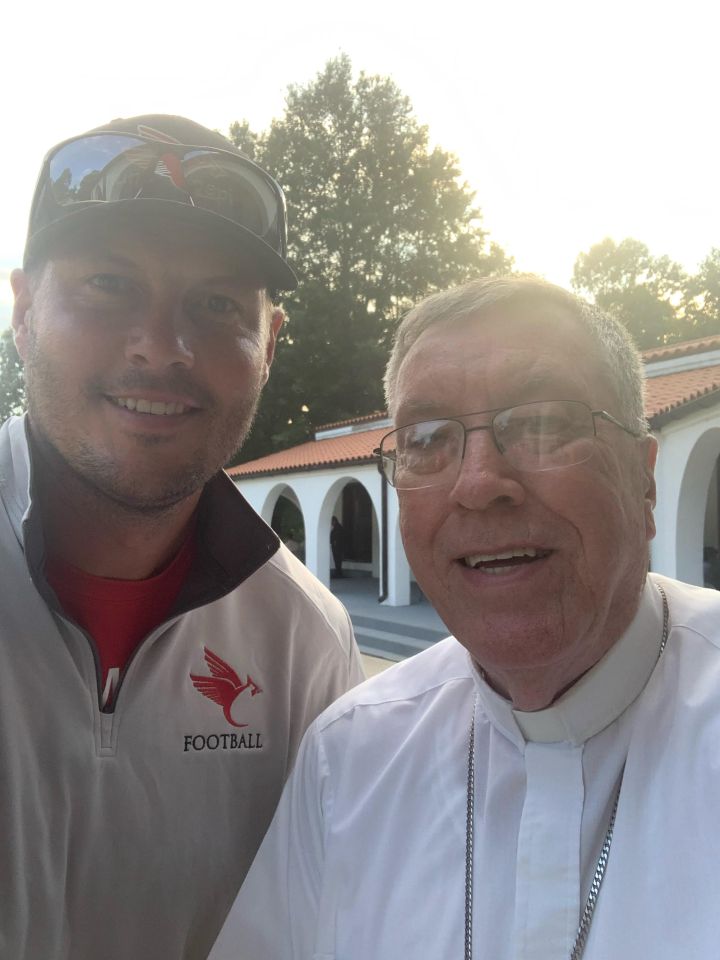 Photo courtesy of Bishop Robert J. Baker
A personal connection
The religious sister is well-known for founding EWTN, but she also founded the shrine after having a vision in Columbia that instructed her to build a temple that would honor the Child Jesus. She was instrumental in making sure the "Romanesque-Gothic architecture and breathtaking art facilitated prayer and worship. [Stating] "Only the best for God," according to the shrine's website.
Rivers shared in a little more detail what the team had been doing, and the personal connection he had with the shrine:
"We've been on kind of camp / retreat: Camp Tekawitha and then over to the Cenacolo Community to visit those brothers there whose stories are so impactful. [They] are fighting to grow and get back on track in their faith and in their lives, and that was very impactful for me, our staff, and our players. Then coming here to the shrine is special for me. … Its special to my family. My wife was a convert and Mother Angelica, tapes, and EWTN were a big part of that."
He continued: "At St. Michael's … we talk about the whole young man, wanting to grow in our faith, in our academics, and on the football field. The Holy Spirit was alive and working here on these young men and hopefully it will have an impact on them in their future."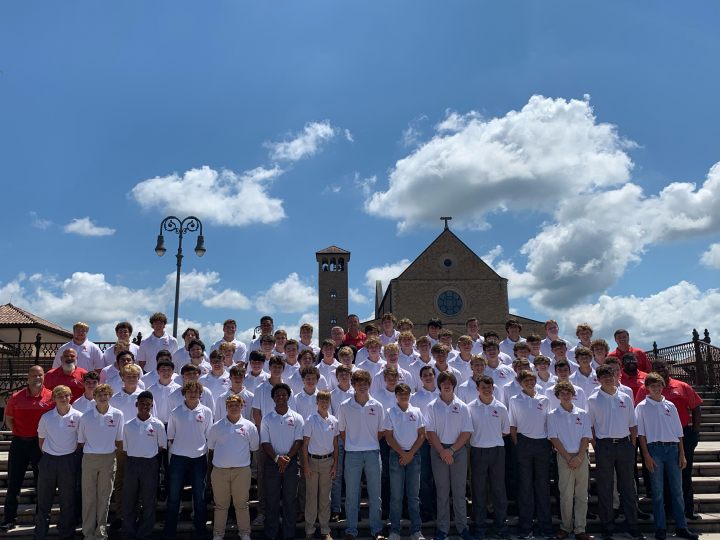 Photo courtesy of Bishop Robert J. Baker
Rivers seems to be truly embracing his role as head coach to the young men at St. Michael's. Hopefully these youngsters can learn not only from their coach's impressive football skills, but also from his deep devotion to God.
In the video below from the shrine's Facebook page, you can listen to Rivers give more detail about the trip: