When she prayed to find creative work she could do from home, God led her down a path she never imagined.
Need an idea for Lenten almsgiving?
Help us spread faith on the internet. Would you consider donating just $10, so we can continue creating free, uplifting content?
Make a Lenten donation here
Many people suffer through an unfulfilling career, but Anna Camacho turned to prayer. For over six years, she asked God to help her find creative work she could do at home. 
The way her prayer was answered revealed that God is faithful in all things.
She had tried a variety of jobs, including working at a seminary, volunteering in a prison, nannying, running the front desk of a dog kennel, and freelance writing. Finally, she was working as managing editor of a theological journal. It was "an amazing organization with fantastic people," she said in an interview with Aleteia, but "I was really unhappy at my job."
Yet the twists and turns of her career all served a greater purpose. "I look back and see how providence led me through those various jobs and prepared me for the many hats I wear now as a business owner."
Camacho learned that St. Joseph is the patron saint of workers and those seeking employment, so she began asking for his intercession. Her hope was to work with her hands and do something creative while working from home, but it seemed like an impossible dream. 
"I went to St. Joseph with this intention over and over again, for six years!" she recalled.
Then, one day during Mass, everything changed in a flash of inspiration. She finally heard an answer to the prayer she'd held for years. 
"While meditating on Joseph's life, I was suddenly given the idea to make Catholic candles with scents directly connected to the lives of different saints. And in that same moment, I had ideas for four saint-inspired scents!"
Anna Camacho
She called it CORDA, the Latin word for "hearts," from the Mass when the priest says, "Lift up your hearts" or "sursum corda." Now she knew what she had to do, but figuring out how to do it was another thing altogether. She was working full-time, so she had to do all her research and development in the odd hours before and after work, on weekends and holidays.
Besides creating custom saint scents, Camacho was also creating a new wax blend, designing candle packaging, building her business's website, and doing "all the millions of other things needed to start a new business and launch new products." It was a crazy time, but she found peace in her certainty that this was what God was calling her to do.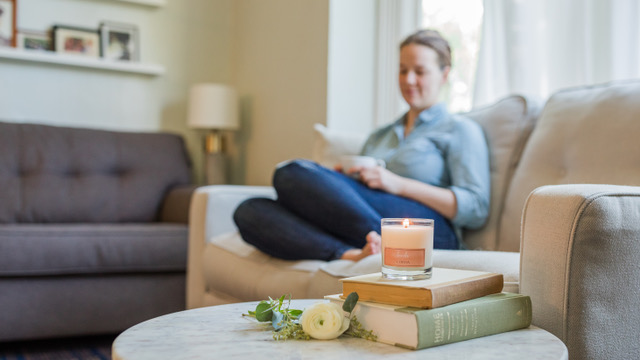 Anna Camacho
"During those years of asking for St. Joseph's intercession, I had a lot of ideas for creative businesses," she explained. Each time she would run the numbers and talk it over with her husband, Michael, to see if the idea was viable. But none ultimately made sense to pursue. 
"CORDA was completely different. Right from the beginning there was a sureness that this was exactly what I had been praying for. And there was also an incredible consolation when I shared this new idea with Michael. His immediate response was that this was exactly what I was supposed to do!"
Despite the many hard moments since then, she's never had a doubt that this is where she's supposed to be. "I struggle with fear, anxiety, and doubt in other areas of the business," she said, but "I've always had a tremendous sense of peace about CORDA itself."
Recently her husband joined CORDA full-time, and again, the Camachos felt peace in that decision. "We're learning as we go, both how to run the business together and how to keep trusting in where we believe God has called us."
She didn't know anything about candlemaking, but chose to follow God's call into something unfamiliar. And in many ways, that's a microcosm of the human experience. "Every day we're given opportunities, big and small, to choose to trust God when the way in front of us is unclear."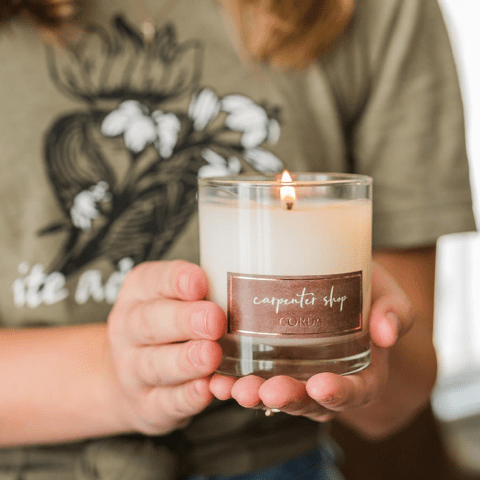 Anna Camacho
While CORDA was for Camacho "a very clear fruit of prayer," it was far from the only answer to her prayer. "There was much, much more given to me." 
Her six years of praying to find the right work bore fruit in those moments of prayer themselves, as she continually surrendered her life and work to God, chose to trust even when it was hard, and was obedient in the circumstances God gave her. 
"Praying and being faithful in praying helped me grow closer to God, and to see his grace present," she said, "which also helps me here and now as I keep trying to choose to trust him and be obedient to his will."