The two strings of the dombra are a call to fashion harmony from two parallel strings.
Religious freedom is the "best channel for civil coexistence," Pope Francis told Kazakh authorities gathered at the Kazakh Concert Hall in Nur-Sultan on September 13, 2022. In the presence of Kazakh President Kassym-Jomart Tokayev, he praised the "healthy secularity" of this Central Asian country that "acknowledges the important and indispensable role of religion and resists the  forms of extremism that disfigure it."
After being received by the Kazakh head of state in the presidential palace Ak Orda, the 85-year-old Pontiff went to the large concert hall where political, diplomatic and religious representatives of the country were waiting for him.
The Pope thanked the authorities for their invitation to participate in the 7th Congress of Leaders of World and Traditional Religions, an interreligious summit bringing together some 100 spiritual representatives from around the world, which he described as a place to promote harmony and peace.
I wish to express appreciation for the affirmation of the value of human life embodied by the abolition of the death penalty in the name of each human being's right to hope. Together with this, it is  important to guarantee freedom of thought, conscience and speech, in order to enable each individual to play his or her unique and equal role in service to society as a whole.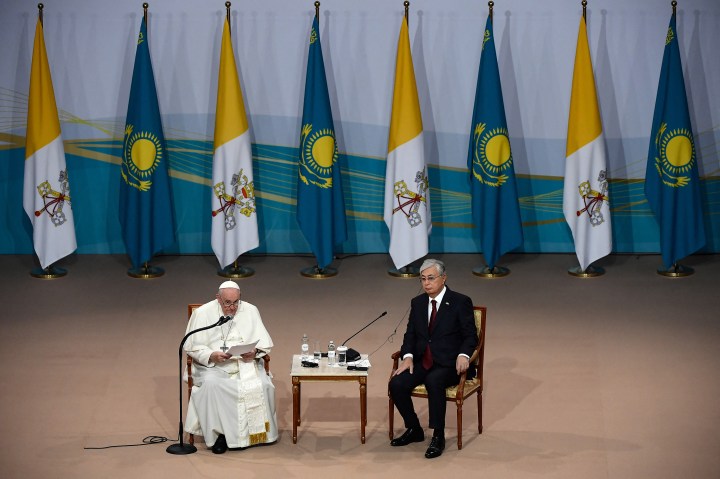 FILIPPO MONTEFORTE | AFP
Drawing on the image of the dombra, a two-stringed instrument characteristic of the region since the Middle Ages, the Pontiff emphasized its vocation as a country of encounter, born, he said, from the painful memory of the gulags where, in the 20th century, many people were deported en masse by the Soviet power.
Kazakhstan is known for its  capacity to keep creating harmony between "two parallel strings" …
For Francis, "in this country we  can hear the 'notes' of two souls, Asiatic and European, which give it a permanent 'mission of linking two continents.'"
Without mentioning the neighboring countries, notably China and Russia, the Pope considered that this situation as a bridge between East and West destined it to play a fundamental role in the mitigation of conflicts.
The Pontiff specifically cited the "senseless and tragic war" caused by the invasion of Ukraine, as well as other ongoing confrontations in the world.