Let us not get used to war, Pope pleas, referencing Ukraine and escalation in Caucasus.
Pope Francis renewed his call for peace in Ukraine at the end of a Mass celebrated in Nur-Sultan before the Catholic community of Kazakhstan on September 14, 2022. He said he had learned with concern about the situation in the Caucasus, without naming Armenia and Azerbaijan.
He reiterated his wish to limit the arms race by directing the "enormous expenses of war" toward supporting populations.
"What more is needed, how many deaths must we await before confrontations give way to dialogue for the good of people, peoples, and humanity," lamented Pope Francis, thinking of "so many places marked by war, including dear Ukraine."
In front of some 3,000 faithful gathered for a Mass in the Expo Square of the Kazakh capital, the Pontiff made this plea: "Let us not get used to war, let us not resign ourselves to its inevitability."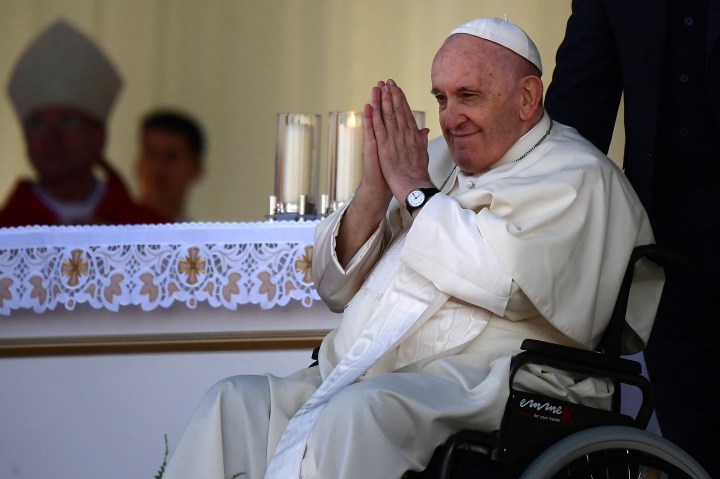 FILIPPO MONTEFORTE | AFP
The Bishop of Rome, who has been making repeated calls for peace since the beginning of the Russian invasion of Ukraine, once again invited everyone to pray that "the world may learn to build peace."
About the Caucasus region's escalation in recent hours, he asked us to pray that "peaceful relations and harmony will prevail in these territories as well."
On September 13, large-scale clashes broke out on the border between Armenia and Azerbaijan, resulting in the death of about 100 soldiers from both armies. The Armenian government denounced this as aggression.
In 2020, the Azerbaijani army took control of the mountainous region of Nagorno-Karabakh at the cost of a war that left more than 6,500 dead.
The Mass of the Pope, celebrated in the open air, was the last official appointment of the day of Pope Francis in Kazakhstan, after his morning participation at the 7th Congress of Leaders of World and Traditional Religions, an interreligious summit bringing together some 100 spiritual representatives from around the world,
The Pontiff then had dinner in private at the nunciature.