If these are four of the greatest challenges facing humanity, believers have a special role in the response.
Pope Francis called on two poets in an address to religious leaders of the world, in which he spoke about the great calling of mankind, saying religious freedom is "an essential condition for genuinely human and integral development."
Speaking of his host country's "most renowned poet and the father of its modern literature," Abai, he said the poet "challenges us by asking a timeless question:
The Pope was speaking at the 7th Congress of Leaders of World and Traditional Religions, an interreligious summit bringing together some 100 spiritual representatives from around the world.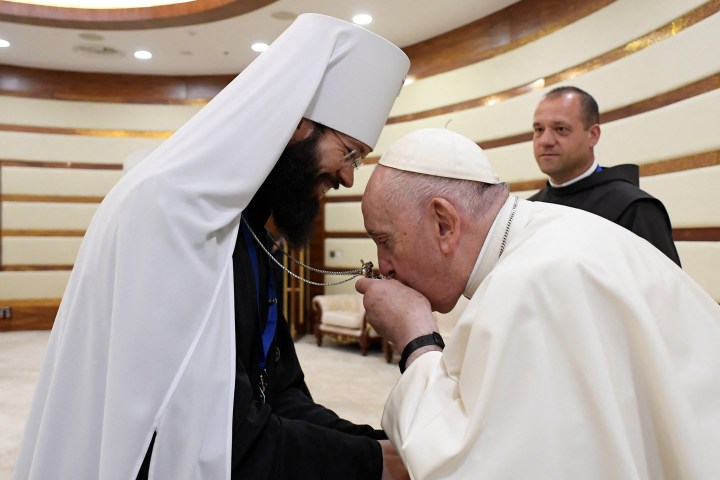 Photo by Handout / VATICAN MEDIA / AFP
To these leaders and the faithful they represent, the Holy Father suggested that the globe is facing four challenges:
The pandemic, between vulnerability and responsibility
The challenge of peace
Fraternal acceptance
Care for our common home
About these four challenges, the Pope noted specific ways that believers are called to respond:
The pandemic
Specifically, it is up to us, who believe in the Divine, to help our brothers and sisters at the present time not to forget our vulnerability. Not to fall into illusions of omnipotence fostered by a technological and economic progress that is of itself insufficient. Not to let ourselves be entangled in the web of profits and earnings, as if they were the solution to every evil. 
Peace
If the Creator, to whom we have devoted our lives, is the author of human life, how can we, who call ourselves believers, consent to the destruction of that life? And how can we imagine that the men and women of our time, many of whom live as if God did not exist, can be inspired to engage in respectful and responsible dialogue if the great religions, which are the soul of so many cultures and traditions, are not themselves actively committed to peace?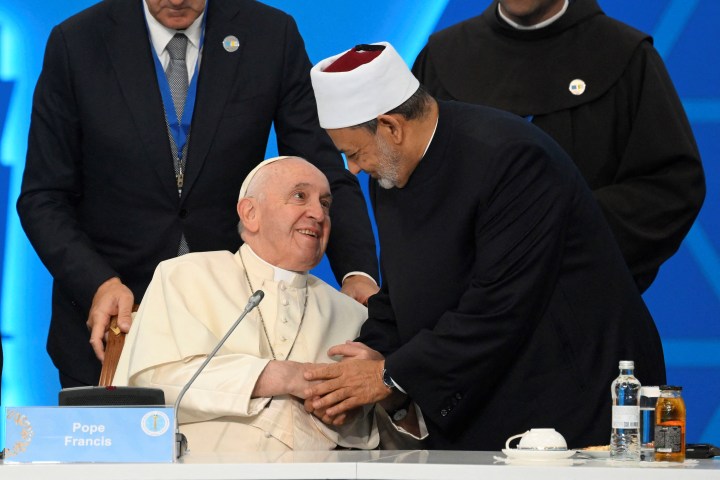 Photo by Handout / VATICAN MEDIA / AFP
Fraternal acceptance
Today we find it hard to accept the human being. Each day children, born and unborn, migrants and elderly persons, are cast aside, discarded. There exists a throwaway culture. Many of our brothers and sisters die sacrificed on the altar of profit, amid clouds of the sacrilegious incense of indifference. Yet every human being is sacred. … It is above all our task, the task of the religions, to remind the world of this.