Two friends wanted to offer hope and consolation to others walking the same difficult road.
An older friend once confided in me that she has a special love for St. Monica. 
"I pray for her help every day," she said, "for my son who doesn't go to church anymore." 
She's far from the only one to have this devotion. Officially St. Monica is a patron saint of mothers in general. But unofficially, many mothers of adult children who have stopped practicing their faith turn to her as an example and guide. 
St. Monica's son, Augustine, fell away from the faith in which she raised him. She mourned his apostasy so deeply that St. Ambrose told her, "Woman, the child of so many tears shall never perish." 
We know the happy ending that came not long after that. Augustine returned to the faith, became a priest and then a bishop, wrote several spiritual classics, and is now one of the best known canonized saints.
Moms of wayward children have found hope in St. Monica's story throughout the centuries. So it's no surprise that two moms turned to St. Monica as their role model when their adult children left the Church. And they took it a step further to share her consolation with other parents.
These moms, Patti Maguire Armstrong and Roxane Beauclair Salonen, knew they couldn't be the only Catholic parents longing for support and guidance as they walk this difficult path. They turned their experiences into a new book, What Would Monica Do?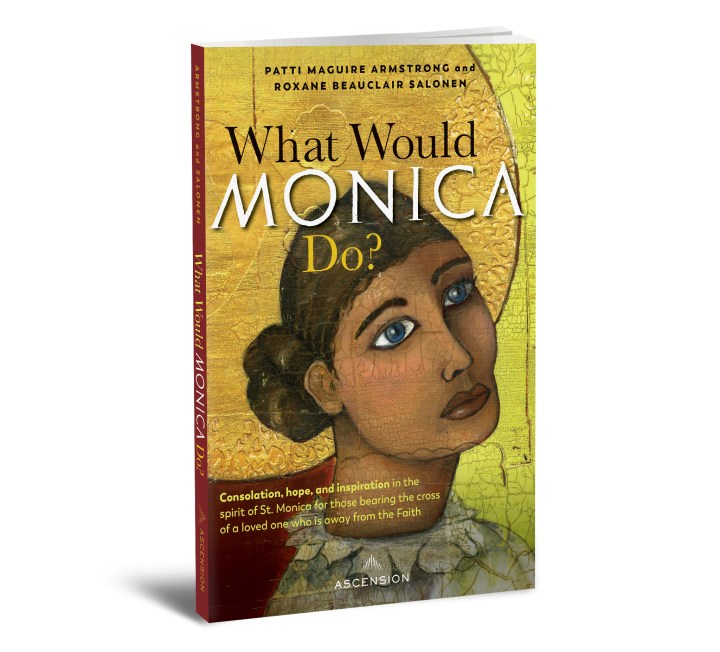 I had the chance to chat with Armstrong and Salonen about their new book. Here's what we learned about St. Monica's message and how their book can help parents in her shoes.
What inspired you to write What Would Monica Do?
Salonen: The fact that we had children who had left the treasure of the Catholic faith was our primary motivator. When we became friends and realized we shared this sorrow of wayward children, we found our friendship to be a healing balm, and eventually, knew others in this position might not have someone with which to journey through the vale with them. We wondered if there might be a way to offer hope and consolation, rather than living in despair and worry. 
Armstrong: Originally, I imagined that one day I would write a book after all 10 of my children were practicing the Catholic faith.  Now I look back at that as presumptuous and perhaps prideful.  I wanted a happy ending success story to share, not the unfinished one mired in struggle. Roxane and I discovered each other—two Catholic writers in North Dakota mentioned in the same Mother's Day article—and became friends. Roxane came to me with this suggestion. Although I was not interested initially, I soon realized that this is a friendship and journey that we can share with so many other Catholic parents traveling the same path.
Who is your book intended for?
Salonen: Though it's geared toward Catholic parents and grandparents whose children or grandchildren have left the faith, it really can be appreciated by anyone with a loved one in this position; godparents, aunts and uncles, friends, and siblings. So many are in this position and hurting over the loss of sacramental grace in their loved ones' lives. We want to bring hope, give renewed perspective, and encourage a deeper relationship with our Lord through this sorrow, as we wait and pray together. 
Armstrong: Ours is especially for those carrying the cross of a loved one away from the faith, but it is of value for anyone wanting to go deeper in their faith and surrender their lives to Christ. We learned to let go and trust in God and that although our efforts and faithfulness to God matters, we can only control ourselves.  
What does your book offer to readers?
Salonen: Companionship is a big one. Perspective another. And ultimately, hope. As mentioned above, we also came to realize, in working on this project, that it was less about our children leaving the faith, and more about how we are still works in progress too. We still have our own lessons to learn about how to be in closer relationship with God. It takes the focus off our worries, and allows us to find a productive way to use our time, and new ways to think through our concerns, while strengthening our own faith. We encourage surrender, humility, and a greater trust in God's promises and provisions. In that way, we feel, it is very uplifting! God does not want us to despair, because when we do, we cannot be used for the good. And that's why we're here.
Armstrong: Also healing and understanding of the faith journey, supported by Scripture, stories of the saints, advice for spiritual warfare, a look at the culture and our Church, devotions including to Divine Mercy, Our Blessed Mother and Joseph, and many dramatic stories from other parents both ongoing and with happy endings. 
Why is the story of St. Monica and your book's message needed today?
Salonen: Turn on any Christian or Catholic radio station on almost any given day, and you're going to hear parents and others lamenting their loved ones' loss of faith. We are living in a time when our children are facing so much temptation to move away from God, and closer to the world's empty promises. They are deluged with influences of the internet and other factors we could not have dreamed of in our own growing-up years. We can become anxious and worried for their eternal souls, along with being overwhelmed, feeling like failures. In that, though, it is the Evil One who is guiding, not Our Lord. We hope this book can help many in this situation be renewed in hope and faith. As our hope is restored, and our faith strengthened, we cannot help but impact our fallen away family members and friends, who need our love more than our lecturing. 
Finally, though this book is not a biography of St. Monica, her story and wisdom—and that of her oldest son Augustine—is sprinkled throughout the book. It has been a powerful story of conversion since Christianity's earliest days, and is just as relevant today as in the 4th century. 
Armstrong: The story of St. Monica is one for the ages.  Never mind that she lived during the 4th century. St. Monica, without support of a Christian husband (he and his mother did eventually convert) for 17 years prayed for her wayward son who came home from school with a girlfriend, an out of wedlock child and what we today might call a New Age religion. She did have 2 other faithful children, but she did not give up on the one lost sheep—her son Augustine. 
If you could give one piece of advice to parents with fallen-away children, what would it be?
Salonen: We worship the God of the universe, and he is the one in charge of saving our children, not us. So, let's let him do that. Surrender your worries to him, and trust him to keep his promises, even if it happens on his timeline, not ours. The best thing we can do to help our wayward loved ones is to stay faithful, including through fasting and prayer; they'll need that example to fall on when they're ready.
Armstrong: If you have children who have strayed and conversation has not helped, follow the advice St. Ambrose gave St. Monica about her son: "Talk less to your son about God and more to God about your son." For parents whose children are still in the faith, do your best to hand down the faith, recognizing they ultimately have free will, and keep surrendering your children to God while asking for help from Mary and Joseph, all the angels and saints. 
What is the most important thing you would want readers to know about What Would Monica Do?
Salonen: Our book does not come with a list of "to dos" or a guarantee that if you read it and "do these things," your child will return to the Catholic faith. But it does offer important perspective, inspirational stories, and practical suggestions that can help light up the vale we travel together with God's hope and love in the lead.
Armstrong: It is an inspiration to go deeper in our own faith and the support and comfort of our Catholic family in heaven and on earth.