The Ryans embarked on the ultimate road trip seven years ago and have had some exciting adventures along the way.
What can God do in your life with one Bible verse a day?
Subscribe to Aleteia's new service and bring Scripture into your morning:
Just one verse each day.
Click to bring God's word to your inbox
One of the most wonderful things about the grandparent-grandchild relationship is the bond they can build through their very different life experiences. One grandma and grandson from Duncan Falls, Ohio, made the decision to share an adventure that would take the pair on a seven-year adventure, learning a few lessons along the way.
Brad and Joy Ryan decided to try and visit every national park in the United States after Brad, who was in his mid 30s, was telling his then 85-year-old grandma about his trip on the Appalachian Trail:
"I felt bad that she was always living vicariously through my stories. And so just knowing that she had never seen deserts and mountains and the ocean and these incredible wild places on Earth, it just felt like a responsibility that I had to her to make sure that she had some memories to take away in her life story as well," explained the loving grandson to GMA.
So he decided to spend a three-day weekend taking his "Grandma Joy" to the Great Smoky Mountains National Park. Before setting off, he had some preconceptions about his grandmother and what would be achievable:
""You don't assume going into that that your 85-year-old grandmother going with you on a camping trip is going to be anything less than challenging. That was my fault. That was my misperception of what age means and more importantly, what her spirit would allow her to do," Brad shared with GMA.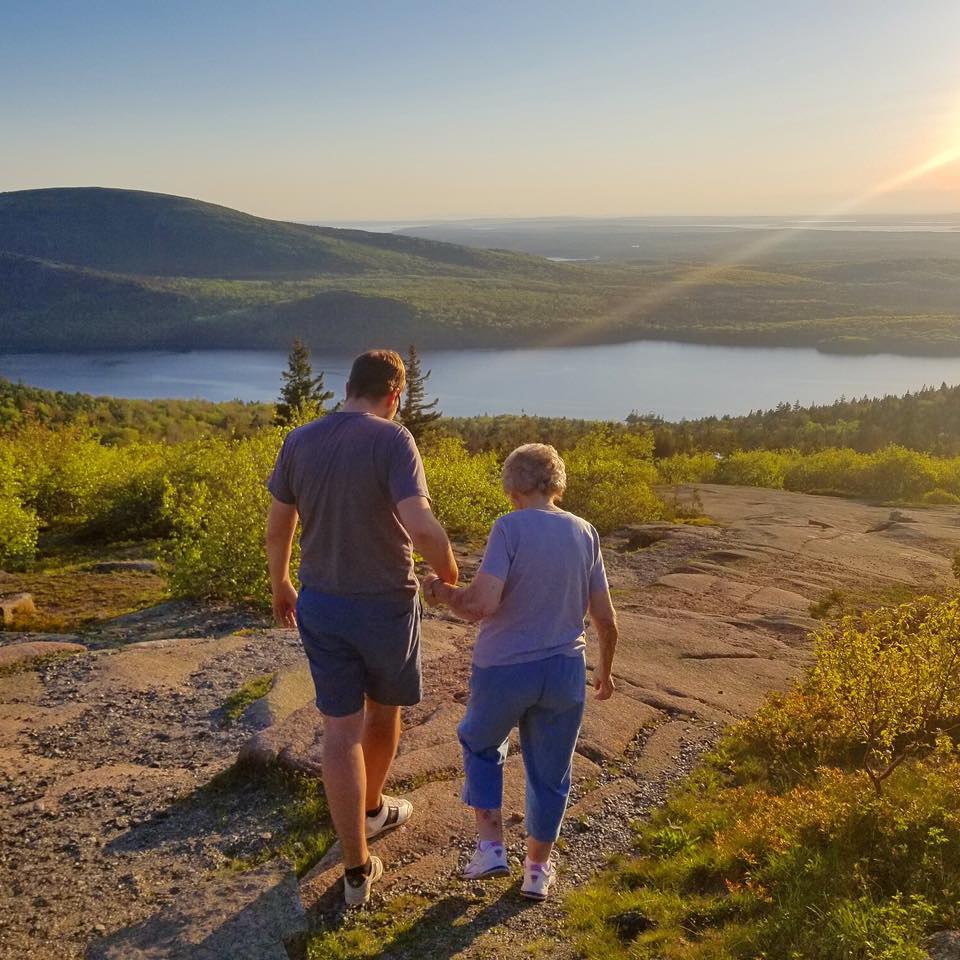 For Joy, the idea of camping wild in her 80s was not at all daunting: "I've always tried to be positive in my life and it didn't hurt to try something once. I didn't want to have to regret the next day that you didn't do it."
The trip proved such a success that the pair decided to tick off every national park on the list. And Brad decided to document their travels on Instagram and Facebook to the account @GrandmaJoysRoadtrip to keep loved ones up-to-date. But the duo has ended up garnering over 58,000 followers, and has inspired others to look at the elderly in a whole new light.
"National parks are best enjoyed with the people we love, and it is clear to see that Joy and Brad share a special bond, which has been strengthened by their time traveling together," shared National Parks Services Chief of Public Affairs and Chief Spokesperson Jenny Anzelmo-Sarles.
Although COVID put a pause on the pair's plans, in July 2021 the Ryans managed to visit the eight National Parks of Alaska. And Joy didn't let her age stop her from making the most of the trip. Not only did she do some whitewater rafting down class three rapids and hike near glaciers, she also got a little too close for comfort with a wild animal.
"I always wanted to see the bears get the fish and I finally got to see it. And it was fun, it really was," said Joy after her incredible trip.
Brad and Joy now have one last national park to cross off their list. And while it will no doubt be a poignant trip to the National Park of American Samoa, Grandma Joy wouldn't have it any other way:
"It's been a grand adventure, it really has. It's really been a beautiful, beautiful time. And I wouldn't trade it for anything
While it's certain that their incredible adventures will have provided so many opportunities to see such beauty together, the pair are aware that not everybody is able to visit every national park. However, as Brad points out:
"There is some adventure to be found in every corner of of the country and we hope that people will go out and seek that adventure."
The Ryans' story is a fantastic reminder to us all that the elderly shouldn't be defined by their age, and that it is so important to include them in our plans if they're able to join in. As with Grandma Joy, we're never really sure what we're capable of doing until we try.