Vocation Ministry is launching an annual celebration of Catholic deacons to be held on the second Sunday of October.
On October 9, 2022, parishes across the U.S. and Canada will observe the first annual "Deacon Sunday," a day to inspire vocations to the diaconate and affirm deacons and their families. This new celebration comes thanks to the hard work of Vocation Ministry, an organization dedicated to supporting and increasing vocations in the Catholic Church. 
Deacons
Deacons play a pivotal role in daily parish life, which, depending on the parish, could have them proclaiming the Gospel, delivering homilies, performing baptisms, visiting the sick, and more. The men called to this vocation are prepared to handle these responsibilities over a five-year formation period that ends with their ordination. For married men, this preparation includes their wives, who will support their husband's endeavor. 
Despite the importance of the diaconate, there are very few resources for parishes and the faithful to support their deacons and promote local vocations. This is what Rhonda Gruenewald, founder of Vocation Ministry, discovered when she began her mission at her local parish. Gruenewald said in a press release: 
"When you look up deacon appreciation, there is nothing on the Catholic Vocation Calendar. All that comes up in a basic search on Google is greeting cards. We recognized a need in the Church to affirm our deacons and teach younger generations about the diaconate, so we felt compelled to start something ourselves."
Vocation Ministry
Gruenewald, a Catholic convert and former English teacher, never intended on founding an organization when she was asked by her parish priest in 2011 to lend a helping hand to grow the parish's stalled vocations ministry. In those days, with few resources to help guide her, Gruenwald just tried to raise awareness to Catholic vocations in any way she could. 
"We prayed and promoted vocations any way we could at our parish, from starting Adoration for Vocations to playing Pin-the-Miter-on-the-Bishop at our parish festival," remembered Rhonda.
Vocation Ministry | Provided
To the delight of Gruenewald and her parish community, she found great success with these tactics. Within 18 months, she was approached by the Archdiocese of Galveston-Houston to create a model of her vocation ministry that could be installed in all of its parishes. This led Gruenewald to write the 288-page guide, Hundredfold: A Guide to Parish Vocation Ministry, which has been recognized by the Church with an imprimatur.
The program was a hit with parishes, and the faithful began to request more resources to accompany the text. This success allowed Gruenewald to launch Vocation Ministry as a non-profit. Its website has since grown into a resource network of people working toward the same goal: to promote, increase, and support Catholic vocations.
In the years that followed, Vocation Ministry has expanded to become a resource hub for all things vocational. The popularity of Hundredfold led to its being translated for predominantly Spanish-speaking parishes and, in 2021, Gruenewald published The Harvest: A Guide to Vocation Ministry in Education. This 200-page book provides practical advice and vocational inspiration for use in classrooms. 
Deacon Sunday
The efforts of Vocation Ministry have culminated with the first annual "Deacon Sunday," to be held on the second Sunday of October. This annual event will raise awareness of the good works performed by deacons, as well as encouraging new vocations. The latter is especially important, as the diaconate has been dwindling in recent years. 
In 2021, 458 new permanent deacons were ordained, while 512 deacons retired from active ministry and 393 deacons died in the United States. This means the church lost 447 more deacons than it gained. With an estimated 19,000 deacons in the U.S., their numbers could be exhausted in just four decades if rates remain the same.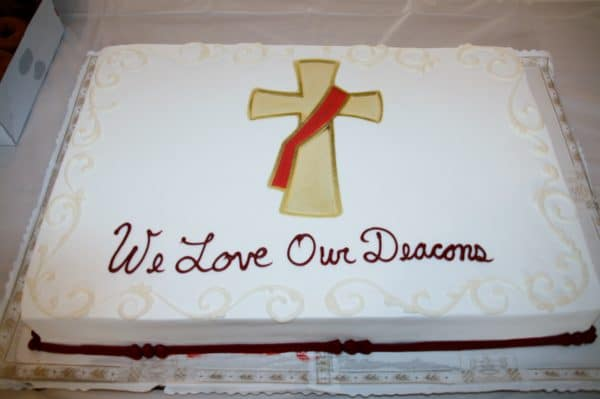 Vocation Ministry | Provided
This is a trajectory that Vocation Ministry is working diligently to avoid. and "Deacon Sunday" is one way they are addressing the situation. Gruenewald wrote in a press release: 
"We feel an urgent need to increase awareness and gratitude for these men who have said yes to this particular call," Gruenewald said. "The need to emphasize vocations of all types is real. Only 10-20% of all parishes in the United States do anything to promote and nurture vocations. And yet they are essential to the life of the Church. The goal of Vocation Ministry is to equip the Church once again to awaken the call of a vocation within the human heart."
To ensure everyone gets the most out of "Deacon Sunday," Vocation Ministry has provided a resource page with selected prayers, suggested parish activities, and general information on the many services performed by deacons. They also have a questionnaire that deacons can fill out to help parishioners get to know them better and share what being a deacon means to them. 
Visit Vocation Ministry to learn more about "Deacon Sunday."