Mary's Meals sets up school feeding programs in vulnerable communities, and it's never been more urgently needed.
Dyson Chitowe of Malawi was just 11 years old when both his parents died. He didn't know where he could turn to get food or an education. 
"I lost both parents when I was young. At the age of 11, there was no more breadwinner," he said. "It was difficult to have food, to have good things in our lives." 
Thankfully, he found his way to a school where he received a free nourishing meal every school day. And that changed the course of his entire life.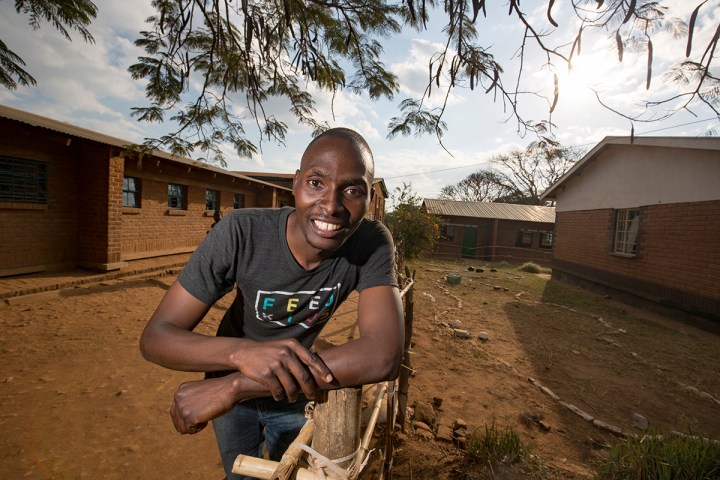 Michael Schofield via Mary's Meals
Inspired by the words of a little boy who only wanted to have enough food to eat and to be able to go to school, Mary's Meals Founder and CEO Magnus MacFarlane-Barrow began the school feeding program in Malawi in 2002.
"Mary's Meals introduced this program of school feeding. I had something in my stomach at school," Chitowe recalled. "So, I'm saying that this program saved my life. They saved my future." 
Mary's Meals saved Chitowe all those years ago, and it's still saving countless other boys and girls. The organization feeds 2,279,941 hungry children every school day in 20 countries across five continents. 
Now in its 20th year, Mary's Meals is a global movement that sets up school feeding programs in some of the world's most vulnerable communities, where conflict, poverty and hunger often prevent children from gaining an education. And yes, it is named after and inspired by Our Lady! 
One of the most beautiful things about Mary's Meals is its model of local partnership. The organization works with in-country volunteers to provide one daily nutritious meal in a place of learning to attract children into the classroom to receive an education. It's a true collaboration between Mary's Meals and the local community! 
"The first time I visited a school, I saw that from something as simple as providing a daily meal in a place of education, you can look at these children and you see the hope that they have," said Naomi Wanyoike, who serves as Mary's Meals Program Partner Coordinator in East Africa. "They have hope that they will make it to tomorrow, and another day, and they'll keep coming and they'll keep getting the education that they need." 
Mary's Meals brings both short-term and long-term solutions to children in need. In the short term, hungry children are fed. In the long term, children in 20 countries receive an education that helps break the cycle of poverty.
A school principal in Yemen, Principal Arwa Qasim, says the Mary's Meals program helps the children at her school make it to class. She said, "The School Meal Program has had a significant impact on the attendance of our learners and has been helpful to the parents of the children who cannot provide food due to food insecurity." 
Yet 20 years later, the need for Mary's Meals worldwide has never been greater. "Since we've been doing this, I cannot remember so many humanitarian crises unfolding at one time in the world," said MacFarlane-Barrow. 
MacFarlane-Barrow began charity work in 1992, when he asked for donations of aid for a one-time trip to war torn Bosnia-Herzegovina. The outpouring of donations he received led him to make the trip 23 times, and his work evolved to founding Mary's Meals. He shares this compelling story in his book, The Shed That Fed 2 Million Children. 
His headquarters is still that simple shed in Scotland where he first began collecting donations, but the work he does there has had an outsized global impact. Magnus has been named a CNN Top 10 Hero of the Year, received a personal blessing from the pope, and was named one of Time magazine's 100 Most Influential People in the world.
Vatican Media via Mary's Meals
Two decades later amidst a global hunger crisis, MacFarlane-Barrow sees that his work is more urgent than ever. 
"Mary's Meals as a provider of hope—in the life of one child and in the world more broadly—is more important than ever," he said. "And so are each of our actions in support of this mission—no matter how small they might feel to us. They are not small! They are truly enormous in the life of that child." 
The best testament to his work around the world? The children who were part of the program decades ago have found success and happiness thanks to Mary's Meals. 
Fortunate Phiri was a recipient of Mary's Meals in the first (primary) school feeding program in Malawi. "The Mary's Meals program had a huge impact in our schools," he recalls. "The number of students who enrolled in our school started increasing." He was one of those students, and today, he is a chemical engineer. 
Dyson Chitowe, meanwhile, now works for Mary's Meals as a school feeding officer monitoring 17 schools. He said, "I'm so happy and I'm so enjoying this work." 
If you're inspired by Mary's Meals, you can help this incredibly important cause from anywhere in the world. Learn more at www.marysmealsusa.org or call 800-385-4983. 
Carlin Long in Steubenville, Ohio, is a Mary's Meals USA ambassador and Director of Cynthia's Kitchen Project, which sponsors a school in Liberia. Every year, he and his community support that school feeding program, Cynthia's Kitchen, through fundraisers. 
In May, Carlin ran the Pittsburgh Marathon to raise money for Cynthia's Kitchen Project and qualified to run in the 2023 Boston Marathon! Long said, 
"I'm doing things the way I can, but your support doesn't have to look the same. This mission takes many little acts of love by a bunch of people coming together. That can take the form of social media, volunteering for a fundraising event, and praying for children. Everyone has a talent to offer. All little things add up." 
There are so many other ways to get involved. Around the US, Mary's Meals supporters hold a variety of fundraising events like 5K races or walks and music concerts. 
Churches invite Mary's Meals to share their story and conduct mission appeals. Corporate sponsors support Mary's Meals as part of their social responsibility and employee engagement programs. Businesses like restaurants donate a portion of their proceeds to Mary's Meals. 
All these activities add up to what MacFarlane-Barrow calls "a series of many little acts of love." These activities have an outsized impact because it only costs $21 to feed a child in school for one year. 
The pope has called for an end to hunger around the world, and Mary's Meals is on the front lines of this all important work. Just as Dyson Chitowe experienced all those years ago, Mary's Meals is saving lives and futures, wherever help is most needed. 
This content has been brought to you in partnership with Mary's Meals.