The video intends to answer some straightforward questions: Who was Peter? What do we really know about him?
With all good reason, St. Peter's Basilica might be one of the most famous Catholic buildings in the world. However, the man to whom it is dedicated might not be that well known after all. That is one of the reasons why the facade of St. Peter's Basilica is currently being illuminated (in fact, "videomapped") every 15 minutes, from 9 to 11 p.m., with an 8-minute video display telling the story of Peter, the first pope, as part of the preparations for the coming Jubilee Year.
The video, called Follow Me: The Life of St. Peter, intends to answer some straightforward questions: Who was Peter? What do we really know about him?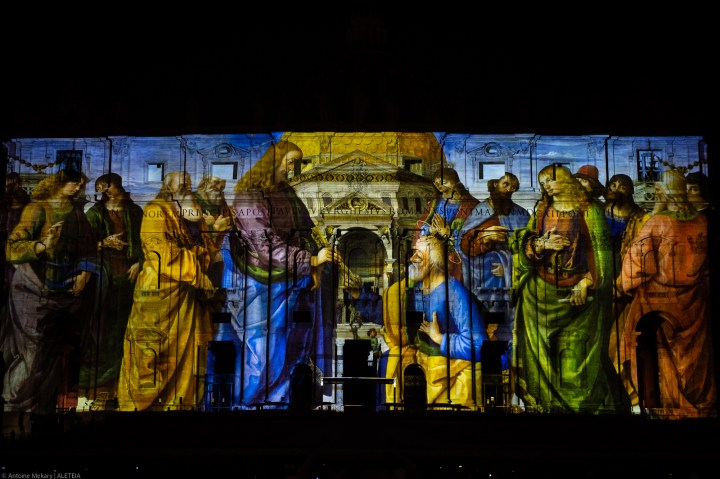 The press release, issued by the Basilica itself, explains that the Gospel scenes that were included in the video "narrate in the first person the highlights of the apostle Peter's life: the call, the following, the mission, the martyrdom." The sequence of images is "taken from the most important iconographic repertories of the Basilica and the Vatican Museums."
High-tech tools designed to enhance and harmonize images, sounds and words were used in the process. "From a technical point of view, videomapping proposes an unprecedented marriage between new technologies and the iconography related to the artistic heritage of the Fabric of Saint Peter and the Vatican Museums," the press released reads. "A combination of ancient and modern that employs 3-D production technologies to enhance the artistic masterpieces of the Basilica and the Vatican Museums by artists such as Raphael, Perugino, Reni and Cavallucci. The videomapping projection equipment is placed on the arms of the Colonnade in order not to disrupt the life of the Piazza and the ordinary flow of the faithful."
St. Peter's Way
Follow Me: The life of Peter is the first initiative of the "Art and Faith" itineraries that St. Peter's Basilica intends to offer as part of its pastoral activities for the coming Jubilee. In fact, this video is part of a pastoral path that accompanies pilgrims when visiting the Tomb of Peter.
The proposal of a Via Petri ("Peter's Way) marking a spiritual itinerary uniting all the Petrine places will offer visitors "a variety of opportunities to announce and meet face to face with the Petrine figure deepening and meditating upon his human and spiritual experience." What the Basilica intends to do is to accompany pilgrims to the Eternal City with "the example of Simon Peter to fully live the encounter with the Lord and with their brothers and sisters; so that they may live the pilgrims' experience to the Tomb and to the heart of Christianity, recognize themselves as brothers and sisters and leave renewed."
Launch the slideshow
Watch the opening night, with Andrea Bocelli, here.