The 6th-century "Silver Book" is part of a very early translation of the Latin Bible into Gothic language.
What can God do in your life with one Bible verse a day?
Subscribe to Aleteia's new service and bring Scripture into your morning:
Just one verse each day.
Click to bring God's word to your inbox
Bishop Ulfilas (also known as Wulfila, or Orphila) was a Goth of Greek descent who served as a bishop and missionary in the 6th century, credited with the creation of the Gothic alphabet. In a way, he would be the Gothic equivalent of Cyril and Methodius, apostles to the Slavs, who began to develop the Glagolitic and Cyrillic alphabets for liturgical and doctrinal purposes in the 9th century. The Codex Argenteus, a magnificent 6th-century illuminated manuscript, originally containing part of the 4th-century translation of the Christian Bible into the Gothic language, has been traditionally ascribed to Ulfilas.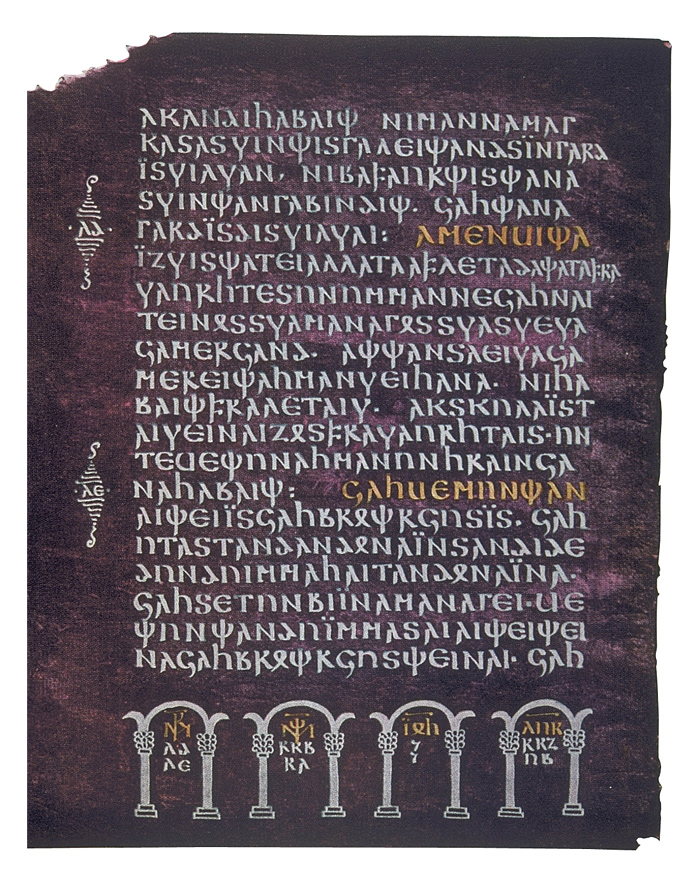 Contemporary research has clearly established that the translation is not exclusively Ulfilas', but rather that it was made by several scholars, most likely under Ulfilas' supervision. Of the original 336 folios, only around half of them (188 to be exact) have been preserved – the ones containing the translation of the greater part of the four canonical Gospels. These folios were rediscovered at the former Benedictine abbey of Werden (nobody knows how they got there), after being lost for almost 10 centuries. It is unknown whether the other half of the book may have survived: the Silver Bible was not mentioned for at least 1,000 years in any inventory. Currently, part of the Codex is on permanent display at the Carolina Rediviva (the main building of Uppsala's University Library).
The Codex Argenteus was likely written for Theodoric the Great, the Arian (nontrinitarian Christian) king of the Ostrogoths. Even if he used the title of "king" (rex), scholars agree he was a Western Roman Emperor in all but name, as his domains extended through most of the former Western Roman Empire, and received the kind of Western Roman regalia emperors used to wear from Constantinople itself, although he was an Arian heretic. In fact, his death prevented what could have been a major persecution against Catholic Christians – quarrels between Theodoric and the Byzantine Emperor Justin I eventually led to the martyrdom of Boethius and Pope John I.  
In his book The Goths and Gothic, the renowned (late) Indo-Europeanist and theoretical linguist Gary Miller explains how the Codex, made in either Ravenna or Brescia, was especially designed to be as impressive as possible: written with gold and silver ink on high-quality thin regal-purple-stained vellum (a color so expensive to produce in the ancient world that it was only reserved for emperors), with an intricate, ornate treasure binding.
In 1998, the "Silver Bible" was subjected to carbon-14 analysis. It was dated to the 6th century.