After six miscarriages, they gave up trying to to have a baby. Today, they're the parents of a healthy little boy.
"Magnificat" is the word that immediately comes to Bruno and Ines' mind when we ask them to talk about the long-awaited birth of their son Philibert. Like the Virgin Mary, who glorifies the wonders of the Lord, Bruno and Ines have not stopped giving thanks to God for this child, who fills them with joy.
"The only thing we can think of to say is 'Magnificat.' It's not easy to give our testimony, because we don't have an answer to any of the whys … Why us? Why now? Why such a gift?"
My soul magnifies the Lord,

and my spirit rejoices in God my Savior,

for he has looked with favor on the lowliness of his servant.

Surely, from now on all generations will call me blessed;

for the Mighty One has done great things for me,

and holy is his name.

(Luke 1:46-49)
We first met Bruno and Ines a year ago, at the beginning of their mission in Verdelais (Gironde, France). They had left their jobs and their comfortable life in Bordeaux to settle in the heart of Verdelais, a small village about 38 miles south of Bordeaux, in the hotel of the Marian shrine dedicated to Mary, Consoler of the Afflicted.
The diocese had entrusted them with the task of welcoming pilgrims to the shrine, with the aim of making the guesthouse a place of rest and spiritual renewal. This mission stemmed from the suffering they had entrusted a few years earlier to Our Lady of Verdelais: Bruno and Ines had lost six children – "six intercessors in Heaven," they like to say – due to successive miscarriages.
Several medical problems, including endometriosis, were affecting the couple's fertility. For 10 years, Bruno and Ines were in treatment with NaProTechnology. Six miscarriages early in pregnancy changed their expectations, and three years ago the doctors convinced them to stop hoping. While none of their conditions alone was incompatible with pregnancy, combined they left little hope for the couple's desire for a child.
"Three years ago, we gave up trying to give birth to a child. It was a great suffering, but we weren't unhappy. We were happy, even with this lack. And paradoxically, the fact of giving up consoled me in a way: I knew that nothing could fill this lack of a child," Ines says.
God wants us to be happy
Today, they are the parents of a healthy boy, Philibert. They welcome this grace with intense joy and immense gratitude, without looking for an explanation.
"We don't have an answer to any 'why.' It's a mystery that completely overwhelms us. Some people tell us, 'It's a reward for your mission in Verdelais,' but no! The Lord's gifts are free, Providence acts freely," they insist.
One thing the couple is certain about is that the Lord wants each of his children to be happy, even if his plans don't conform to what they imagine, and even if it means giving up their initial plans. "We trust that the Lord wants our happiness. We have experienced this in our time of waiting, in our renunciation, in our mission, and of course in the arrival of Philibert. At all points, we've been happy!"
A bundle of graces
Ines' pregnancy was a path of conversion for her. From the first month, she was gripped by the fear of reliving a miscarriage, based on her past experiences. In the Lord's Prayer, she discovered another way of living her pregnancy: when she asked the Lord to give her "our daily bread," she asked him for a specific daily grace: that of making the little child she was carrying grow day after day.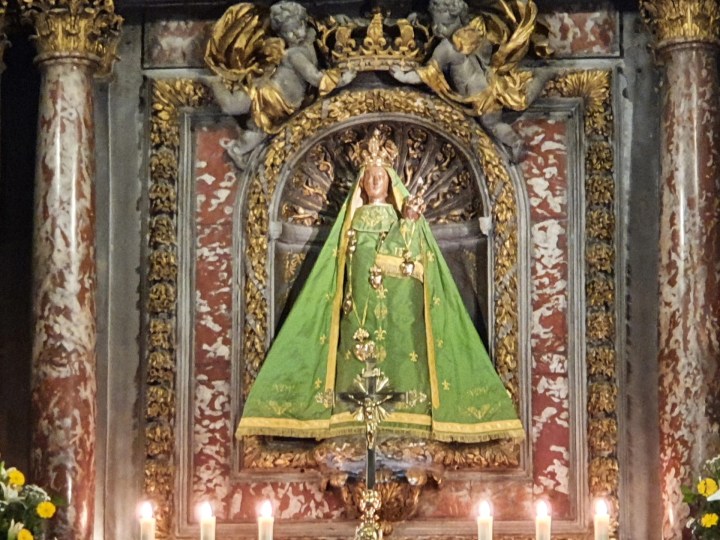 MR I ALETEIA
While the Lord acts generously and freely, he also allows himself to be moved by the powerful intercession of the saints, and even more so by that of the Virgin Mary.
"How can we not make the link between Verdelais, a shrine dedicated to Mary, Consoler of the Afflicted, and the magnificent consolation that we have just received?" Bruno and Ines ask themselves.
Intercession of Claire de Castelbajac
Another sign from Heaven was a request made to Servant of God Claire de Castelbajac.
On November 16, 2021, Bruno and Inès went to the Abbey of Boulaur (Gers, France) where the sisters there have a close spiritual relationship with the Servant of God.
"I decided to ask Claire for a miracle that would be sufficiently powerful to support her case and advance her process of beatification," says Inès.
That's how she asked to become pregnant … and by the end of the year! Fifteen days later, she received a positive answer through a pregnancy test. When informed, the postulator of the cause of Claire de Castelbajac considered that it was not a miracle in the strict sense of the word, but a grace through Claire's intercession. It was a sign for Ines: Claire's mother gave birth to her daughter at the age of 40, like her.
For Bruno and Ines, the birth of Philibert is an extension of their mission of welcoming.
"We were here, in Verdelais, to welcome pilgrims. Our mission of welcome is finally taking a wider turn," they are happy to say. Their mission in Verdelais will end in three months, while the other one is just beginning.