Aleteia attended the world opening of The Mystery Man, an exhibition that presents the first hyperrealistic, science-based sculpted reconstruction of the Man in the Holy Shroud.
According to biblical tradition, only Joseph of Arimathea and a few women saw Jesus' tortured, broken, wounded, naked body after his death on the cross. At least, until now.
The Mystery Man opened this Thursday in the Spanish cathedral of Salamanca. Centered around a hyperrealistic reconstruction of the body of the Man in the Holy Shroud, the traveling exhibition is the result of 15 years of research into the Holy Shroud of Turin, the relic believed to have been used to wrap Jesus' body after his death.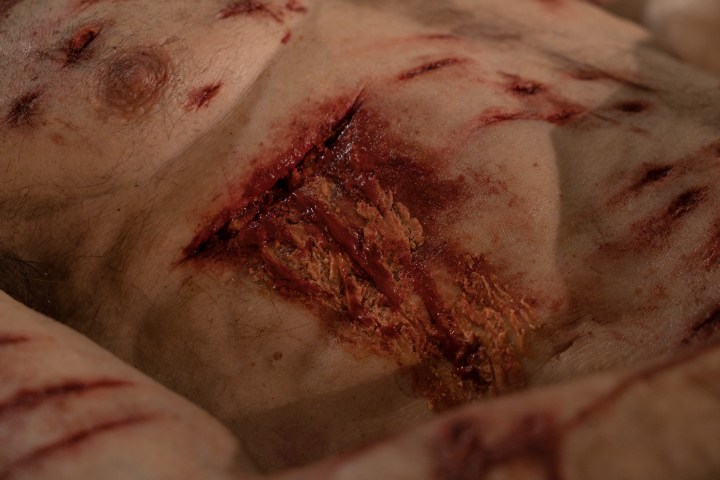 Artisplendore – The Mystery Man
The exhibition will tour around the globe, and will be taken to international events such as the World Youth Day in Lisbon (2023) and the coming Rome Jubilee (2025).
A scientific matter
Curator Álvaro Santos told Aleteia that the exhibition is rigorously grounded in scientific, historical, and archaeological data. And still, some facts around the Shroud remain somehow unexplained. For example, Santos acknowledges that some experiments show that "an unexplained kind of radiation imprinted the body in the cloth, preserving all the information (blood, shape, DNA) regarding the human body that was covered with it" and, thus, there is need for further studies.
The hyperrealistic sculpture is 179 centimeters (almost 5 ft 9 in) tall. It weighs 75 kilos (165 lbs) and is made from a latex and silicone alloy, with real human hair. Some of its details can be only seen up close. The bishop of Salamanca, Monsignor José Luis Retana, told Aleteia that after seeing the image he experienced "a profound shock […] and a great desire to pray."
The exhibition will remain on display until February in the Salamanca cathedral.Visit the slideshow below for more details on the hyperrealistic sculpture of the Man in the Shroud.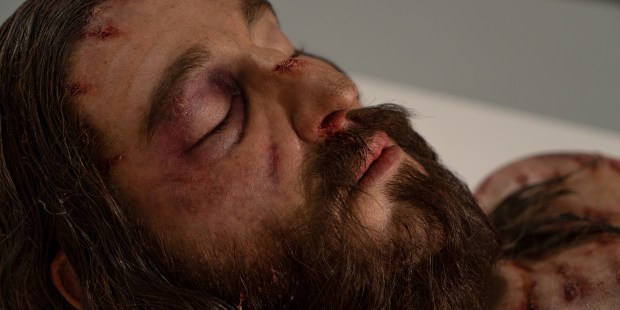 Launch the slideshow