"It didn't take long for the Lord to make me realize that He had a lot to teach me!"
What can God do in your life with one Bible verse a day?
Subscribe to Aleteia's new service and bring Scripture into your morning:
Just one verse each day.
Click to bring God's word to your inbox
This is the story of Sister Maria Chiara Ferrari, who recently took her perpetual vows in Assisi in the Congregation of the Franciscan Sisters of the Poor. She dropped out of medical school and abandoned her dream of becoming a doctor to become a Franciscan nun. 
"The Lord showed me the path"
Born and raised in the village of Lower Brescia (in northern Italy), Sr. Maria Chiara Ferrari told Brescia Oggithat "the Lord was showing me the path on which to walk by making use of my passions, especially the desire to care for others."
She ended up interrupting a path that began at the university with her enrollment in medical school. Medical studies lacked something important to her: the Gospel in action. "In college, I enrolled in medicine because I dreamed of helping. I had my own good ideas about how to do it. But it didn't take long for the Lord to make me realize that He had a lot to teach me!"
The young Franciscan nun's vocation, the Lord's call, came "the day before I started my internship," when "I attended a sister's perpetual profession. The charism of that religious family definitely influenced my experience: 'to recognize the wounds of Christ in those of poor and suffering humanity.' So here I was going to surgery the next day, recognizing in patients' wounds the wounds of Christ himself. God had begun to shape my actions of helping others."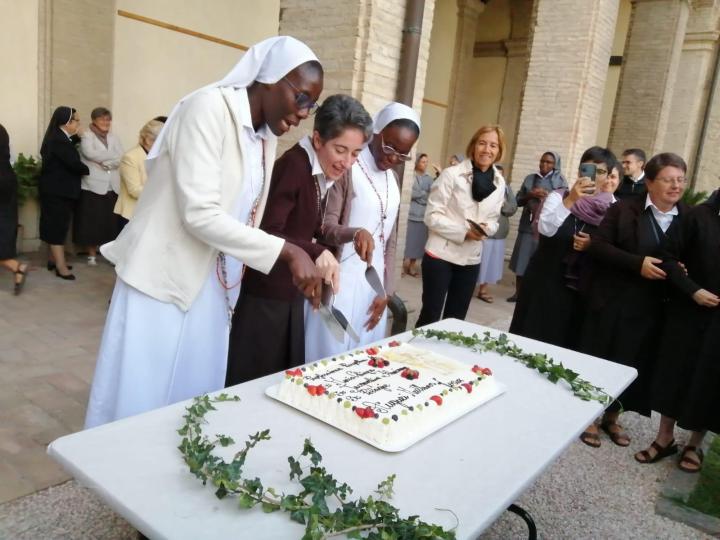 An experience in a soup kitchen
"Given that powerful experience," Sr. Maria Chiara Ferrari continued, "I went to visit the sisters in Rome for days of service in some soup kitchens. That encounter with sad stories and disappointed eyes destroyed me; how could God allow such suffering? I stood still in the chapel, looking at the crucifix, and slowly the Lord made me realize that by ascending the cross He brought himself close to every suffering. And as for me, I could not stand still in front of the pain, and pretend not to see it … I asked the Lord to help me understand where to go."
The evening of Holy Thursday
She began a journey of discernment to see if this religious vocation was the right solution to her doubts. She told a diocesan website, "To find the light, go, undertake a time of discernment, walk!!! So in that year I returned to visit the sisters on some weekends for a journey of human and spiritual growth. On Holy Thursday evening, in the company of Jesus, model of love, the way forward became clear! University studies weren't enough for me. 'Go, leave for a year to work at the youth center, share the sisters' prayers, concrete life and service to the poor, and there I will teach you to love!'"
"An instrument of Christ"
On this journey, Sr. Maria Chiara Ferrari met people "who gave me confirmation that I was an instrument of Christ's love, and Christ in turn promised to work through me if I gave Him my life. I said 'yes' to that proposal that frightened and flattered me at the same time," Sr. Maria Chiara reiterates with a smile. "Then came my perpetual profession."
Her first mission: In Brazil
Sr. Maria Chiara Ferrari felt close to her family and friends. Her choice did not conflict with their expectations. "Soon I'll go to Brazil for a missionary project," concludes the Franciscan. "I trust Jesus because He has always taken care of me, and I am sure He will continue to do so."