They traveled 1,000 miles, and showed everyone that life is meant to be lived to its fullest -- all the way to our last breath.
At 40, Fiona Lauriol is motivated by two things: travel and the desire to fight against the isolation of the elderly. It's a fight she pursues thanks to her grandmother Dominique, with whom she traveled approximately 1,000 miles over two years in a motorhome.
In 2017, nothing foreshadowed such a trip. "I was told that we had a week," Fiona explains to Aleteia. "So I decided to bring her to my home in La Faute-sur-Mer, in the Vendée, to avoid her dying far from her family because her retirement home was in the Paris region."
Her 100-year-old grandmother had a carcinoma on her head, took a lot of medication, and had difficulty moving around on her own. A nurse came daily to give her care. Fiona learned all the steps so she could take care of her grandmother on her own, despite their rather complicated relationship.
"My grandmother was born in Italy in 1917. She arrived in Paris at the age of 35 and lived there all her life. She was sedentary, while I've been traveling since I was 15," explains Fiona.
But what Dominique couldn't understand was the fact that her granddaughter was still single at her age. 
A first trip to Lourdes 
Six months went by and Dominique defied all the doctors' predictions. She was getting better! Fiona had an idea: to take her on a trip – especially since Dominique had always wanted to go to the French Riviera, and especially to visit her native village in Italy, Boccolo di Nocce.
"One day, I asked myself: 'What kind of future are you offering your grandmother?'" For Fiona, a travel enthusiast, old age isn't the end of life. "Waiting for death every day is not how I see the end of life. On the contrary, you have to live life to the fullest."
Although the young woman wasn't afraid to take her 100-year-old grandmother on board a motorhome with more than 125,000 miles on the odometer, her mother, Fosca, was not as enthusiastic.
"Grandma kept saying, 'I'll do what I want!'" recalls Fiona. In the end, the granny/granddaughter team convinced Fosca, who granted permission for the trip but with the condition that she would follow the "little caravan" by car throughout the adventure.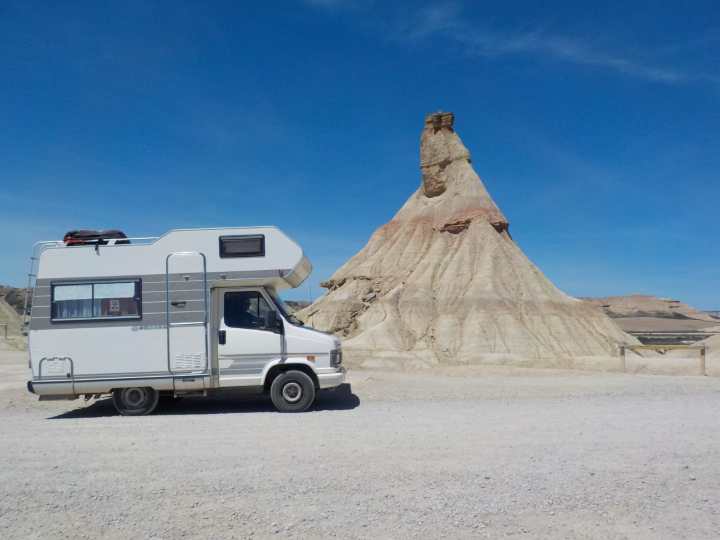 © Fiona Lauriol
"We first did a 40-day test to see if Grandma could handle it," recalls Fiona. So the first trip took place in October 2018. And for this first sacred trip, a sacred direction was chosen: Lourdes. Dominique, who was very religious, was happy at the idea of making a small pilgrimage there with her family.
Unfortunately, the pilgrimage ended badly, as Dominique broke her nose in a fall. But despite the eight stitches, once back home she immediately asked, "When are we leaving again?"
Two years of travel and a long confinement in Spain 
After a short break, the journey resumed.
"We always consulted a doctor to find out if grandma could travel," says Fiona.
This time, the journey turned out to be longer, almost two years, from January 2019 until the end of June 2020. "We would occasionally return home for a few days and then leave again. It's also important to know that we weren't going fast with grandma. We were doing 12 miles a day," says Fiona.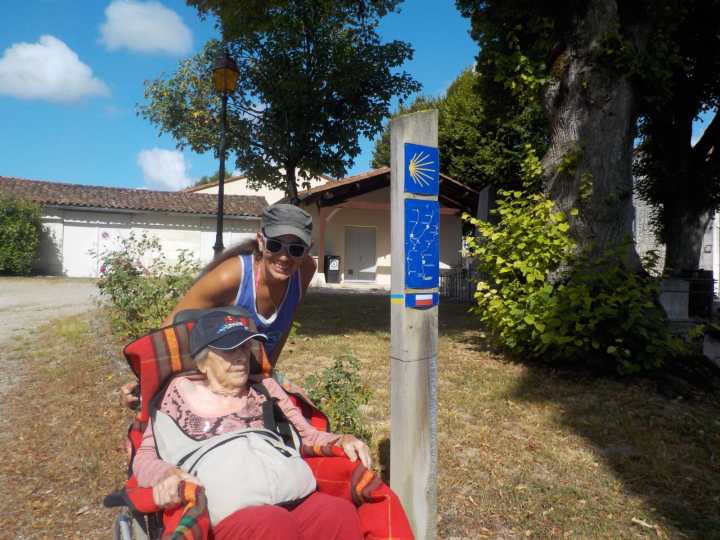 © Fiona Lauriol
Together they traveled nearly 1,000 miles. They visited Andalusia, Spain, where Dominique blew out her 102 candles by the sea near Almeria. It was also in Andalusia, in Guadix, that they spent Holy Week. Then, the whole family made the journey to Santiago de Compostela.
"We started the journey in August 2019 in Roncesvalles. We pushed grandma's chair for 250 miles. My mother followed us in a motorhome while my father and I walked the route with grandma," says Fiona. During this journey, Dominique made sure to get her credentials stamped.
Fiona's father Thierry, 61 years old, was in charge of the trip's program, especially the stops related to holy places. "As a child, I was an altar boy, but as I got older, I became distant from the Church. I came back to it a bit thanks to my mother-in-law who wanted to discover many holy places," he tells Aleteia.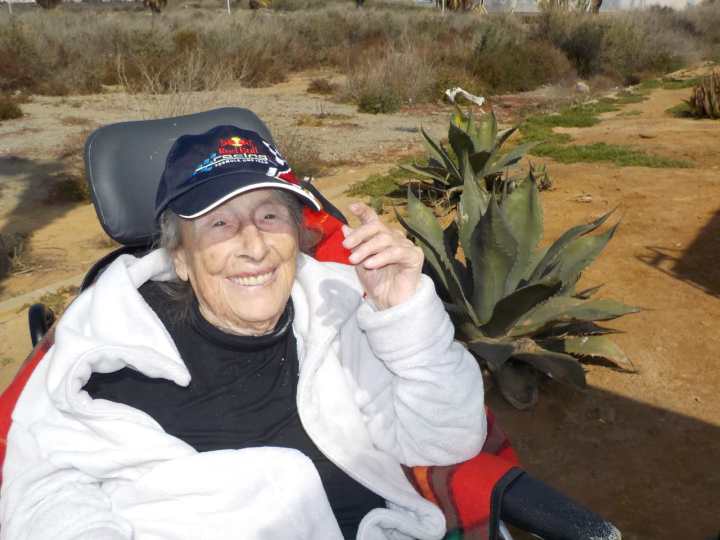 © Fiona Lauriol
Next was northern Portugal, where Dominique was able to dip her feet in natural thermal spring pools. Then on to Spain, where she visited the Bardenas desert and the Shrine of St. Ignatius of Loyola, and then venerated a piece of the cross of Christ in the monastery of Santo Toribio de Liebana. Then came March 2020 and everything stopped.
On March 8, 2020, Dominique celebrated her 103rd birthday in Spain. A few days later, the whole world was locked down. The family was stranded near Valencia, Spain.
"We lived for two months at a camper site less than a mile from the village of Bellus," explains Fiona. At the time, not wanting to worry her grandmother, who was born in the middle of the Spanish flu, she decided not to tell her about COVID. "We would tell her we were waiting for her to rest before we went back on the road."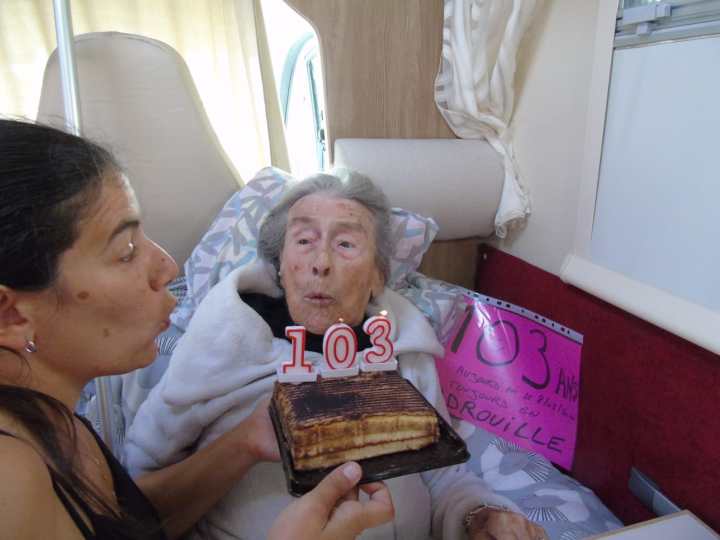 © Fiona Lauriol
In mid-May of 2020, after two months of confinement in Spain, they were finally back home. As usual, Dominique asked to go out again. She wanted to visit countries with names ending in "ie" in French, such as Romania or Italy. "The doctor told us that this new trip would be possible."
But at the end of June, things didn't go as planned.
"Twenty-five miles from home, Grandma started to show signs of weakness. I had to take her to the emergency room in Luçon," says Fiona. It was there that on June 29, 2020, Dominique departed on her last trip, at the age of 103 years, three months and three weeks.
"I will join you one day, in a very, very, very long time, but you can go. You taught me a lot, we had a lot of fun, and I will miss you a lot, but you have the right to join God, to go and bother him," Fiona said in her ear. 
Changing the way we look at old age 
After recounting her adventure with her grandmother in the book 101 ans mémé part en vadrouille ("A 101-year-old Grandma Goes on the Road," currently available in French), Fiona took to the road again. Now, she's traveling throughout France to "fight against the isolation of the elderly." From Niort to Périgueux, from Tours to Arras, her motorhome has already stopped in about 20 cities in France. With her parents, she organizes free conferences to "change the way people look at old age."
The 40-year-old adventurer has even created a Facebook page so that people can follow her journey.
"The more subscribers we have, the more credibility we'll have with members of parliament," Fiona says. According to her, we must "let the elderly live life to the fullest, not forbid them to live fully." "By overprotecting our seniors, we tend to suffocate them. And that's how we make them die more quickly," she notes. 
She encourages families, and especially young people, to (re)create an emotional and tender bond with the elderly – a bond that she herself managed to weave with her grandmother thanks to their trip.
"We managed to tame and love each other. My grandmother also improved her relationship with my father. After several months of traveling, she ended up calling him 'the good man.' It shows that you can change at any age," says Fiona, who only truly discovered her grandmother during her trip with her.
During these two years, Dominique also found became more tender. "Thanks to this trip, I found my mother again," admits Fosca, who is 67 years old. "She even started calling me by the cute nicknames she used to give me when I was little."