This new service takes the guesswork out of shopping for books and fosters a love of reading.
What can God do in your life with one Bible verse a day?
Subscribe to Aleteia's new service and bring Scripture into your morning:
Just one verse each day.
Click to bring God's word to your inbox
The most commented-on piece of furniture in my home is the three-section-wide, floor-to-ceiling bookshelf that stands at the center of our home. A simple set of Billy bookcases from Ikea, these shelves hold photos of our family, our godchildren, a flowing vine I can't name, and what is easily a couple of hundred books. There is something for everyone on this shelf, and filling it—especially the shelves for children—has been a joyful but often challenging process of curation. 
Finding appropriate kids' books these days can be tough. Even with an otherwise wonderful local library, there is a great deal of questionable material lurking in the pages of some new releases. It can be exhausting as a parent and discouraging as a child to have to review nearly every book before it gets checked out. 
Enter Lion & Lamb, a signature children's book club from Catholic Ventures that seeks to fill the shelves in Catholic homes with both classics and spiritual selections that work with—not against—parents in forming disciples of Christ. Members receive three to five discounted books each month, along with stickers and discussion guides. Boxes are geared toward three age groups: ages 0-3, 3-9, and 9-12.
I had the opportunity to talk with Jessica Thornton, content manager at Catholic Ventures, about what Lion & Lamb is and how it can change the way tomorrow's men and women approach books and reading. (This interview has been lightly edited.)
Lindsay Schlegel: Lion & Lamb seems to be a kind of response to a lack or deficit in children's media. How would you articulate that gap, and how did you know you were called to respond to it?
Jessica Thornton: The deficit in children's literature is also the deficit in our culture. Art, literature, and theater are less and less directed toward the true, the good, and the beautiful and more and more diluted by subjective current trends in society. As Catholics, we are called to be in the world, but not of it, so it just makes sense to provide quality children's literature for a variety of age groups. 
We take the guesswork out of shopping for books. Before books are chosen for a specific box, hundreds of books are considered, and dozens of books are read and evaluated. Lion & Lamb selections are not merely in line with Church teaching, they are also excellent works of writing, illustration, binding, etc. In other words, we are only using the very best, with one caveat: We try to find new releases and hidden gems. Very few Catholic families need to be introduced to the Chronicles of Narnia or the Little House books. We want to help families expand their personal libraries with treasured books that might be new to them, as well as shine a light on new or lesser known works of children's literature.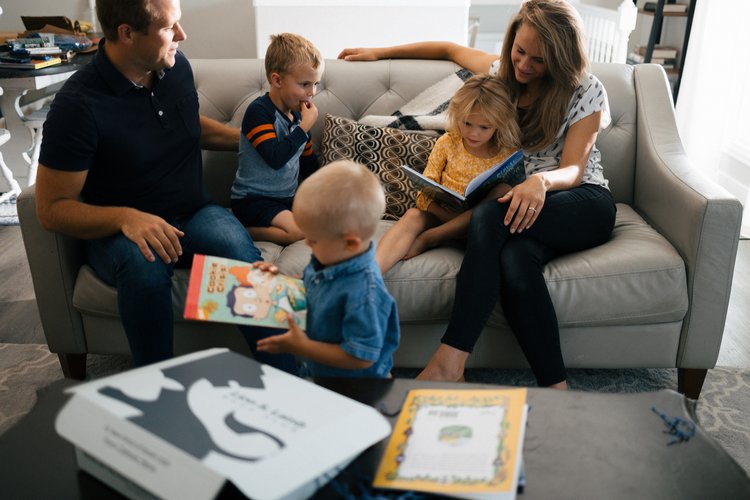 Samantha Regula
LS: Each box includes discussion questions. Why are those an important element of this service?
JT: The discussion questions are an aid for parents. They help foster a conversation about each book. When writing the discussion questions, we try to highlight the Catholic themes in a particular story, even if it's a secular story. In every novel, a protagonist undergoes a transformation, and in most cases, it is a redemptive transformation. Obviously, parents will be reading the books to their children for the Duckling box (ages 0-3) and probably the Lamb box (ages 3-9). The Lion box (ages 9-12), however, has some pretty lengthy books. In that case, discussion questions will help an adult who isn't familiar with the books.
LS: The launch of Lion & Lamb is a tangible prayer of hope for the next generation. What do you hope these books will do for your readers and their families?
At its most basic level, Lion & Lamb seeks to develop a love of reading. Each box is filled with well-crafted and curated books for a specific-aged child in mind. Ultimately, however, the goal with Lion & Lamb is to strengthen the faith of the next generation through sharing stories of saints, miracles, and Church history, as well as with beautiful tales of courage, honor, true love, and other virtues. 
For millennia, mankind has been using story as a teaching tool, first in the oral tradition of songs and epic poetry, then with the printed word. Lion & Lamb is making it that much easier for Catholic families by taking the best stories out there and delivering them to your door.
LS: Finally, what was your favorite book as a child?
My great uncle Jack gave me a beautiful edition of Little Women when I was about 10 years old. I felt very grown-up being given such a thick book. I read it and loved it and identified with each of the four sisters in various ways. I still love Little Women. I have four daughters of my own now, so I'm identifying with Marmee more than Jo or Meg. One of my daughters wrote a Christmas skit based on Chapter 1 of Little Women, and my daughters and nieces performed it at Thanksgiving. Little Women has definitely left an indelible mark on my life. I think it's time I reread it again.