Mónica and Antonio have put their talent at the service of their daughter and many other people with visual impairment.
What can God do in your life with one Bible verse a day?
Subscribe to Aleteia's new service and bring Scripture into your morning:
Just one verse each day.
Click to bring God's word to your inbox
Sometimes life gives you surprises. Eight years ago, Antonio Sánchez Káiser and Mónica Hernández Jiménez were expecting the birth of their daughter, Vega. The day of the birth arrived. What a special moment! But something unexpected happened: Vega was born with albinism.
BEMYVEGA
Albinism is a genetic condition that affects the production of melanin, resulting in a lack of pigmentation in the skin and hair, and often to visual impairment. "First, as parents, we had a scare," Mónica says. The doctors initially told her and Antonio that their daughter would be blind, but they soon discovered that she had 5% visual capacity.
This married couple are both university professors. Antonio is a professor at the Polytechnic University of Cartagena, and Mónica is a vocational training teacher – and they led a "comfortable" life as civil servants. After overcoming the initial shock of discovering that their child had been born with a visual impairment, they got down to work.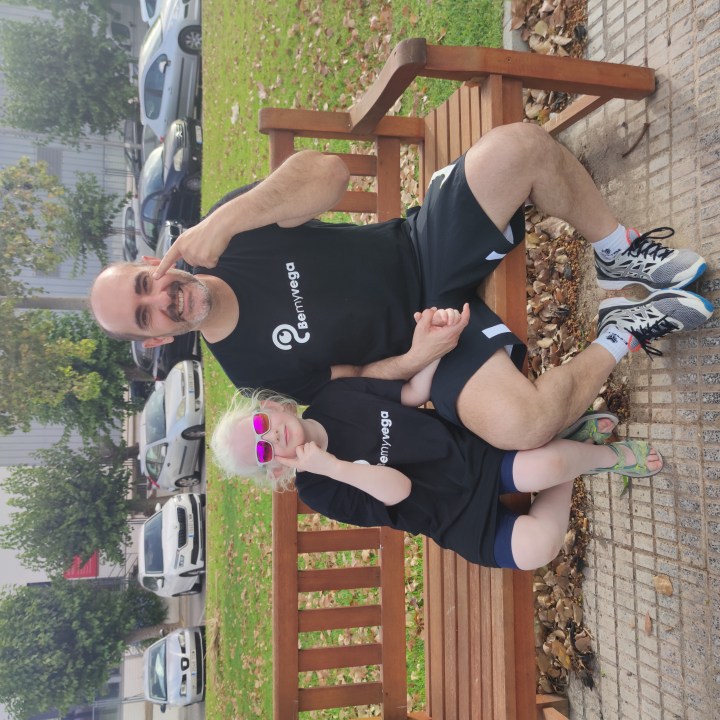 BEMYVEGA
Their world was turned upside down
The parents consulted with several medical specialists to learn more about the world of visual disabilities. As teachers, one of the things they were most concerned about was access to education, so they went to several events to observe how people with visual impairment got along.
They realized that these people were limited to listening; they couldn't see the speaker or the computer presentations. Even if Vega sat in the front row of her class, she wouldn't be able to see what was on the board.
So they decided to look for a technological solution to help their daughter and other people in similar situations.
They studied electronics and telecommunications — although they'd never dealt with these subjects before – and developed their first prototype by "tinkering at home," as Mónica says. Their first prototype was put together inside a cardboard box from a computer.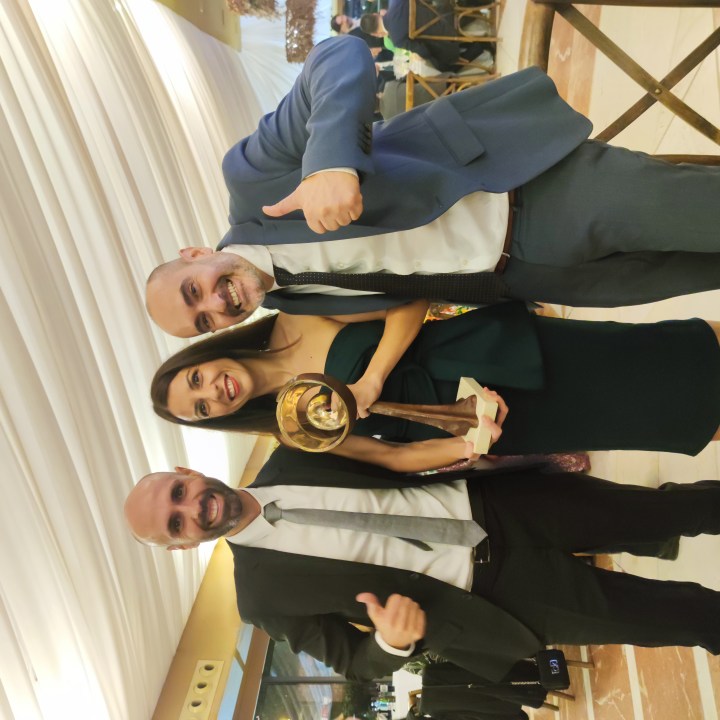 BEMYVEGA
In 2020 the couple managed to have a basic viable product and their daughter started using it at school. At a conference on albinism, they realized that they could help many more people, and decided to improve the prototype and set up a company.
They joined EspacIA, the ONCE Foundation's accelerator for social entrepreneurs, and were mentored by PricewaterhouseCoopers (PwC).
They had never thought they'd be entrepreneurs, but that's the way things go. They sought funding and created Bemyvega (Be my Vega). The company was incorporated in February 2020, just before the COVID pandemic confinement. But they were already unstoppable.
At the beginning it was just the two of them and Antonio's sister, but the company now involves 18 people.
During this time, they've perfected the industrial process with public funding through the Neotec initiative for technology-based companies.
They are now in a round of obtaining investment that will be completed by the end of the year. In this way, they'll be able to double their workforce and start their internationalization process.
They started just wanting to help their daughter, and have ended up helping many more people. Many Spanish universities are now using their products.
They aren't only targeting the needs of the visually impaired; they've also developed technology for the hearing impaired and children with ADHD.
BEMYVEGA
The most complete device out of the models they have developed has different cameras for watching the speaker and the presentation. Users receive the audio and video on their mobile device, laptop, or desktop computer, and can be either present in the classroom or at a distance through streaming. The system has software to focus on a certain part of the screen as needed, and even includes real-time captioning. A person with a cochlear implant can receive the audio signal directly and read the subtitles. In addition, the software collects the entire transcription in a text file.
The software can zoom in and out on the video, and apply filters and effects for people with dyslexia, color blindness, and attention deficit, in addition to audio filters.
Vega's parents have received numerous awards related to entrepreneurship and technology.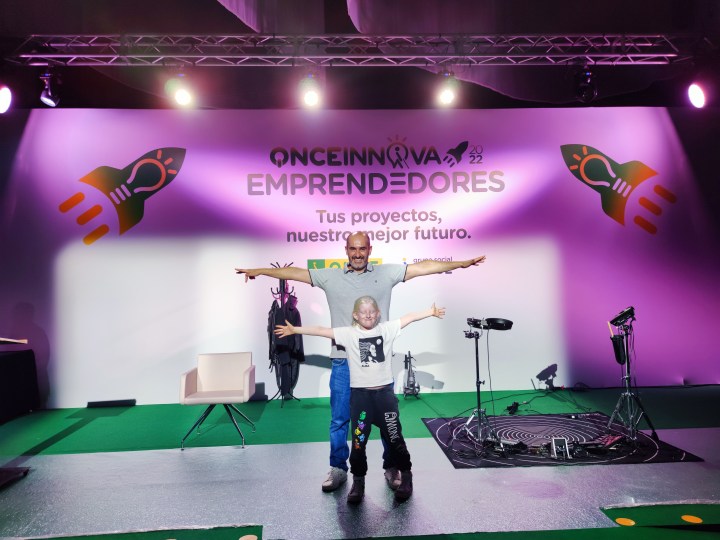 This couple's great effort is being compensated by seeing not only their own daughter's needs met, but also those of many other people, who are grateful for this project. They are hoping to start mass production and distribution soon.