She set aside her dreams of being a musician for decades, until her grandson discovered her musical talent.
Ángela Álvarez just won a Latin Grammy at the age of 95. She tied for the award with Mexican singer Silvana Estrada at the annual Latin Grammy Awards held on November 17 in Las Vegas. Upon receiving the award, she said:
I want to dedicate this award to God and to my beloved homeland, Cuba, which I will never be able to forget, and also to those who have not yet made their dream come true. Although life is difficult, there's always a way and with faith and love you can achieve it. I promise you, it's never too late. I love you all, and may God bless you all.
"What is new music? What does age matter? What prevails is honesty and making you feel," she continued.
She also mentioned in her words her deceased daughter, Marucha, and emotionally thanked her grandson and producer, Carlos José Álvarez, who was on stage with her. "It was he who helped me reach this moment," she said, "Him," pointing to him, at which point he bent down and kissed her on the cheek. Reading her story, one can understand her words.
Ángela has said that she has had a passion for music since she was a little girl, when she sang at family gatherings with her aunts in her native Cuba. She later learned to play the guitar, and at the age of 15 she began to compose her own songs.
Her dream of becoming a musician
Ángela began to dream of becoming a musician, but she was opposed by her father who told her her, "No. You sing for the family, but not for the world.
She loved her father so she tried to erase her dream from her mind, but "there was always a little place in my heart where I couldn't forget it," says Alvarez without resentment.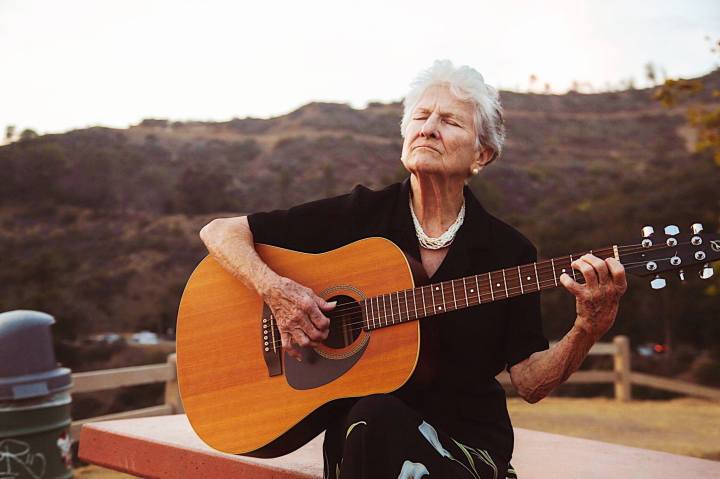 Facebook: Ángela Álvarez
She put her dream on the back burner and found happiness in her marriage and family: she had four children – one of her daughters later died of cancer – and today she's the grandmother of nine and great-grandmother of fifteen.
Her grandson rediscovered her talent
However, she never forgot her love of music. She continued to sing and compose songs that she transcribed in notebooks. She did it every time something filled her with emotion; that's when she felt the desire to express her feelings in the form of emotional boleros.
Ángela Álvarez recognizes that her ability to compose is a gift from God, and sometimes she's surprised by the fact that it's not difficult for her.
One day, her grandson Carlos José, who is also a professional musician, asked her to show him the songs she'd written in her notebooks. Although they were already worn by the passage of time, he was fascinated and surprised by the songs his grandmother had composed.
Recording her first album
Thus, Carlos José began the project of recording Ángela's album, but due to lack of time and resources he kept delaying it until a producer friend of his asked him bluntly one day, "Are you waiting for her to die? […] Whatever you need, let's do it".
They contacted top quality musicians, some of them Grammy winners or nominees, and began recording the album. Carlos José highlights the courage she had to enter a recording studio at her age, and how well she did it.
Facebook: Ángela Álvarez
In the end, from those old notebooks came the 15 songs that make up her first eponymous album, for which the Cuban singer-songwriter received her first and unexpected nomination for the Latin Grammys on September 20 in the Best New Artist category. There she competed with young reggaeton musicians.
Her winning album contains titles such as "Qué linda es Cuba" ("How beautiful Cuba is"), "Mi gran amor" ("My great love"), "Camino sin rumbo" ("A directionless path"), "Romper el yugo" ("Break the yoke"), and "Añoranzas" ("Nostalgia"), and was released independently via Nana Album LLC in June 2021.
An inspiring story for everyone
Carlos José feels satisfied with their work together and recognizes that this is an inspiring story that couldn't stay just in the family, but had to be told:
I hope this whole project inspires young people to sit down and talk to their elderly relatives. Ask them questions. Ask them about dreams they once had. You'll be surprised at what you'll find out.

If we don't ask them, they won't tell us, and their wisdom and dreams will go with them.
Regarding how Ángela Álvarez has ended up with a Latin Grammy nomination in this category and ultimately to win the award, her grandson mentions that the producer had told him, "Do you know how appropriate and incredible it would be if she were nominated for Best New Artist at her age? Do you know the message that would send to the world?"
Angela's sentimental diary
Her songs have great musical quality but they're also like a sentimental diary of their author, for whom music is the language of the soul. And in her songs she captures her long life, in which there have been sweet moments, but also a lot of pain.
In fact, May 1962 was a key moment in her life. At that time she had to resign herself to seeing her four youngest children leave Cuba alone for Miami as part of the so-called "Operation Peter Pan" after the revolution and the communist takeover the island was undergoing.
Leaving Cuba
Ángela managed to travel to the United States a few months later, but it took her years to get her children back living under the same roof, because she needed a job with enough income to support them all, and that wasn't easy.
"When they gave me a flight out of Havana to Miami, when the plane took off, I was sitting at the window and I looked out the window and I saw my Cuba down there. I said, 'Oh, Cuba, how beautiful you are, when will I see you again? And I haven't gone back yet,'" she recalls.
Despite not knowing how to speak English, she was getting jobs, such as picking tomatoes in the fields or cleaning offices at night. Although her children were in an orphanage, she was able to see them every week.
Family reunification in Mexico
A few years later, thanks to a friend, Ángela was able to find a job for her husband. They contacted the then-president of Mexico, Adolfo Lopez Mateos, who was helping Cuban families leave the island.
They then helped him get out of Cuba and provided him with a job in the state of Veracruz. At that time she picked up her children and they all found themselves in Mexico.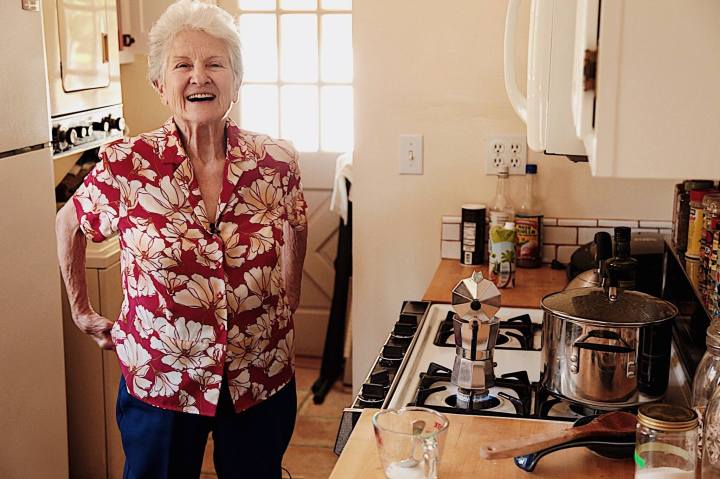 Facebook: Ángela Álvarez
That family reunification closed the wound created by their separation, but not the one opened by their exile and her longing for Cuba, an island to which she has never returned and to which she has dedicated many of her songs.
Source of inspiration
Certainly the figure of her country of origin is manifest in her songs and lyrics, as for example in "Un canto a mi Cuba" ("A song to my Cuba") but also in others like "Añoranzas" or "Romper el yugo": "Oh, eternal God, reach out your hand, help Cuba to be reborn, calm the anger, appease the hatred, give Cubans freedom."
But Ángela, besides suffering exile and separation from her family for many years, also suffered the death of her husband in 1977 (which inspired her song "Camino sin rumbo") and later that of her daughter Maria, both from cancer.
In addition, her children were always a source of inspiration. She composed the song "En mi jardín" ("In my garden") about them, and regarding her deceased daughter, she wrote a song that bears her name: "María."
Attendance at the Latin Grammy Awards
In the end, what began as her grandson's work to preserve his grandmother's unpublished musical legacy has turned into an exciting project.
Together they've recorded the album, made the documentary "Miss Angela," thanks to the collaboration of actor Andy Garcia, also Cuban, who even offered her a role in the Hollywood movie The Father of the Bride, and, lastly, they've earned a Latin Grammy for Best New Artist.
Ángela Álvarez follows in the footsteps of her compatriot, Ibrahim Ferrer, who won this award in the first edition of the Latin Grammy, in 2000, at the age of 73.