The care team mobilized to coordinate getting the boy transferred to a hospital where he could get the care he needed.
Pablo, who's only 2 years old, had lung and heart failure and needed to be connected to an ECMO (extracorporeal membrane oxygenation) machine to continue living. However, he was at a hospital in Burgos in northern Spain, and they didn't have a machine available for him.
Sylvia Belda, a pediatric critical care physician in Madrid (in central Spain), got word of his situation and sent a message to a special WhatsApp group. Within an hour another pediatric critical care physician, a cardiovascular surgeon, and three nurses mobilized to coordinate getting the boy transferred to the hospital in Madrid where he could get the care he needed.
In 2012, Sylvia had created this initiative to connect healthcare professionals from all over Spain who volunteer to travel to save lives. They coordinate among themselves, voluntarily and informally, as there's no institutionalized protocol to coordinate it.
A three-pronged approach
Time was running out; Pablo's lungs and heart were beginning to fail, and he needed to be hooked up to the machine to stay alive.
"Pablo started with a normal respiratory infection, but the situation became more complicated. Connecting him to the ECMO machine was his only option. If we hadn't arrived in time Pablo would've died," explains Sylvia.
Photo courtesy of Dr. Sylvia Belda UCI Pediátrica Hospital 12 de Octubre
The solution required complicated logistics. Sylvia's hospital in Madrid had the machine available, but no specialists. She contacted two other hospitals in Madrid, but they weren't available either. Pediatricians from a hospital in Barcelona were going to make the trip, but a last minute emergency prevented them from doing so.
Thus, the only option was to get specialists from Malaga, on the southern coast of Spain, who had offered their services. "In just one hour, the three hospitals coordinated to try to save Pablo's life," the pediatrician explains.
From Malaga to Burgos against the clock
Despite having to cross the entire country, "the Malaga team didn't hesitate for a moment and even took the money from their own pockets to buy the tickets to Madrid," Sylvia says.
They took the first commercial plane available to reach the capital. At the airport, at the foot of the runway, an ambulance sent from Burgos was waiting for them with equipment it had picked up at the hospital in Madrid.
Once the air journey was over, the land journey began. A distance of nearly 160 miles separated them from the little boy who was struggling to survive. Fortunately, everything was well coordinated for the medical team from Malaga to travel to Burgos with the equipment from Madrid to save the child's life. It was a true feat of solidarity and the team's dedication to their  vocation to save lives.
Saving Pablo
They managed to reach Burgos, where Pablo was barely hanging on through what could've been his final hours. They connected him immediately to the ECMO machine that allowed him to be transferred to Madrid to be operated on despite his heart and lung failure. Pablo survived and was successfully transferred to the operating room.
After hours on the operating table, little Pablo's lungs and heart started to respond on their own.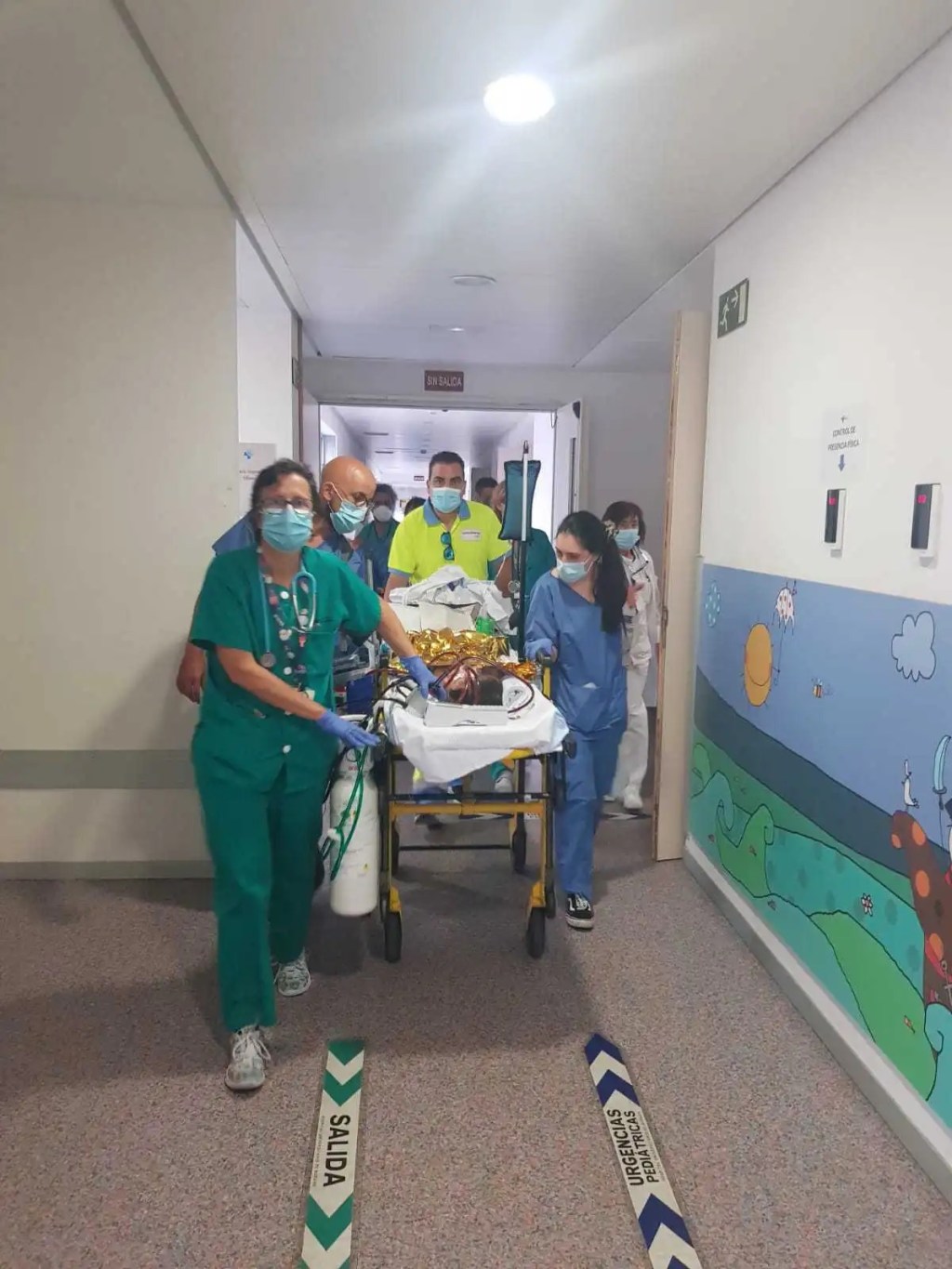 Photo courtesy of Dr. Sylvia Belda UCI Pediátrica Hospital 12 de Octubre
His parents' gratitude
His parents are full of gratitude: "They came to save our little boy when he barely had a thread of life left (…) We thank them for everything from the bottom of our hearts."
Pablo still relies on a ventilator, but he's making progress. His life no longer depends on being connected to the ECMO machine.
Since Sylvia organized this group, whose members coordinate to save lives, there have been dozens of interventions like this one which have made it possible for the right treatment to arrive on time. The dedication of health professionals willing to traverse land, sea or air continues to save lives, because the hearts of medical professionals arrive where formal protocols do not yet reach.