Painters of icons hope that recent gift to King Charles III will lead to more recognition of suffering in Ukraine.
King Charles III of England recently received a special gift from Ukraine. While visiting the Ukrainian Catholic Cathedral in London, the king was presented with an icon painted on a board from a wooden ammunition box.
During a ceremony in which the king formally opened a center in London for refugees from the war in Ukraine, Bishop Kenneth Nowakowski of the Eparchy of the Holy Family in London presented him with an icon of the Mother of God of Tenderness. The icon is from the studio of Oleksandr Klymenko and Sofiia Atlantova, a married couple who are both artists and who founded the project "Icons on Ammo Boxes," also known as "Buy an Icon – Save a Life." 
"It was a great honor for us, and we are very proud now of it," said Atlantova, speaking from the couple's home near Kyiv. "I hope that the king will think a little more about Ukraine, for it's not only an icon, it's a story about our country, about our war, about our situation. And by this project, we've tried to tell everyone who sees these icons that we have a real war. When you see it on TV or on the news or on the internet, you can't realize that it's real. But when you see a real wooden ammo box that held real ammunition that was fired, it makes a very different impression."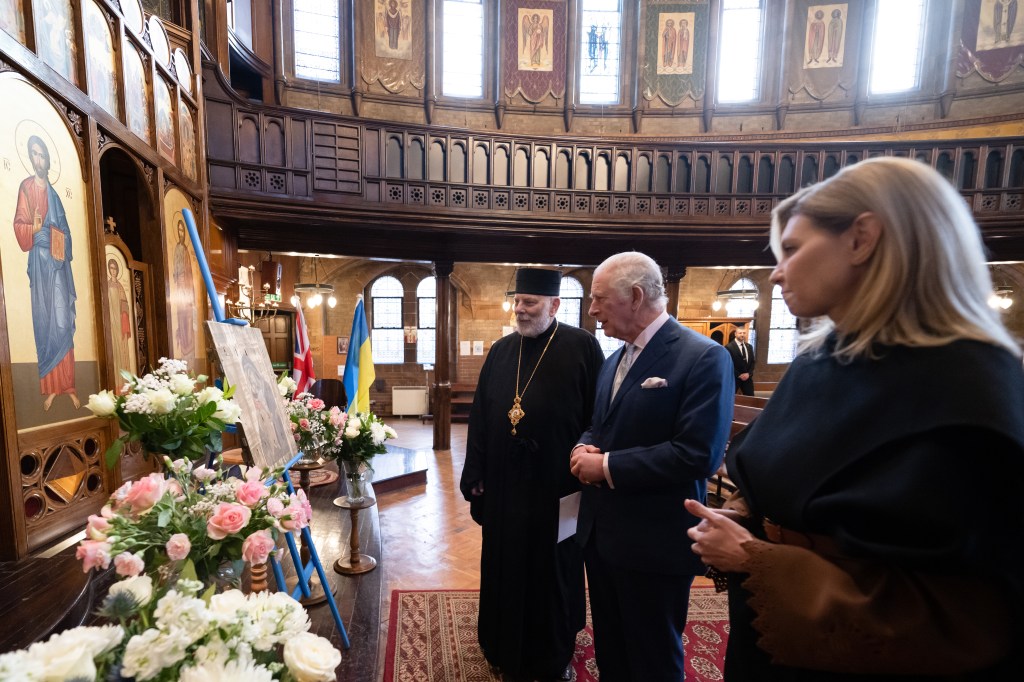 Sales of the icons, whose prices range from $2,000 To $4,500, support a field hospital called the Pirogov First Volunteer Mobile Hospital, or PFVMH, which brings volunteer medical professionals into war zones to treat wounded soldiers and civilians. 
Charles was not the first high-profile individual to receive such an icon. In February 2020, two years before Russia launched a full-scale invasion of Ukraine, Metropolitan Archbishop Borys Gudziak of Philadelphia, along with four other bishops of the Ukrainian Greek Catholic Church in the United States, presented one of the icons to Pope Francis at the Vatican. In this case, it was an icon of St. Peter. 
The pope must have hundreds of images of his predecessor, but none like this one, to be sure. 
Softener of Hearts
Atlantova said that she and Klymenko started the icon project in 2014, when Moscow annexed the Ukrainian peninsula of Crimea and the Ukrainian military began fighting Russia-backed separatist movements in eastern Ukraine. 
"We are artists, and we wanted to see how artists can be helpful," she said. "At least we can tell about this war. We can show this to the world."
It was when Klymenko visited the base of a volunteer military unit that he noticed the covers of boxes containing AK-47 bullets were "identical to icon painting boards." He took one home and wrote an icon of the Theotokos on it. 
The couple have no idea how many icons they have painted on ammo box material since then. "We don't count; we just paint," she said.
In addition to Marian icons, subjects include Christ, the Evangelists, the head of St. John the Baptist, St. Nicholas, and St. Michael the Archangel. There are a variety of icons of the Mother of God, including Our Lady of the Never-fading Blossom and the Softener of Evil Hearts. Some icons incorporate camouflage fabric in the image's background.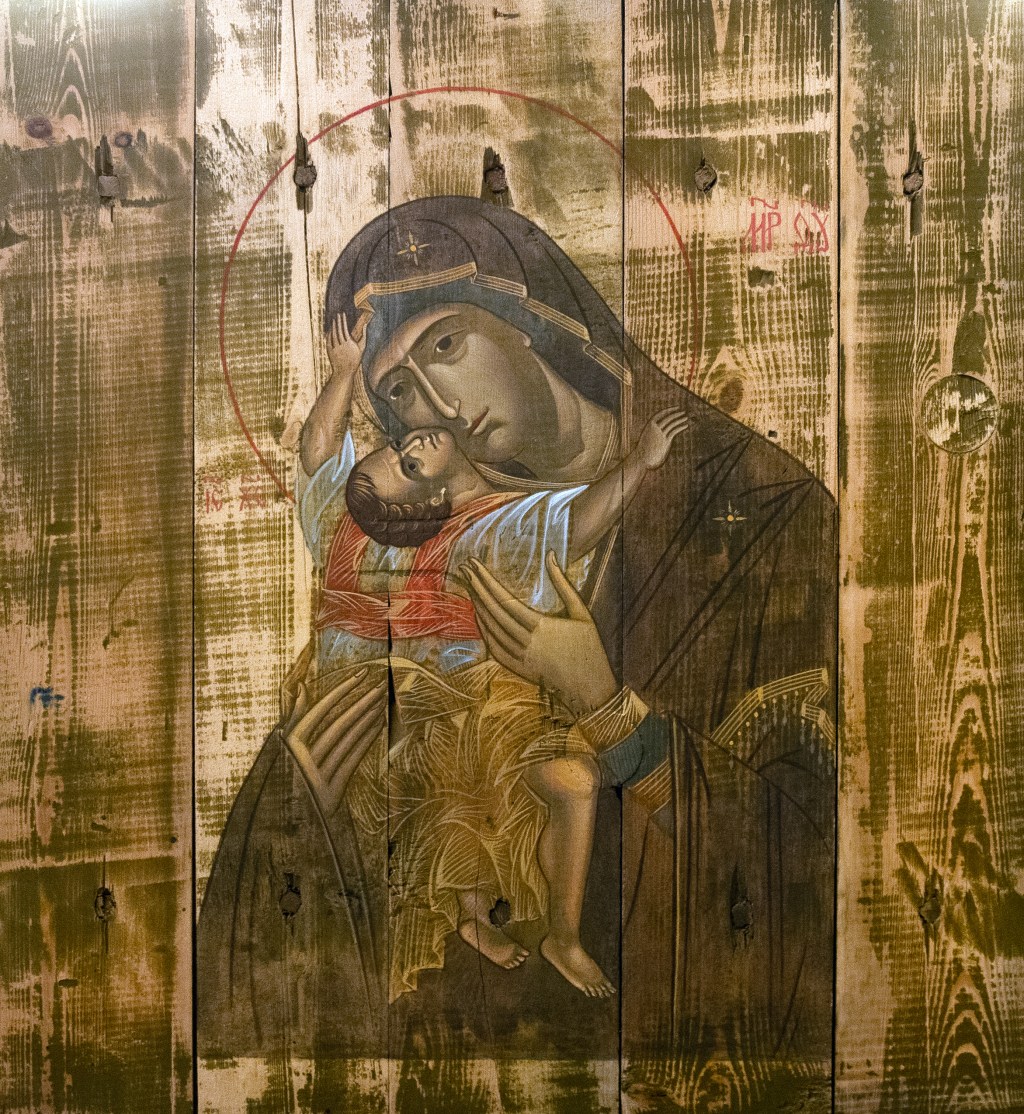 Atlantova, 41, said that her favorite icon to paint is of St. George slaying the dragon.
An artist who learned iconography from her artist-mother at a young age and who has done wall paintings in churches, Atlantova in 2014 was working on book illustrations, specifically a collection of birds in Ukraine. But because of the war, that project had to be put on hold. 
"I hope it will start again when we achieve victory," she said. 
Saving lives
The iconographer said there is no dearth of materials for her work.
"It's a pity, but we have no trouble getting ammo boxes," she said. "We ask doctors, volunteers, when someone goes to the front lines and takes a full car of supplies to help, and when the car goes back, it's empty. And we ask 'Pick up the boards for us.' I think those troops, those commanders, those medics are also the authors of this project, and maybe even more than we are."
In a 2020 interview with Reuters, Klymenko, 46, alluded to how the project turns objects of death into something life-giving.
"An ammunition box – like a coffin – is taken from under the ground, where it was previously stored. Once it is opened, death breaks out of it and destroys everything around. We do something very different with it. We transform the atrocities which broke out of the box by painting life here." 
And the proceeds from sales of the icons have saved many lives, according to Gennadiy Druzenko, PFVMH co-founder and president. Just since May, PFVMH has treated 5,472 patients, both civilians and military, he told Aleteia. 
The organization's main expenses are fuel for and repair of ambulances, as well as body armor, sophisticated medical equipment, and tourniquets.
Courtesy of Pirogov First Volunteer Mobile Hospital
In the beginning, "Icons on Ammo Boxes" was the largest source of financial support for the field hospital. Since the full-scale invasion of February 24, 2022, expenses for the medical project have skyrocketed, Druzenko said. "So Icons on Ammo Boxes is still our valuable supporter and donor, but one among hundreds of others. Now it helps us far more symbolically than financially."
In the past nine months, he said, hundreds of medics from Ukraine, Europe, the UK, the US, and Canada have volunteered. "Some of them for weeks or a month, others (like my wife) – permanently," he said. "Thanks be to God, we haven't lost anybody."