Fr. Bryan Brooks has made the trip to the penitentiary 113 times over the last 27 years to witness to the dignity of human life.
Oklahoma has the highest number of executions per capita than any other US state, but one priest, Fr. Bryan Brooks, makes sure every man or woman on death row who is killed by the state is accompanied by prayer as they draw their last breaths. 
An article by Whitney Bryen in Oklahoma Watch* reports that Brooks travels two hours to the southeastern Oklahoma prison known as "Big Mac," missing only one execution in 27 years — because of his own father's death. Otherwise, he has gone to the state penitentiary 113 times and prayed this prayer outside the prison:
As pastor of the Church of St. Benedict in Broken Arrow, Oklahoma, Brooks does not want these lives to be forgotten. He told Oklahoma Watch that his faith, his training, and his mentor taught him that "all lives are sacred, even those who have taken the lives of others." 
Fr. Bryan Brooks celebrating Mass (photo courtesy of Susan Anderson/Church of St. Benedict)

"The executions are carried out in a way that undermines the dignity of life…What's being done is more of an act of vengeance than an act of justice and that's counter to the gospel of life and as a priest, I'm called to be a witness to that."
Fr. Brooks began this ministry when his mentor, Fr. David Brooks (no relation), who was well-known for this ministry, could no longer do it. But it is not something he likes to do. 
"I really don't like doing this. God knows there are a lot of other things to do, to plan," Brooks said. "But this is just where I'm supposed to be and I know that without a doubt."
Brooks deeply cares about victims, too — those whose lives were taken by the people he prays for outside the penitentiary. He has presided over funerals of murder victims and comforted loved ones. And in the book of prayers, verses, and hymns that he and his team use during their vigils at executions, there is also a row of labels with the names of prayer of both victim and perpetrator.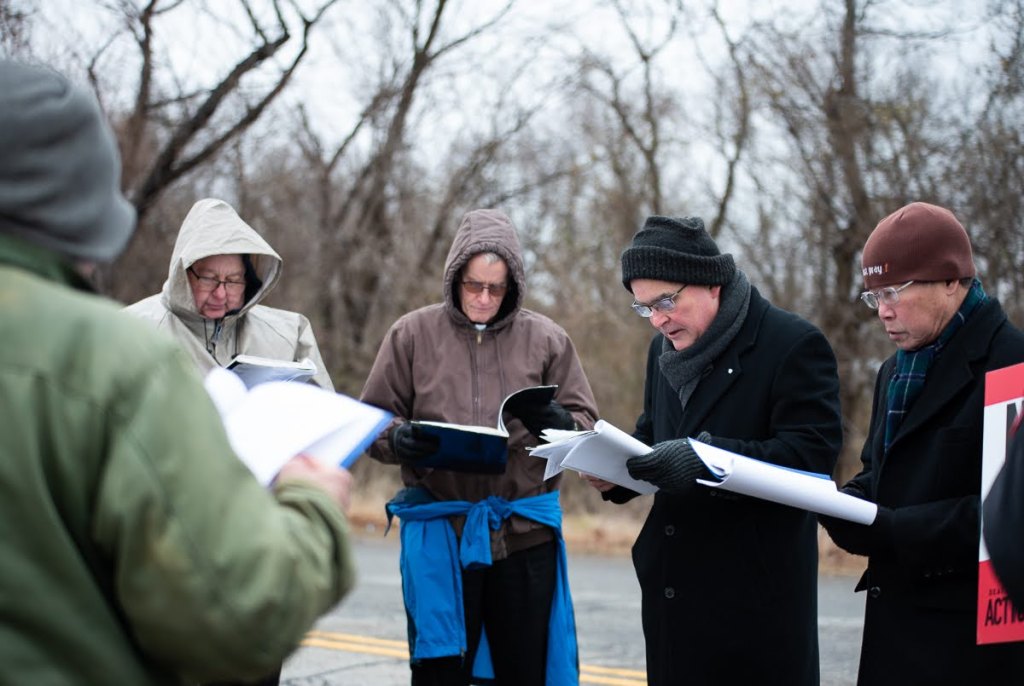 WhitneyBryen
Despite the fact that Fr. Brooks wishes there was no need to travel to Big Mac to pray for death row inmates who are meeting their end, his work will continue. The wrinkled leather calendar he carried currently lists another 22 executions that the state is planning over the next two years. 
*Oklahoma Watch, at oklahomawatch.org, is a nonprofit, nonpartisan news organization that covers public-policy issues facing the state.