These planners focus on the spiritual side of life to bring order to your mind and peace to your soul.
So many tools for organizing your life promise to help you "do more" and "be more productive." But what if the purpose of our lives isn't to be as productive as possible, but to live with peace and order? Even if that means doing "less" on the surface level?
God wants to give us His peace, and living our lives with order can bring us more peace. A great planner can help many of us lead the orderly lives we crave. 
What makes these planners truly special is that they focus on the spiritual side of life, and not just on "getting it all done." That's what makes them such amazing tools, not only for productivity, but for growing in faith and prayer. 
Hopefully using one of these planners will bring order to your mind and peace to your soul in 2023!
Vivat Jesus Spiritual Planner
Made with men in mind, this new planner from the Knight of Columbus is a pocket-sized prayer book and calendar for the year 2023.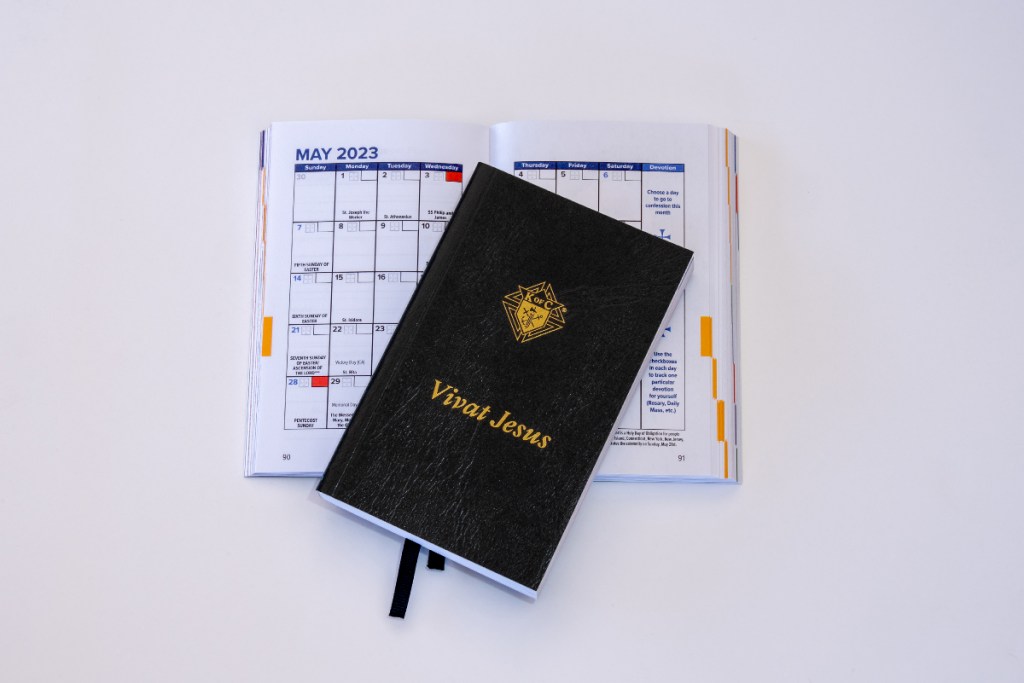 Courtesy of Knights of Columbus
This book is designed to help men develop and maintain a daily prayer routine while also incorporating Catholic prayers and devotions throughout the year for themselves and their families.
Blessed Is She Planner
Made with women in mind, The Blessed Is She Catholic Planner is billed as "the Catholic woman's dream planner." It has a monthly planning layout, places for to-do lists and meal plans, reminders of the liturgical calendar and holy days, and much more. Also comes in a mini version (spiral or bound)!
Saintmaker Planner
The Saintmaker Planner is billed as "a one-of-a-kind personal journal and planner to help Catholics reignite their faith, excel in their vocation, and experience true spiritual freedom." Each of its four seasonal planners covers 3 months of the year. 
Not surprisingly, this thorough planner is jam-packed with features. These include seasonal goal templates, daily productivity tools, a confession journal, prayer routine, devotional planning tools, and much more.
Be A Heart Design Planner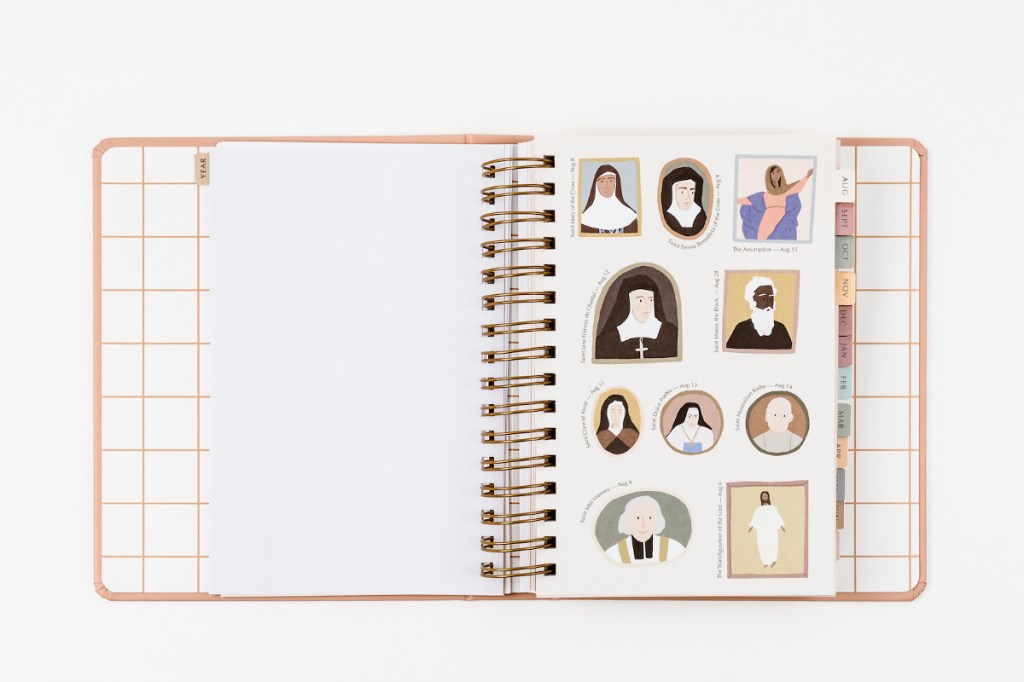 Courtesy of Be A Heart Design
The Be A Heart Catholic Liturgical Planner includes 13 months and their monthly devotion. It has the liturgical calendar on both monthly and daily spreads, 3 sheets of stickers, a monthly to-do list, prayer intention list, gratitude list, reflection pages, and notes pages.
Theology of Home Planner
Covering 16 months, the Theology of Home planner includes liturgical calendar highlights and saint feast days, images and excerpts from Theology of Home III, quotes from the saints, monthly and weekly layouts, Catholic prayers, and more. 
The Theology of Home Planner is billed as "a must for anyone who wants to bring more beauty, intentionality, and structure to home life, daily life, and life out in the world."
The Catholic Planner 
This planner has many of the same features as other Catholic planners, such as a liturgical calendar and habits tracker. 
What sets it apart from the rest is its "Weekly Retreat" feature, which includes the Sunday Mass Readings and a space to write prayers and reflections about them, helping you enter deeper into prayer while following the liturgical year.
Monk Manual
While not specifically Catholic, this planner deserves a place on the list. Monk Manual is "designed to bring the timeless wisdom of monastic living into your everyday life."
This 90-day planner combines a journal and a planner for increased mindfulness and productivity.
Elizabeth Clare Planner
This Catholic planner is designed to help you "effortlessly live your beautiful Catholic faith while balancing modern life." It includes monthly dedications, novena reminders, feast days, confession reminders, papal intentions, and much more.
Catholic Daily Planner
A useful, annual resource "designed to help you live your Faith and order your life," this planner includes feast days and Holy Mass readings for both calendars; icons and images for special feast days; a daily Rosary mystery reminder; and optional inserts for lesson planning, menu planning, and journaling.
Paper Sunday
While not specifically Catholic, Paper Sunday journals and planners are personalized with Scripture verses and your name, making them unique in the world of planners. (And here's our review!)