The Pope Emeritus' life, achievements, intellect, and virtue will be heralded for decades to come.
Pope Emeritus Benedict XVI has died. The 95-year-old pontiff passed away in the Vatican's Mater Ecclesiae Monastery on December 31 at 9:34 a.m. He passed in the monastery where he has lived for most of the past nine years, since his historic resignation from the papacy in 2013.
Benedict's death marks the first time in six centuries that a Successor of St. Peter has died while not in office. The last was Pope Gregory XII. But that is only one of many fascinating parts to Joseph Alois Ratzinger's life. He was a man — and a pope — of many surprises.
"Cardinal Ratzinger/Pope Benedict's intellectual brilliance and gentle demeanor became well known to all soon after his election to the papacy," said Jesuit Fr. Joseph Fessio, founder of Ignatius Press and a former doctoral student under Ratzinger's direction. "People suddenly realized that the Panzerkardinal, the Vatican Enforcer, the humorless, predatory doctrinal watchdog was in fact none of these things. Quite the opposite in fact."
A surprisingly long life
Pope Benedict might have surprised himself in living as long as he did. In February 2018, the German weekly Neue Post published an interview with Msgr. Georg Ratzinger (brother of the former pope who died in July 2020) saying Benedict was suffering from a nerve disease, which was paralyzing him little by little. That was later denied by the Vatican.
But the week before, the Italian daily newspaper Il Corriere della Sera published a letter from Benedict himself in which he seemed to be hinting to his imminent passing.
"As my physical strength slowly wanes, interiorly I am on a pilgrimage towards Home," the Pope Emeritus wrote, in the Feb. 5, 2018, letter.
On April 1, 2021, the German periodical Die Tagespost reported remarks by Benedict XVI's longtime secretary, Archbishop Georg Gänswein, who revealed that Benedict only expected to live a few months after his resignation.
"It seemed to him, as well as to me — I can confess it here — that he only had a few months left, but not eight years," Gänswein said during an Austrian psychiatry congress.
But as late as January 2020, the Pope Emeritus was still making news. A book called From the Depths of Our Hearts: Priesthood, Celibacy and the Crisis of the Catholic Church was seen as a last-ditch effort to sway Pope Francis from opening up the possibility of ordaining married men to the priesthood. It initially bore Pope Benedict's name as co-author, along with Cardinal Robert Sarah, though it later came out that the Pope Emeritus had not co-authored it.
Historic resignation
In his last years, though, Pope Benedict led a mostly private, quiet life in a room of a former convent in the Vatican.
"Benedict XVI, since his resignation, has understood himself as an old monk who, after February 28, 2013, is committed above all to prayer for Mother Church and his successor, Pope Francis, and for the Petrine ministry founded by Christ himself," Archbishop Gänswein said in a talk in Rome in September 2018.
Benedict didn't make public appearances in the last years, but still received visitors, who often shared pictures of their time together on social media.
After his retirement, the Pope Emeritus only appeared for a few special events in the Vatican, such as visiting St. Peter's Basilica in 2015 to take part in the official inauguration of the Jubilee of Mercy with the opening of the Holy Door. Pope Francis greeted him in the atrium of the basilica before conducting the ceremony to open the Holy Door and then walked through it. Benedict followed, assisted by Archbishop Gänswein.
Even when he was elected to the Chair of St. Peter, there was concern about his health. At 78, he was the oldest pope to be elected since Clement XII in 1730. The new pope himself predicted that he would have a short papacy.
Pope Benedict said that he resigned from the papacy because of a "lack of strength of mind and body" due to advanced age. He felt that the office was increasingly becoming a burden on him and that he could not fulfill his duties sufficiently.
But it was an extremely rare action that had not occurred since 1415, when Pope Gregory XII stepped down. Some observers speculated causes other than health, including the leaking of documents to the press by Benedict's private butler and infighting in the Vatican Curia.
Major writings
Cardinal Joseph Ratzinger had been the head of the Vatican Congregation for the Doctrine of the Faith for almost 24 years under Pope John Paul II when he was elected to succeed the Polish pope in April 2005. With Wojtyla, the College of Cardinals had broken the long tradition of electing Italians to the papacy, and Ratzinger became the first German to become pope since the 16th-century Adrian VI.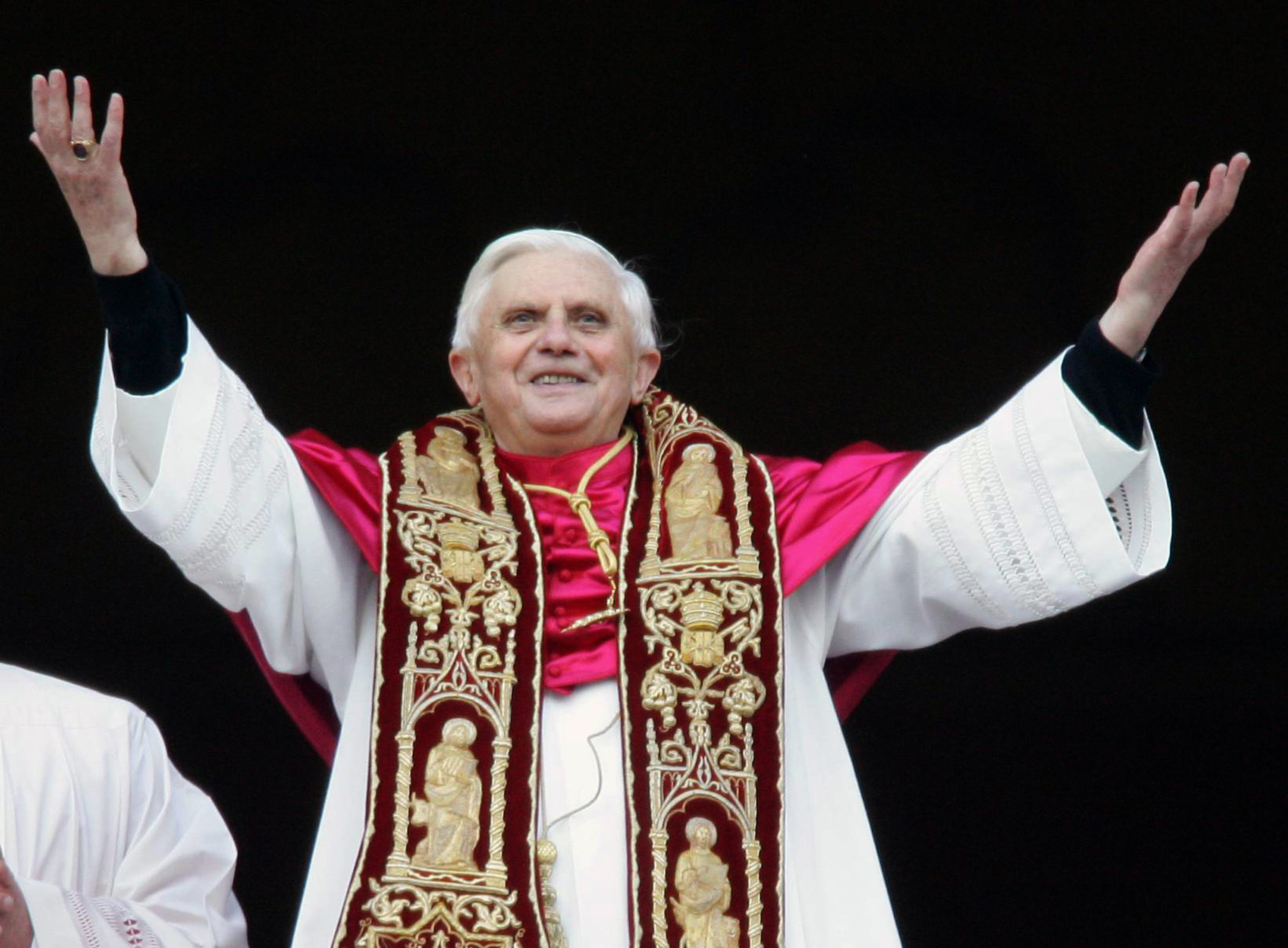 He was the 265th pope.
Though his eight-year tenure was brief in comparison to John Paul's 26, he was far more than simply a caretaker or placeholder. Among other accomplishments, he oversaw the establishment of a process for Anglican congregations to enter the Catholic Church while maintaining their special liturgical traditions, and continued his predecessor's tradition of meeting with the youth of the world every three or so years in a major gathering called World Youth Day.
During his pontificate, he published three encyclicals, His first, Deus Caritas Est, in 2006 took up the theme of love, with Part I presenting a theological and philosophical reflection on the different dimensions of love — eros, philia, agape — and explaining certain essential facts concerning God's love for man and the intrinsic connection of this love with human love. Part II deals with the actual practice of the commandment to love one's neighbor.
The following year, in Spe Salvi, he said that, without faith in God, humanity lies at the mercy of ideologies that can lead to "the greatest forms of cruelty and violations of justice."
Caritas in veritate, his third and last encyclical, was released in 2009. It is, in the words of the U.S. Conference of Catholic Bishops, a "call to see the relationship between human and environmental ecologies and to link charity and truth in the pursuit of justice, the common good, and authentic human development."
"In doing so, the pope points out the responsibilities and limitations of government and the private market, challenges traditional ideologies of right and left, and calls all men and women to think and act anew," said the bishops' conference.
While Deus Caritas Est and Spe Salvi covered the theological virtues of love and hope, Benedict had completed a draft of a fourth encyclical to discuss faith. But it was not published by the time Benedict stepped down. His successor, Pope Francis, completed and published Lumen Fidei in June 2013, four months into the new pontificate. Francis, in paragraph 7 of the encyclical, acknowledges this fact.
"These considerations on faith — in continuity with all that the Church's magisterium has pronounced on this theological virtue — are meant to supplement what Benedict XVI had written in his encyclical letters on charity and hope," Francis wrote. "He himself had almost completed a first draft of an encyclical on faith. For this I am deeply grateful to him, and as his brother in Christ I have taken up his fine work and added a few contributions of my own."
Among his many publications are Introduction to Christianity, a compilation of university lectures on the Creed published in 1968; The Ratzinger Report; a book-length interview on the state of the Church (1985); Salt of the Earth (1997); and Jesus of Nazareth, a life of Christ in three volumes published during his pontificate.
The dictatorship of relativism
In other writings and speeches, Benedict addressed the contemporary problem he called the "dictatorship of relativism."
"Today, a particularly insidious obstacle to the task of education is the massive presence in our society and culture of that relativism which, recognizing nothing as definitive, leaves as the ultimate criterion only the self with its desires," he said in an address in Rome in 2005. "And under the semblance of freedom it becomes a prison for each one, for it separates people from one another, locking each person into his or her own ego."
He also responded to continuing and relatively new challenges to traditional understandings of love, marriage and the sacredness of human life. The same year, 2005, he remarked that the "various forms of the dissolution of matrimony today, like free unions, trial marriages and going up to pseudo-matrimonies by people of the same sex, are rather expressions of an anarchic freedom that wrongly passes for true freedom of man…. From here it becomes all the more clear how contrary it is to human love, to the profound vocation of man and woman, to systematically close their union to the gift of life, and even worse to suppress or tamper with the life that is born."
The Pope became the center of controversy when he delivered a lecture at his old university in Regensburg. The September 2006 talk, "Faith, Reason and the University — Memories and Reflections," included a quote from a 14th-century Byzantine emperor: "Show me just what Muhammad brought that was new and there you will find things only evil and inhuman, such as his command to spread by the sword the faith he preached."
Although it was merely a quote, and not the Pope's own sentiments, it caused an uproar across the Muslim world. Benedict attempted to make amends by praying in the Sultan Ahmed Mosque when he visited Istanbul later that year.
This wasn't the only time his speeches made big news. In a 2010 book-length interview with German journalist Peter Seewald, Light of the World: The Pope, the Church, and the Signs of the Times, Pope Benedict made a comment that was immediately judged as a new openness on the part of the Church to the use of condoms to prevent the spread of the AIDS virus. In fact, Benedict was merely saying that if a male prostitute were to choose to wear a condom during sex, it could be taken as a sign that he had some inchoate moral sense because he was trying at least not to infect someone else.
Unknown by many
In spite of his gentle, grandfatherly demeanor, an image perdured in the public imagination of an unbending, doctrinaire enforcer of Catholic theology, especially moral theology — the "Vatican Enforcer," as Fr. Fessio put it.
Even in the twilight of his life, a movie produced by Netflix, The Two Popes, depicted him as the stern, doctrinaire foil to his eventual successor, a portrayal that drew sharp criticism from many Catholic thinkers.
"If only we had had a flashback to the sixteen-year-old boy from a fiercely anti-Nazi family, pressed into military service in the dying days of the Third Reich, we would understand more thoroughly Ratzinger's deep suspicion of secularist/totalitarian utopias and cults of personality," wrote Bishop Robert Barron in a January 2, 2020, review of the film. "If only we had had a flashback to the young priest, peritus to Cardinal Frings, leading the liberal faction at Vatican II and eager to turn from preconciliar conservatism, we would have understood that he was no simple-minded guardian of the status quo. If only we had had a flashback to the Tubingen professor, scandalized by a postconciliar extremism that was throwing the theological baby out with the bathwater, we might have understood his reticence regarding programs advocating change for the sake of change. If only we had had a flashback to the Prefect for the Congregation for the Doctrine of the Faith composing a nuanced document, both thoughtfully critical and deeply appreciative of Liberation Theology, we might have grasped that Pope Benedict was by no means indifferent to the plight of the poor."
Family history
The fact that Ratzinger's youth coincided with the rise of National Socialism in Germany gave detractors an opening to label him as the Panzerkardinal. Born at Marktl am Inn, Bavaria — the country's most Catholic area — on April 16, 1927, Joseph Alois Ratzinger was baptized on the same day, which was Holy Saturday that year.
According to his official biography at the Vatican's website, his father, a policeman, belonged to an old family of farmers from Lower Bavaria of modest economic resources. His mother was the daughter of artisans from Rimsting on the shore of Lake Chiem, and before marrying she worked as a cook in a number of hotels.
Besides Joseph, the Ratzingers also had a daughter, Maria, who managed the cardinal's household until her death in 1991, and another son, Georg, who would gain prominence in his own right as the director of the Regensburger Domspatzen choir.