Francis asks that Our Lady will accompany Pope Emeritus Benedict on his journey, and invites the faithful to give thanks for the gift he was as a faithful servant of the Gospel.
At Mass for the Solemnity of Mary, Mother of God, Pope Francis invited the faithful to entrust Pope Emeritus Benedict XVI to Our Lady.
And today, we entrust beloved Pope Emeritus Benedict XVI to our Most Holy Mother, that she will accompany him on his journey from this world to God.
Afterward, before leading the midday Angelus, he again called the faithful to prayer:
The beginning of the new year is entrusted to Mary Most Holy whom we celebrate today as Mother of God. At this time, let us invoke her intercession especially for Pope Emeritus Benedict XVI who left this world yesterday morning.

Let us all join together, with one heart and one soul, in thanking God for the gift of this faithful servant of the Gospel and of the Church. We saw recently on TV, the "Sua Immagine" program, all that he did and the life of Pope Benedict.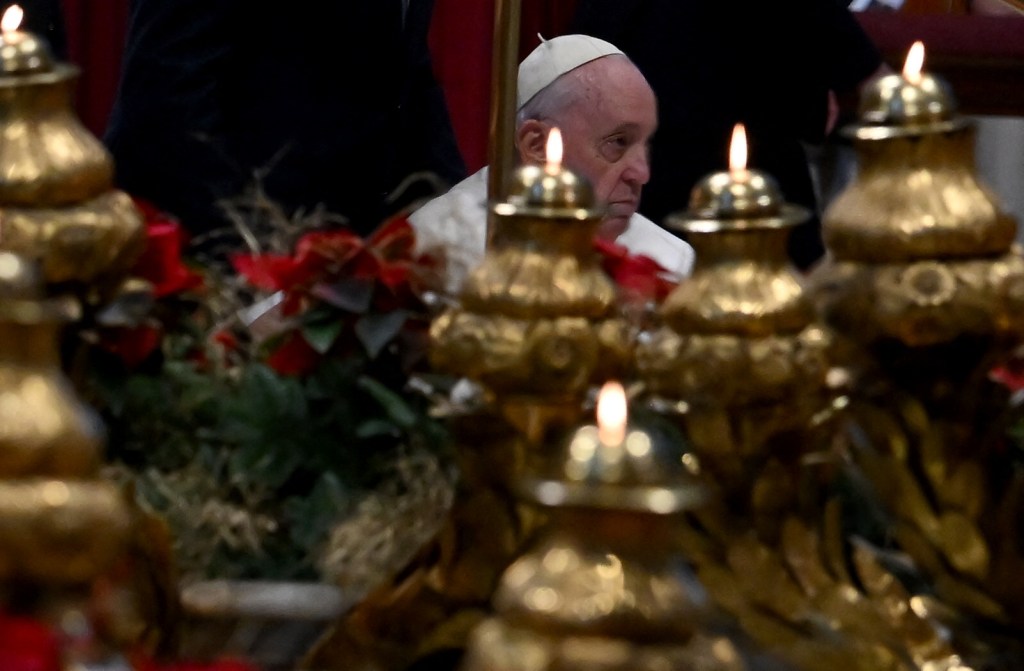 Photo by Filippo MONTEFORTE / AFP
At Vespers on December 31, the Holy Father also reflected on his predecessor, in his homily on kindness.
And speaking of kindness, at this moment, my thought naturally goes to dear Pope emeritus Benedict XVI who left us this morning. We are moved as we recall him as such a noble person, so kind. And we feel such gratitude in our hearts: gratitude to God for having given him to the Church and to the world; gratitude to him for all the good he accomplished, and above all, for his witness of faith and prayer, especially in these last years of his recollected life. Only God knows the value and the power of his intercession, of the sacrifices he offered for the good of the Church.
The body of the Pope Emeritus will be transferred Monday morning to St. Peter's Basilica for the faithful to pray and pay their respects.
For the rest of Sunday, it continues to rest at the Mater Ecclesiae Monastery, where he passed. Certain cardinals close to the Pope Emeritus are spending time in prayer with his remains.