Fr. Fermín González started by rebuilding his church's bell tower, and now he and his team have repaired 1,700 structures!
It has always seemed to me quite unfair that the many pay for the sins of the few, but the reality is that failures seem to have more impact, to make more noise, than simple lives full of good works.  That's why I love talking to Fr. Fermín González, a priest who has managed to make the news — but good news, hopeful news!
Fr. Fermín is affectionately known as "the chainsaw priest." The nickname was given to him by the people of Burgos (northern Spain), who have seen him go to a nearby forest many times to fetch wood.
But what did our chainsaw priest need so much wood for? Well, that's where the story begins…
Upon arriving at the parish of Cebrecos where he had been assigned, Fr. Fermín saw that the church bell tower was in a lamentable state. It was so bad that it was very difficult to remove the decaying roof structure. He worked hand in hand with a group of volunteers to keep costs down.
Fermín González.
They built such a high-quality structure that, when the quantity surveyor saw it, he quickly asked the archdiocese for Fr. Fermín to become part of the technical restoration service. This was the beginning of a great project, because Fr. Fermin and his team have repaired 1,700 structures in 40 years.
Thinking of many priests who only manage to fill the pews with a few grandmothers, I asked him how he manages to get men involved as volunteers, working hard to recover the legacy of parishes and of the Church.
"The truth is that they were the ones who were looking for us," he says:
Believers and non-believers, who shared a sense of belonging to their community, of identity, of roots… There was no need to force anything. Everyone contributed what they knew. But I do believe that you have to work with them at their level, stand shoulder to shoulder and discover, recognize, the day-to-day life of a tired worker, of a mother with a family… When you attend to their concerns, when you get down to work with the real needs of the parish, the volunteers come out on their own.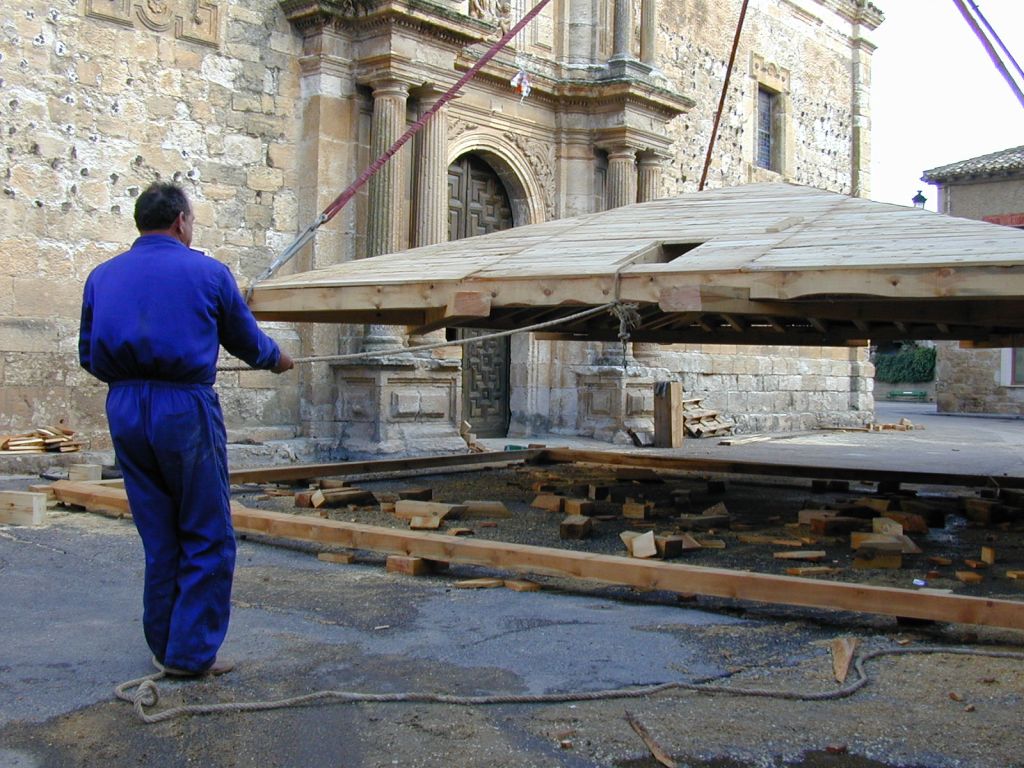 Fermín González.
Here is the rest of my interview with him:
We are at a time when the cliché that the Church has a lot of money is often repeated. Fr. Fermín, you can attest that, as in any family, the Church sometimes has to make an effort and sell its treasures in order to cover essential needs.
That's right, we had to sell the priest's house, the rectory in Ura, to be able to fix up the church, to cover the most important needs.
Prison ministry
Fr. Fermín, after forty years assigned to the parish, in the rural world, you've been exercising your priesthood in a penitentiary center. In the village, you achieved something that seems very difficult nowadays, which is to build community, to build a parish. Can you also manage to build community, to build a parish, in prison?
Yes, it is possible. In spite of the fact that there's a saying among the inmates of the prison that "I didn't come here to make friends," I have made good friends. There's also a community inside. As in the parishes, you have to spend time with them, walk with them, get to know their families… We're people who need to listen to each other and accompany each other.
Working in the countryside I set up (physical) structures, but in prison, many of my (metaphorical) structures fell away. I lost those preconceived mental structures that don't fit with reality, because the generosity of taking care of each other, of accompanying each other, of leaving things behind, also happens behind bars.
Guided by the Holy Spirit
Fr. Fermín, do you think that the Holy Spirit has made up for your lack of training in drafting, in technical drawing, to create those magnificent roof structures?
I had no knowledge, but it is true that I listened, I paid attention and trained myself. I tried to put everything at the service of the Holy Spirit and ask myself, "How can I make God's dream come true for these people? How can I make them happy?" If we know how to listen, the Holy Spirit will tell us how to get involved in bringing God's dream to all these people, those in the countryside, those in prison, those in your parish.