An intimate concert, talking shop with Monsignor Georg, and a family dinner ... what a night!
The passing of Pope Benedict last weekend brought back memories of two of my encounters with him. 
In 2005, the same year that he was elected pope, I performed a solo piano recital in Weill Recital Hall in Carnegie Hall, New York City.  Those two events – the papal election and my performance in Carnegie Hall – provided the elements for a conspiracy between two of my dear friends (one who had recently joined the household staff of the Pope) to have me play a private concert for Benedict:
–       "Chris will be in Rome in August. Can you get him to play for the Pope?" 

–       "The Pope's brother from Germany is visiting him at that time; I don't think it will work, but I'll ask."
Benedict's response: "It will be beautiful to have a concert while my brother is here. Have your friend come." Nota bene: Monsignor Georg Ratzinger, elder brother of Benedict XVI, was a German priest and conductor of the Regensburg Cathedral Choir. 
Castel Gandolfo, a small town southeast of Rome, was the papal summer residence, and the location of my private recital for the Pope and guests. Although I had arrived in the town with nearly an hour to spare, trying to navigate centuries-old streets, park vehicles, discover how to enter a castle (no, the Swiss Guards do not allow cars to enter the castle grounds, even if you're playing a concert for the Pope) were obstacles that made me arrive at the castle entrance a few minutes late. 
Pope Benedict was there to welcome me and calm me down, seeing that I was out of breath, nervous, and had just been berated by my friend for being tardy. 
"Thank you for coming! Would you like to warm up?"
"No, thank you, Your Holiness. I can begin the concert."  
And after a few words of introduction (in Italian, the language I had been asked to speak that evening) I launched into a Bach Fugue, followed by Chopin Mazurkas, and a Schubert Sonata. All went well. 
At the close of the recital, Pope Benedict and his brother came to congratulate me. Monsignor Georg Ratzinger eagerly began talking music with me—in German! We had no common languages! I turned to the Pope with a can-you-help-me-out look on my face, and he complied: Pope Benedict became my translator, and his brother continued musical shop talk with me. 
After the greetings from the other audience members, I was asked to join the whole papal family—Pope, brother, household attendants, secretarial staff, and a guest or two—for an intimate "family dinner."
We discussed music, my background, the German dessert that his Italian cook had prepared. I told the Holy Father that I had gone to a lecture he had given in New York many years earlier. After dessert, he asked me, "Chris, have you ever been to Castel Gandolfo?" "No, Your Holiness." "Well, let's get someone to take you around. Please excuse me, I have to leave. Thank you again for coming." 
And he left with his brother and secretary for his nightly walk in the garden. My beautiful evening with Pope Benedict had come to a close.
Fast forward to 2008, three years later: Pope Benedict was visiting the United States. In New York, there was an outdoor Youth Rally and I was the conductor of the choir that sang at the event. I wondered ahead of time whether the Pope had been told that I was there, whether he had recognized my name in the program, whether he had any recollection of my private concert for him three years prior. 
As he entered the arena, he walked around and leaned down to shake the hands of the cheering faithful. Getting through the row of my choristers, he arrived to me: As I stretched out my hand, he looked me in the eye, did a double-take, and gave me a broad, warm smile as he shook my hand.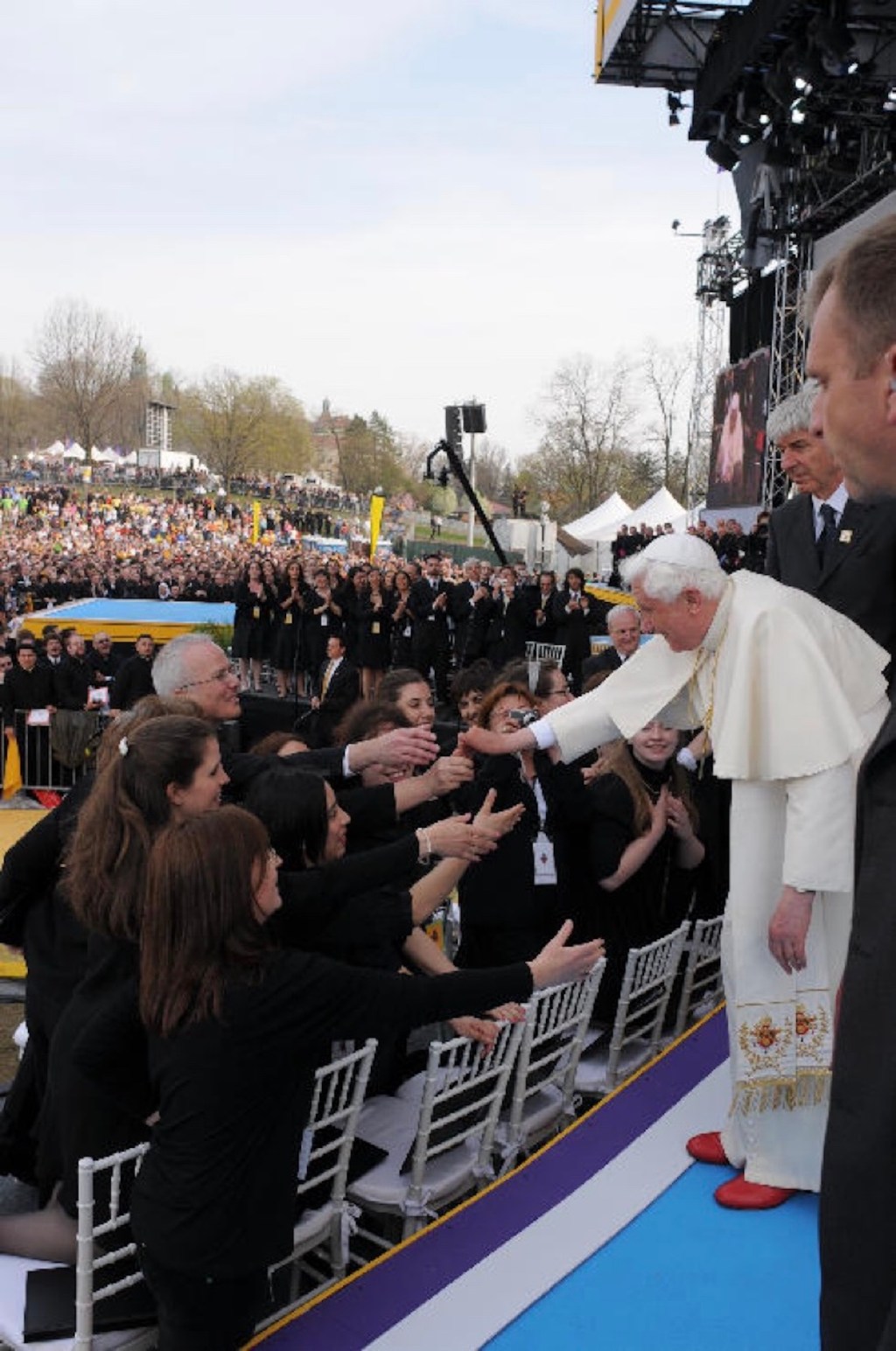 Courtesy of Christopher Vath