"It was a very special moment. I always thank God for the gift that he gave me and that marked the history of my life."
Benedict XVI was a great admirer of the contemplative life. In fact, he dedicated the last years of his life to contemplation. After his resignation, he moved to what until then had been the "Mater Ecclesiae" monastery of cloistered nuns located inside the Vatican. 
This convent had arisen at the wish of John Paul II, who sought to welcome a community of contemplative life in which the nuns could pray for the pope and for the Church. 
For Benedict XVI, contemplatives are fundamental for the Church and society, even if the world doesn't see them. For him, they are "torches that, in the silence of the monastery, burn with prayer and with love for God." He entrusted contemplative communities with his intentions for the needs of the Church and the world.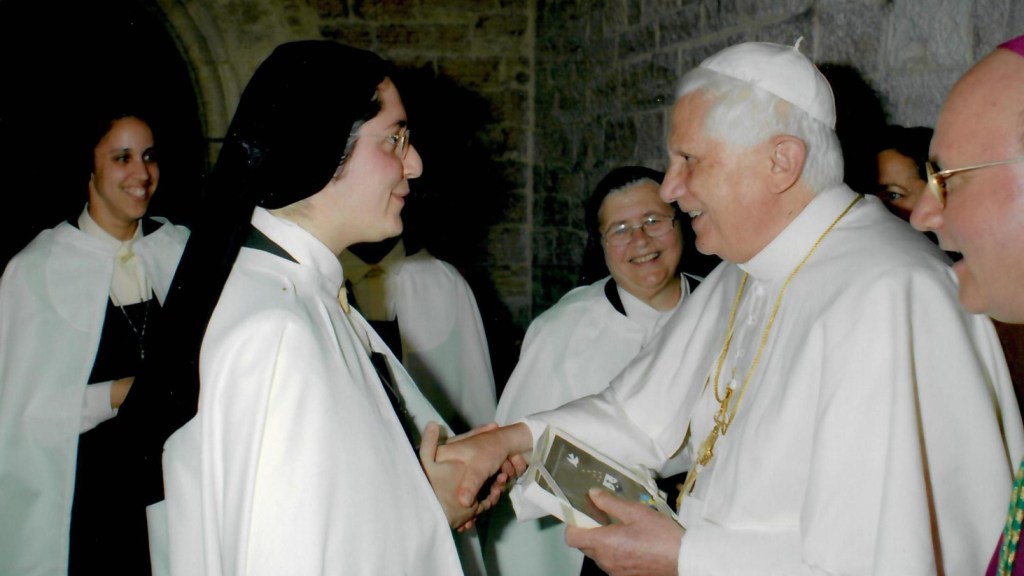 Cortesía Sor Aurora
To understand the impact that the life and magisterium of the Pope Emeritus had among contemplative religious, Aleteia has collected the testimonies of three cloistered nuns.
"He lived the liturgy as 'God's work'"
Mother Ernestina, abbess of the Benedictine nuns of Santa Maria de Carbajal, in Leon, Spain, recalls the great closeness of Benedict XVI to Benedictine contemplative life.
"As a Benedictine nun, I would highlight his contribution to understanding the liturgy as 'God's work,' in which humanity is called to collaborate so as to enter into a profound dialogue with him," the superior explains.
Secondly, the nun highlights "his great catechesis on prayer in Sacred Scripture."
Benedict XVI was buried with a ring bearing the image of St. Benedict of Nursia, "founder of Western monasticism and patron of my pontificate," as he liked to recall.  
"As for the person of Benedict XVI," recalls Mother Ernestina, "what he always transmitted to me was a specific aspect of his contemplative dimension: he gave deep attention to reality and to the meaning of things."
"He changed my life"
From her convent in Benigánim, Spain, Sister Gemma of the community of the Discalced Augustinian Nuns says that Pope Benedict changed her life completely.
"I always said that Pope Benedict was my pope. I don't mean that I don't love Francis; on the contrary – and John Paul II, who was a reference point for me, and more so now that I'm discovering the Theology of the Body. But I repeat, Benedict was my pope, because he was the great instrument of God for a conversion within my religious life."
The nun, who entered the convent in 1985, reveals that in 2011 upon reading Benedict XVI's first volume of Jesus of Nazareth she experienced "God's touch, a very great gift … as if my eyes had been opened."
"I felt the sensation that those words touched my heart. I don't quite know what it was. Actually, I know it was grace. For me, the world changed, as if I saw the world of my faith now in color. 
"Until then I was very convinced of my life in the convent, and my faith was good enough for me. But I often felt that I lacked the words to encourage others in the faith, or to be able to transmit my faith in a convincing way. That second reading of Benedict XVI's book was a grace, a grace that has persevered, because, from that moment on, I began to read him. 
"Whenever I read him," adds the Augustinian Sister, "I always have the same impression: a man who fills my mind, warms my heart, and opens my mouth. From then on, without the need to leave my contemplative life, I noticed a different impulse within me.
"From that moment on," she says, "we began to organize 'interior encounters' for young people and I felt that I had a lot to transmit and to feel. I knew very clearly what I wanted to achieve with those encounters and it was thanks to that grace that came from God. But the great instrument was and still is Benedict XVI, through his writings. Whenever I read him, I receive something new, which strengthens my faith.
"I don't look so much at the Pope, but at the theologian, the saintly theologian. Now with his death they're talking about Benedict XVI as a doctor of the Church. Since 2011, I already thought that the pope emeritus is like the Fathers of the Church; he puts your interior life in order and warms your heart. He doesn't separate theology from holiness. 
"Reading his texts I grasped two of his qualities: courage and humility. He put words on my tongue and in my heart to speak of my faith in a convincing way and to realize that I had a lot to give and to say to people, especially young people."
"Like a father"
Sister Fabiana, another of the sisters at the convent in Benigánim, was able to see Pope Benedict personally, because before embracing the Augustinian contemplative life she had belonged to another religious community.
She told us what it meant to her to have been able to meet the Pope before embracing the Augustinian contemplative life, when she belonged to the congregation of the Carmelite Messengers of the Holy Spirit, a religious institute founded in Brazil. 
"I couldn't fail to share the extraordinary grace of having seen Pope Benedict XVI twice," she says. "On June 17, 2007, the Pope visited the city of Assisi (Italy), where I was part of the community serving the Archbishop of the diocese, Domenico Sorrentino. It was an unforgettable day … When I saw the Holy Father in front of me, I asked him if I could give him a Brazilian hug. I cannot describe the smile I saw on his lips and how his gaze was so penetrating and radiant with light. I gave him a hug as a daughter and I felt like he was a real father."
Sister Fabiana recalls their second meeting on January 8, 2011, this time in Rome. "On this occasion I belonged to another community that was attending to a Cardinal who was going to retire. Before leaving for his country he took us to greet the Holy Father. We received the Holy Rosary from his hands and it was also a very special moment. I always thank God for the gift that he gave me and that marked the history of my life".