For the sake of our well-being -- body, mind and soul -- we need more of this kind of walkable, convivial urban design.
The more I learn about history, the more I wonder how human beings ever got themselves into the present-day situation of being so car-dependent and tied down to punishingly long commutes. 
We know people are happier when they live in walkable communities with strong social connections and lots of green space. As a Wall Street Journal writer explained,
It's easy to start daydreaming of a walkable community centered around a church, where we know our neighbors and enjoy a rich spiritual life at a thriving parish. These things were once commonplace, especially in Europe, but today they're few and far between.
Some communities like this do exist, such as in Hyattsville, Maryland; Ave Maria, Florida; and Downers Grove, Illinois. But these kinds of villages are very rare, even though we know they give life to the human soul and bring health to our minds and bodies. Social connection and religious practice top the list of healthy habits that improve our quality of life. 
So it's really exciting to see a new project in the works that brings together so many things we love to see—beautiful urban design, a walkable community, and a village centered around a chapel—on eight vacant blocks near an historic Catholic shrine.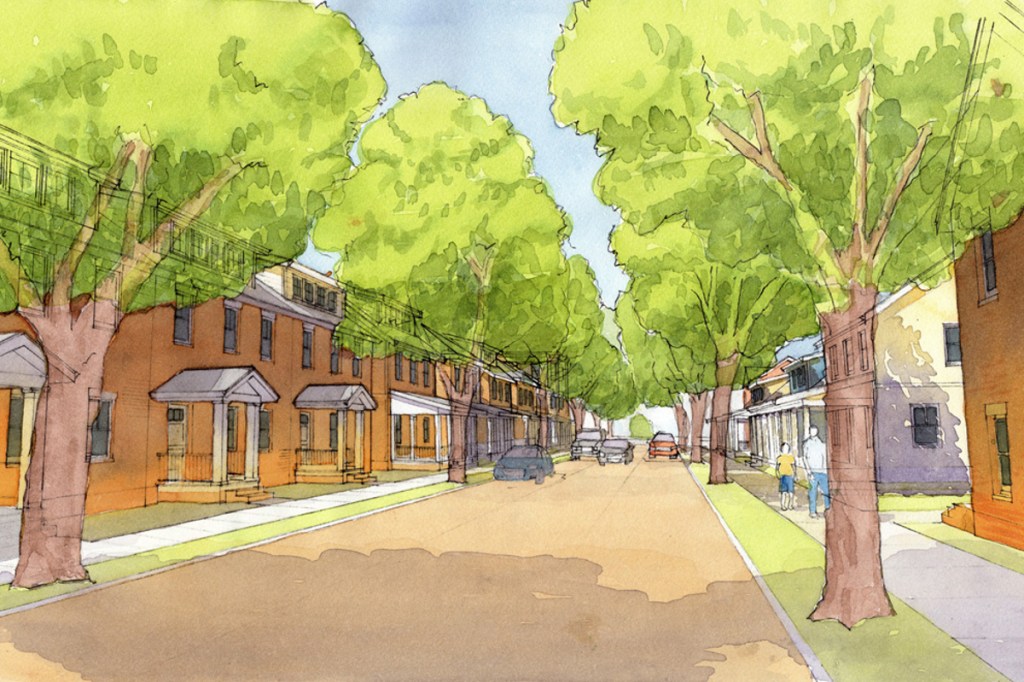 Courtesy of Erik Bootsma
An urban village around a Detroit shrine
It's called St. Aubin Village, and the project is coming to life around St. Joseph Shrine, just northeast of downtown Detroit, in the capable hands of the profoundly talented architect Erik Bootsma.
His website describes the planned urban village,
Comprising eight blocks near the heart of Detroit, this project is a proposed urban village that is planned to provide a physical home for the parishioners of a nearby urban church. The parish draws people from well outside of the city and the purpose of this development would allow them to live in community. 

The plan is centered around a terraced urban park, where outdoor activities such as concerts, festivals and outdoor skating in the winter would provide life to the neighborhood. 

Along with a mix of commercial and small office space, the housing in the neighborhood would range from large single family houses, to small houses, cottage courts and apartment units and live/work units. 

The variety of sizes would allow parishioners in every stage of life, from young adults to retirees and "empty nesters" to have a place they could afford to live in community together.
Courtesy of Erik Bootsma
Bootsma recently received an Urban Guild Award for the project. I had the chance to ask him a few questions about the project.
Inspiration and goals for the project
What were some of your sources of inspiration for designing the village?
The primary source of inspiration for the village is the history of human development.  
For millennia people would gather together through common vision to live together, so villages would commonly spring up around monasteries and churches throughout Europe. 
The pattern continued well into the 20th century, especially in places like Detroit, where ethnic immigrants would create little "urban villages" around their parish church. Not far from [St. Joseph Shrine] is the old neighborhood of Poletown where Polish Catholics had built a huge church and neighborhood with everything they could need.
What is it like to work on a project of this scale? 
Urban design is a particular interest of ours. We specialize in church architecture, but the importance of creating a real community, not just places that are used once a week and then empty all week.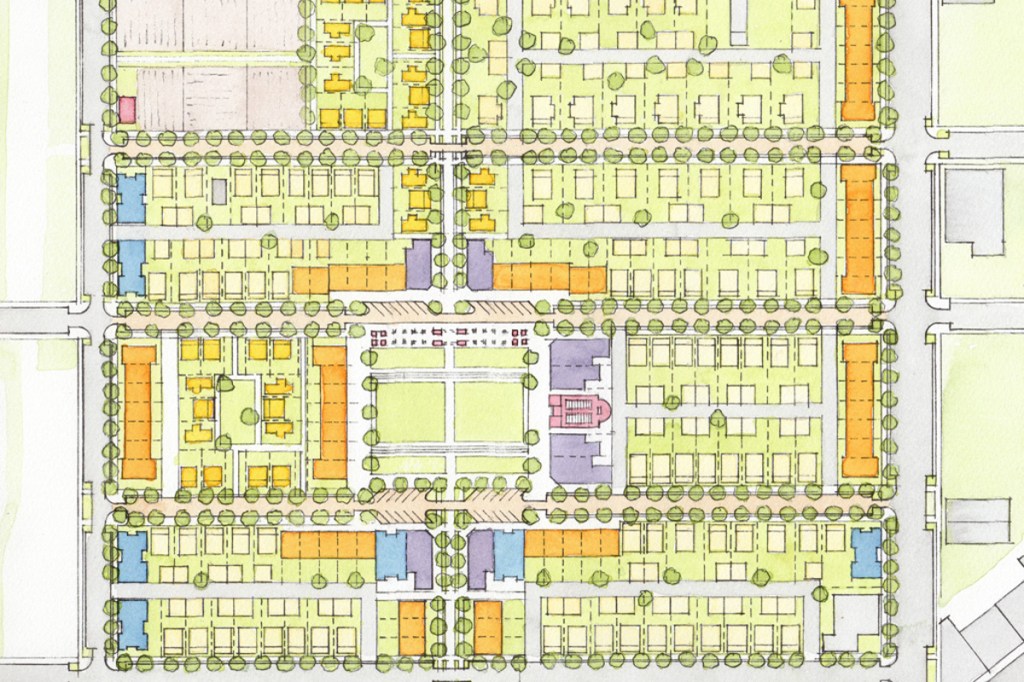 Courtesy of Erik Bootsma
You've said the shrine is currently a "commuter church," and the project will hopefully turn it into an every-day community. Why is this shift such a good one for a parish community?
I was commenting to a friend the other day about how Orthodox Jewish communities have a great sense of community, which is formed by their requirement to live close to their synagogue.  Being freed from the need to drive, and turning off their TVs and computers for a day, their life in communion with each other is magnificent.  
While I don't think anyone would want Catholics to have such a strict Sabbath, having a place where people could live out their faith arm-in-arm with their neighbors would be a great thing.
What is the most important thing you would want to share about the St. Aubin Village project?
The church has a tremendous opportunity to do good with the properties that they own and the places they create.  
A church, because it's not limited to return on investment in a short time, can afford to do things well and look to the long term to build places that benefit their parishes spiritually and socially as well.