An Australian seminarian close to the late Cardinal George Pell shares his thoughts on the prelate and his legacy.
Deacon Richard Sofatzis, a 32-year-old Australian seminarian currently living in Rome, had many chances to encounter the late Cardinal George Pell, who passed away on January 10, 2023. From youth events when he was still a student in his native Sydney, to having dinner with him and other seminarians in Rome, to being able to sprinkle Holy Water and incense the Australian prelate's coffin at his funeral, Deacon Richard had many encounters with Pell.
In the photo above, he is on the far left, sprinkling the coffin with holy water.
Aleteia spoke to the seminarian about his thoughts on the late Cardinal and his legacy.
When did you first meet Cardinal Pell ?
Deacon Sofatzis: I had the chance to interact with him on many occasions when he was Archbishop of Sydney. When I was studying at the University of South Wales, there were many youth events such as camps and retreats when he would visit the campus. These occasions allowed me to participate in question-and-answer sessions, to hear him speak or to hear his homilies. I also helped organize a youth retreat called Reasons for Hope and I wrote to him to ask for financial support, which he then gave. 
The first significant interaction I had with him, though, was at a dinner that he organized for young men of the diocese at the Cathedral House in Sydney. He invited around 30 guys who were at all stages of discerning a vocation to the priesthood. I remember he joked that whatever we did, there was one community that we should avoid joining: the OPD, the Order of Perpetual Discerners. That really encouraged me and I felt I needed to get focused and decide because I had been discerning for many years. 
I then got to know him better when I joined the seminary in Sydney and then especially when I came to Rome three and a half years ago.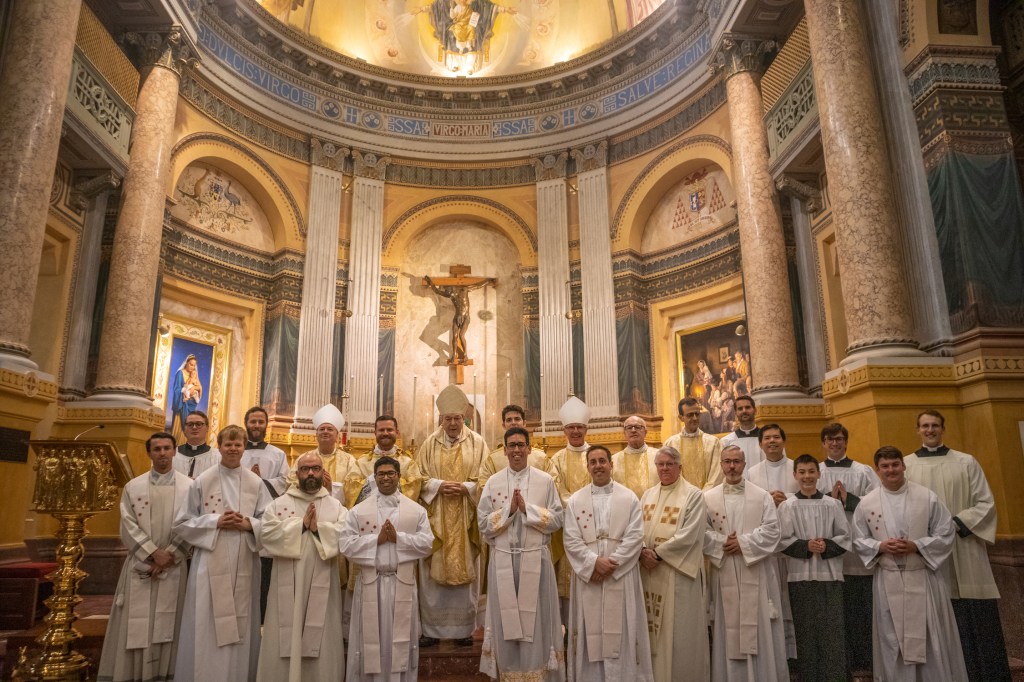 Courtesy of Richard Sofatzis
How would you describe Cardinal Pell to someone who did not know him? 
Cardinal Pell had a very strong character. He always had something to say on all topics and he was very well read and knowledgeable. He was a bold leader and would not be phased by what others might think, so long as he knew he was doing the right thing by following his convictions and what he thought was good for the Church and the faithful. He had this deep inner strength that allowed him to persevere through persecution, especially when he went to prison.
He also had a lighthearted warmth, especially when you got to speak to him in smaller settings. He was extremely supportive and encouraging toward seminarians and showed interest in our lives.
Also, even though he had a strong personality he was still able to make you comfortable in discussions. You could have a free conversation with him even if he disagreed with you. He actually really encouraged us to express our ideas and encouraged lively debates and conversations on different matters. 
He was a strong believer in following an ordinary Christian life. He always said he was rather "ordinary" in terms of his spirituality: He went to mass, asked for forgiveness for his sins, prayed, etc. What I think you could see in him was his perseverance, how he received God's grace and strength to continue. In that sense he was a role model for me; I looked up to him and still do. 
What did he represent for the Church in Australia?
He's certainly the most well known Catholic figure in the Australian church. He brought World Youth Day to Sydney, he was instrumental in the new evangelization called for by Pope John Paul II and he was very supportive of youth initiatives such as Theology on Tap. 
In Australia I think he represents a type of Christianity that is alive and vibrant in its following of Christ. It is not wishy-washy or lukewarm. It is a Church that boldly follows in the steps of the Lord even in the face of public resistance or when it is unpopular to do so. 
How did you live Cardinal Pell's trial, subsequent imprisonment, and then liberation?
I was in Sydney when he was called to answer to his charges and while I lived in Rome, he was imprisoned. When he was found guilty I was very shocked and rather upset and I felt like it didn't make sense with what I knew of the case. It really made me question the Australian legal system in how it examines cases of this nature.
I remember on the day of his acquittal by the High Court, me and another seminarian were trying to access the live stream to follow the verdict. It was about 2 am Rome time and the live stream wasn't working but we started seeing tweets on the results. We were just filled with joy that his name had been cleared. The whole saga was very troubling though. 
What was the reaction like in Australia?
There were a lot of mixed emotions. Amongst Catholics, amongst seminarians, there was a lot of tension concerning the results. A lot of people were praying for him, especially when he was in prison. However, the culture more generally was less favorable to him. In my opinion he was probably considered the most hated man in Australia at the time. Everyone had an opinion on this and many had very strong opinions. 
How did you find out about his passing? 
I had seen him at a dinner in mid-December at the Domus Australia and he seemed in good spirits and good health. I wasn't aware he was undergoing hip surgery and I had seen him on TV in reports about Pope Benedict XVI's funeral. When I woke up on the day after he died, I checked my phone just before going to morning mass at the seminary and saw a stack of WhatsApp messages offering condolences. I was in complete shock and had 15 minutes to process it before going to mass and I didn't know where to start. 
It came out of nowhere and that sense of disorientation lasted for several days. It just didn't make sense. I feel a great sense of loss for the Church but also for me personally, as he was starting to become almost like a friend; we had a good relationship. 
After Cardinal Pell's passing, two critical texts were attributed to him, one a signed article published in The Spectator and the other an anonymous memo, which had especially harsh opinions on Francis' pontificate. What did you think of these claims and controversies that emerged after his death? 
The Spectator article didn't surprise me; Cardinal Pell signed his name on that piece. I knew he had strong convictions and he was always someone who would stand by what he thought and I guess he did that until the very end. I think that is one of the qualities I admired about him, he was always ready to stand up for what he thought. About the other memo, I do not know much about it.
What do you think Cardinal Pell's legacy is? What will he be remembered for? 
He leaves behind many concrete reforms and structures. For example his help in establishing Domus Australia in Rome or the impact of his financial reforms at the Vatican. In Sydney his legacy from World Youth Day is hard to underestimate because it continues to reap fruits and benefits today. Many youth movements, vocations, and more came from bringing this event to Australia. 
Also, in 1996 as Archbishop of Melbourne he started The Melbourne Response, [an independent body to investigate abuse claims and offer compensation and support to victims]. It was probably one of the first institutional responses to the child sexual abuse crisis by a Catholic diocese. He tried to address this issue early on and seek reform. 
I think he will also be remembered by how he oriented many Catholics, especially in the Archdiocese of Sydney, to a certain kind of fidelity to Christ and his Church. He was a role model in his inspiring witness.