The exceptional sovereign was a man of faith with an inspiring vision of his call to service to others.
From the very first moments of my meeting with the grandson of Charles of Austria in the magnificent reception room of the Hungarian Embassy in Paris, the soul of the Austro-Hungarian Empire seemed to rise from its ashes with all its colors.
In this place, and in my conversation with one of the descendants of the ruling family (who today is the Hungarian ambassador), we discuss values that have become rare – ones that were embodied by Charles of Habsburg-Lorraine, Emperor of Austria and King of Hungary. He was an exceptional sovereign and a man of faith with an inspiring vision of his call to service to others. And if his influence is felt when Archduke George of Habsburg-Lorraine speaks with Aleteia, it's because these same values and ambitions seem to animate the emperor's grandson deeply.
Archduke George of Habsburg-Lorraine: Since the 16th century, there have been links between my family and several Central European countries: several countries, various languages, and different traditions together made up the structure of the Austro-Hungarian Empire, which had many colors and facets.
For us, my grandfather was the king of Hungary and also the emperor of Austria. He came to power at a very difficult time. Before him, Franz Joseph had reigned for a very long time, for 67 years! With the recent death of Elizabeth II, and her exceptionally long reign, we can see what impact such a long period of power can have. And in the case of my grandfather, the context was even more difficult. We were in the middle of a world war, with a power structure that had been tailored for Franz Joseph. 
When he became emperor, your grandfather had a rich military experience.
Yes, he was primarily a military man. He had occupied different posts in the Empire, always in a military realm. So he knew the difficulties of this war. He immediately understood the importance of achieving peace. He didn't aim for victory like the Germans; he saw the dangers of wars for the people. He wanted peace. We see the horrors of the war in Ukraine. He knew these horrors very well. But he did not succeed.
When Pope John Paul II beatified him, he asked this question: was it important that Emperor Charles didn't succeed in obtaining peace? The Holy Father answered the question himself: the important thing isn't the result, it's the intention and what you do every day to achieve it.
In our world, only success and results count. We don't see the long road needed to go to get there. John Paul II pointed this out. With my grandfather, we see the importance of faith, of God, of prayer in daily life to try to achieve a good result. The result does not count, it's the example that we give along the way. This type of example is so lacking today, at a time when peace needs once again to be obtained where war is raging!
You did not know your grandfather, who died on April 1, 1922. What did he represent for you in your childhood? 
My grandfather is for me first of all a historical figure. He died 100 years ago, so it was long before I was born. I learned his story. But at the same time, he's my grandfather, a prominent member of my family.
What I know about him is from my father, (Otto of Habsburg-Lorraine, Archduke of Austria, the eldest son of Charles and Zita, Ed.) He himself was very young when his father died. He told me a lot about it. He told me in particular what he experienced with him on the island of Madeira where the family lived in exile. Paradoxically, for my father it was a wonderful time. Before, there was the war, and he didn't have a deep relationship with his father. On Madeira, the two of them were able to experience things together. They would go for walks for hours on end. My father was merely a child then, but his father talked to him a lot. He passed on to him the sense of responsibility and admiration he had for Hungary.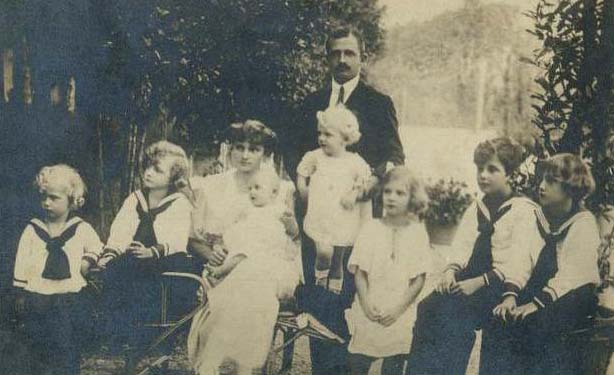 This strong attachment to Hungary was linked to the significance of his coronation in Budapest on December 30, 1916, correct? Unlike in Austria, it was a great religious ceremony. 
In order to become sovereign of Hungary, one had to take an oath on the crown of St. Stephen, during a religious ceremony that had a very strong spiritual dimension. For my grandfather, who was deeply religious, this was a very important act on a personal level, even a foundational one. It planted the importance of Hungary in his heart, and in my father's heart, for the whole family.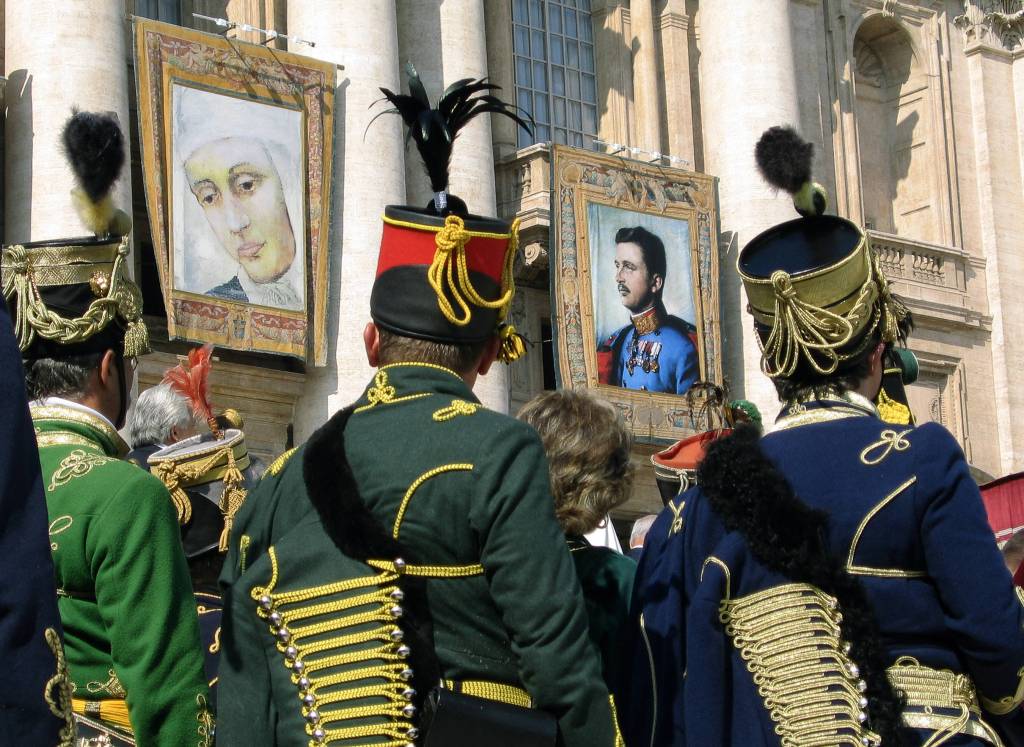 VINCENZO PINTO/AFP
John Paul II said that he thought it was in service to his subjects that your grandfather found the way to holiness.
Yes, he had an incredible sense of responsibility. He knew that he had to work for the good. War was the opposite: misery, death, hunger. He understood immediately where his responsibility lay. He also knew the political difficulties: the danger of Communism, especially for Central Europe. He tried twice to return to Hungary, because once you are crowned, you remain so for the rest of your life.
How did you and your family experience his beatification on October 3, 2004? 
First of all, it was an immense family joy. We saw how difficult the beatification process is. It took a very long time. Sometimes we didn't know exactly what was going on behind each step and each process. Every aspect of my grandfather's life was studied. It must be said that the Vatican is very precise in this work with commissions, experts, and various cardinals involved at different times.
It lasted so long that we thought we'd never see its outcome! It was only when I found myself in St. Peter's Square in Rome, in front of the pope, with the portrait of my grandfather hanging on the façade of the Apostolic Palace, that I understood the immense honor that we were experiencing. I realized then that my grandfather was being offered to the world as an example. Since then, there have been many requests for his relics from all over the world. It's a pride and also a responsibility.  
How does your grandfather, as a Blessed, inspire you personally?
What I received from him came through my father and his example. He taught me to always keep a sense of humor, especially in the most difficult times. This is so important today! I also inherited this trust in God. I've understood that God helps those who trust in Him. At every important moment of my life, when I have a decision to make, I know I can turn to Him and ask myself: what decision would God make in my place? This trust gives superhuman strength.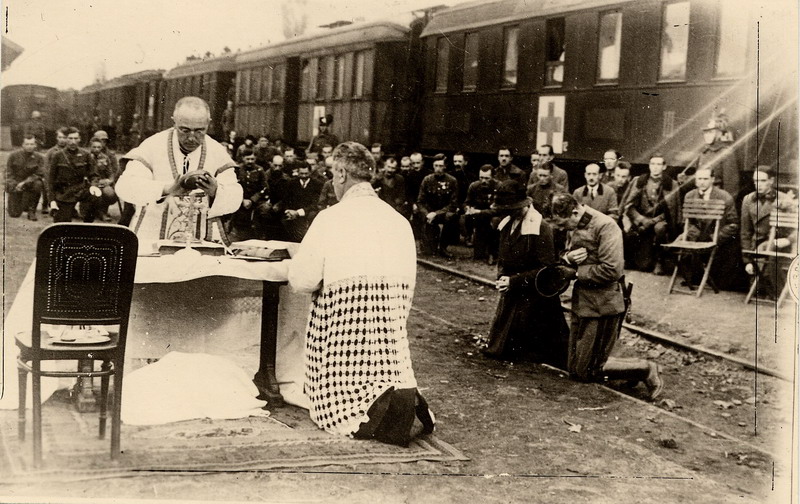 @Public domain
Do you think that your grandfather can be a model for the challenges of Europe today? Due to both the importance of his Christian roots and his vision of peaceful politics? 
The situation today isn't new. We've experienced situations that are even more serious than the war in Ukraine. In this case, what's most important? It's to find people who work for peace. Working to improve things. The situation is difficult, but we know that, by looking at history, we can find the right ways to resolve crises and conflicts. Faith in God helps a lot: being able to pray, to go to Mass, gives us God's strength. 
Is it possible to continue his work, especially in social issues?
During his reign, he was the first to create a ministry for social affairs in Austria as well as in Hungary. This was an unprecedented political move in the world. He was a visionary. He worked a lot on giving rights to tenants, for example. (…) I think it's important to remember today what he tried to do. 
Your grandfather and his wife Zita were a very inspiring couple. For many, your grandparents represent today a model of Christian marriage. Does this surprise you?
Yes, I'm surprised that so many people are so interested in my grandparents. It's a great joy for me. I also have a lot of admiration for all the work undertaken for the beatification of my grandmother, which is in progress, after that of my grandfather. I'm very impressed by the mobilization that is taking place here in France. 
Getting back to my grandfather, he was involved in politics, a soldier, a father and a husband: he had all these facets in his life. With one thing in common and at the heart of it all: the importance of his faith in every area of his life. He had eight children. He was very open and had a good sense of humor about everything, and was friendly, optimistic. He was not at all fanatical. Although he had to live through an almost impossible situation himself, he never lost his faith and always continued his work. "I commit myself in all things to always respect the will of God, and that in the most perfect way." This sentence, which he often said, even on his deathbed, sums up all that he did.