The people in the camp may have lost everything, but they have "a deep and resilient faith that keeps them going," says Father Bassano.
Maryknoll Father Michael Bassano, at age 74, has been a missionary in countries across the world, including in Thailand, Chile, and Tanzania, but his current mission is probably his most unique. Originally from the US, Father Bassano is the only Catholic priest serving a community of faithful in the United Nations Protection of Civilians camp in Malakal, in north-eastern South Sudan. For the last 10 years he has been living on this site, which hosts over 35,000 internally displaced people (IDP). They have fled from civil war and ethnic conflicts, which have affected the country since its independence in 2011.
Father Bassano is currently in the South Sudanese capital, Juba, waiting for Pope Francis' arrival on February 3. He will be accompanying some members from his camp to the events organized for the Pontiff's visit. With joy in his voice, Father Bassano tells Aleteia about his life as the priest of the camp's "tin-sheeted Church." 
How did you first come to South Sudan?
I arrived in 2013 as part of a Catholic organization called Solidarity with South Sudan, of which I am still a part today. Our primary work is education and health training, agricultural projects and pastoral work. I arrived with other Solidarity members in Malakal, in the Upper Nile State, in October 2013. Two months later the civil war broke out, [which lasted until 2018, editor's note]. It had started in Juba earlier and by Christmas Eve it had arrived in our region. Me and the three sisters I was with got caught in the crossfire during a fight between the opposition groups and the government army. For four days we hid in a small guest bathroom, hoping we would survive this experience.
On January 2 we were then evacuated to Rumbek in the western part of the country and started working there. However, my desire was to go back to Malakal and be at the United Nations' camp for internally displaced people (IDP) because there was no one serving the Catholic community. I returned in November 2014 along with another priest and a sister. That's how our Catholic community in the camp began. I never thought that I would be doing this kind of ministry; it just happened. You feel the inspiration of the Spirit to be with people in need, as the Catholic community had no one. 
ALBERT GONZALEZ FARRAN | AFP
What did you do ? 
UNICEF lent us the tent that they used for the school as a place where we could come together on Sunday morning. We would gather around 20 to 30 people, and the women from the Legion of Mary also helped us. At the time the camp counted around 30,000 people. 
These were our very humble beginnings and I have been there ever since. We try to support and help the people by creating a Catholic community through all the activities we offer : youth groups, Legion of Mary, choirs, etc. It is almost like a parish community. We want people to have a sense of hope so that, even though they are living in plastic or tin sheeted tents in a camp, they still believe that one day they will have a better life. That is our mission, to give them hope. 
What does the Catholic community in the camp look like today? 
We built a new tin-sheeted church that is a little larger than the previous one. There are around 4,000 Catholics in our community and at least 1,200 attend liturgy on Sundays. The camp itself has grown and must house close to 40,000 people now. In 2022 fighting broke out again resulting in more people being displaced and coming into the camp. 
What does your typical day look like? 
I get up early to watch the sunrise and thank God for the gift of a new day. Then I have breakfast and around 8:30 I go to the UN High Commissioner for Refugees office. For the last 2 years we have been working on a project to help bring food to the people in the camp, as the Maryknoll Society in New York has a famine relief plan. With the money I receive we buy rice, sorghum, and other products and the UNHCR staff distributes it to the people in the camp or elsewhere in the region. Through this UN office I also find out what is happening in the area, for example if fighting has increased or not. 
In the morning I also go visit sick people at the Doctors without Borders hospital or the International Medical Corps clinic, which are both within the camp.
During the afternoon it gets very hot here so I take some time to rest. At around 4pm I go into the church tent because every day we have activities. On Monday and Tuesday there is the catechetical program, on Wednesday there is the choir practice, on Thursday the liturgy committee meets and on Friday the Legion of Mary. Saturday morning we tape a liturgical service for Nile Radio, which is the public radio station for our camp, and it is then aired on Sunday morning at 8am. 
Usually on Saturday afternoons I visit people in the hospital again if necessary. Then Sunday morning we have our big liturgy, which goes on for 2 or 3 hours. It is full of dancing and singing and a real joy in the risen Jesus! Our people in the camp may have nothing but they have such a deep and resilient faith that keeps them going despite all the challenges they face.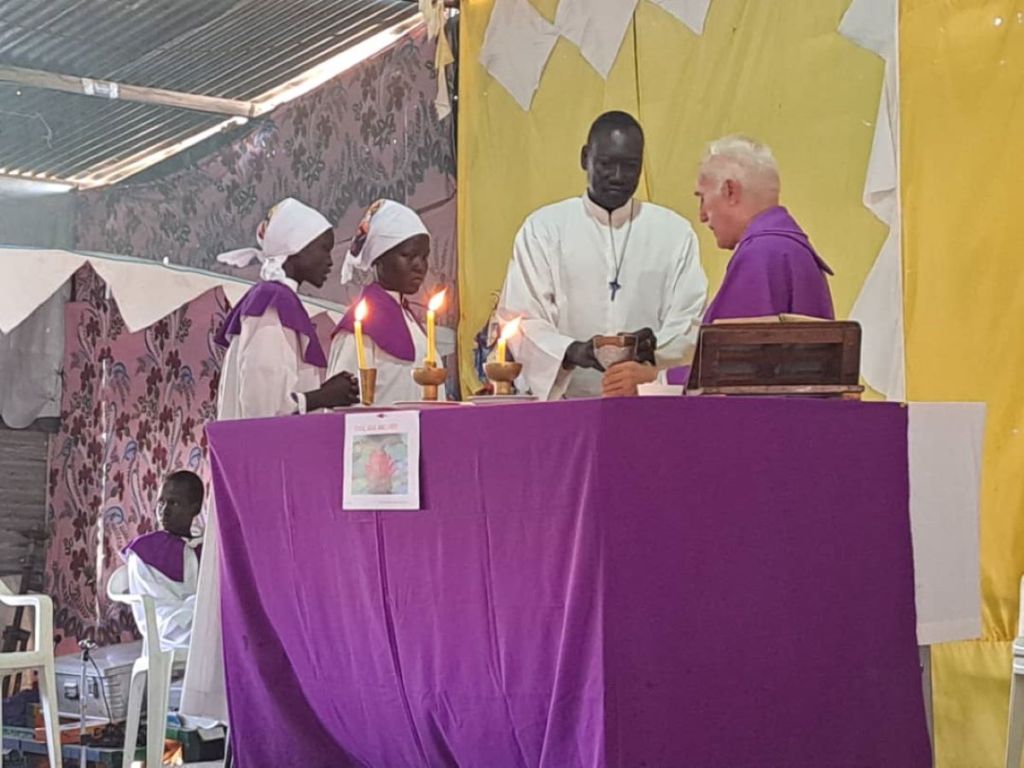 Courtesy of Father Bassano
What is the most challenging part of your ministry? 
One challenge is that the people here need so much. Every day someone comes to me and they're sick or they need money for their children's school or for food. Everytime we have to try and find ways with the UNHCR to see what we can provide. It is overwhelming at times, though. There is so much need; people are suffering from so many things and sometimes you don't know how you can keep giving. I always say do your best and let God do the rest!
Another challenging part of my ministry has been being able to communicate with the people around me. In the camp there are different ethnic groups, such as the Shilluk or Nuer, and in Malakal town there are the Dinka. They all speak their local language as well as Arabic, even though South Sudan's national language is English. In my various missions I learned Spanish, Thai, and Swahili but I realized that as I get older it has become harder to retain new languages. I have learned some parts of the liturgy in Arabic, for example, but I do the majority of the celebration in English so I need the help of a translator. I think the people know thought that after all these years I just want to be present with my faith to help them. At 74 years old, I try to keep learning though! 
What is the best part of your ministry? 
Certainly the children, they are the most enthusiastic and joyful. They may have nothing and live in small plastic tents but when they see you coming they smile and their eyes light up. 
Sundays are what I enjoy the most. Right after we do the greeting and opening prayer of the mass, after the Glory to God, I invite the children to come close to me on the altar. Together we sing this song in Arabic and English called "Jesus loves me." When they are up there they are just happy to be considered part of the Church; they feel special and important. You see it in their smiles and how they sing so loudly. After the song we have the whole assembly raise their hands in blessing over the children and say "may God bless these children who are God's gifts to us." The children really keep me going.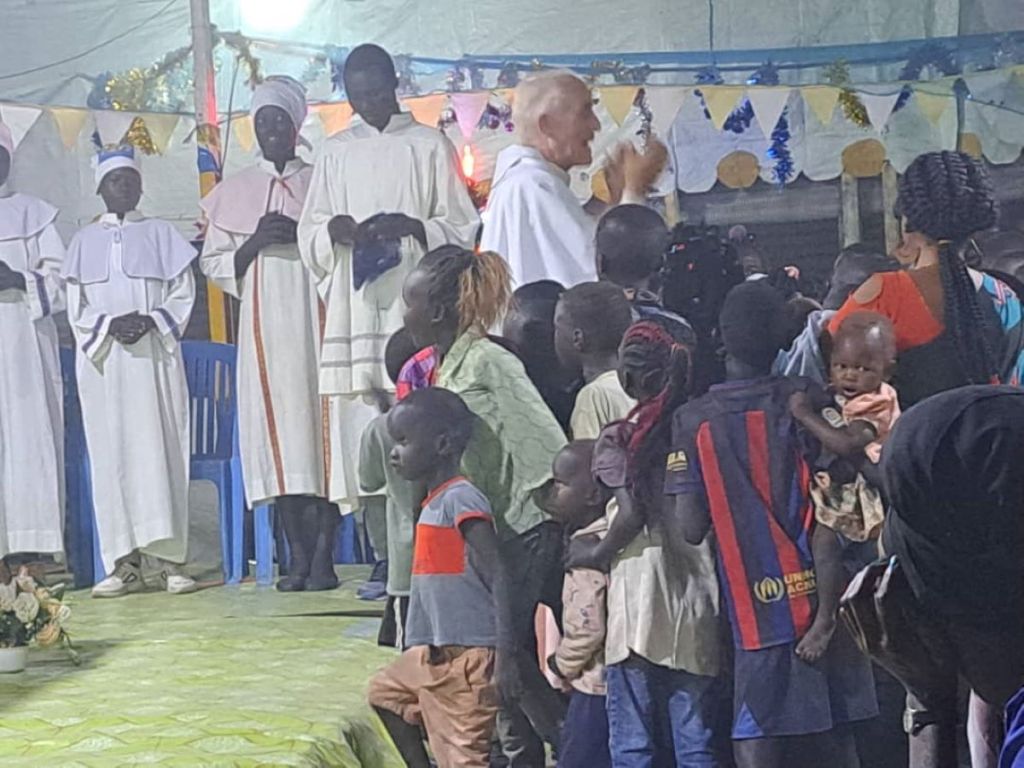 Courtesy of Father Bassano
What have you learned from this experience ? 
The people who live in the camp have taught me that sometimes you can just celebrate the joy of being together. They may have lost their homes, their lands, their livelihoods, everything, but they have each other. It is the relationships we create as one family of God that gives life and joy in the midst of suffering. It is a grace of God.  
There is a 7-year-old girl in the hospital whose name is Nyacebit. She is affected by cerebral palsy. Everytime I go to see her she breaks out in this bright heartwarming smile that goes from ear to ear. We don't speak the same language but it is the communication of the heart that works. She knows I am there for her as the "Abuna," as the children call me, which means father in Arabic. When I see her I think how the smile of a child can really uplift us. She is such a gift, when I think of her smile it can get me through any challenging day. In her I see the presence of God even in the midst of difficult situations.