Have you heard of the 4 Chaplains? This New Jersey parish is keeping their legacy alive.
What can God do in your life with one Bible verse a day?
Subscribe to Aleteia's new service and bring Scripture into your morning:
Just one verse each day.
Click to bring God's word to your inbox
Like many young men at the time, John P. Washington heard the news about the Japanese attack on Pearl Harbor on December 7, 1941, and decided to enlist. 
The difference was, John Washington was a Catholic priest. But he wanted to be able to serve those who would go on to serve their country in time of war.
His first stop was a local recruiting office. He might have been accepted as a Navy chaplain, but he failed the vision test. As a boy growing up in New Jersey, he'd been hit by a flying baseball – permanently damaging one eye and requiring the use of corrective lenses.
Disappointed, he went back to his parish, St. Stephen's in Kearny, New Jersey, where he had been assistant pastor since 1938. He expressed his sadness to his pastor, Msgr. Murphy, who had served in the Army himself. 
"He said, 'Well John, when they ask you to do the eye test, just cover the same eye twice,'" according to St. Stephen's current pastor, Fr. Joseph Mancini. "And he did that with the Army, and he got in. He was obedient to his pastor, I guess. I've always liked that story, because it shows a very human side."
St. Stephen's turned out to be Fr. Washington's longest assignment since his ordination in 1935 – and his last. After a couple of assignments in stateside bases, he was dispatched to accompany some 900 troops headed to a base in Greenland aboard the USAT (United States Army Transport) Dorchester. He would not return.
"One of us"
Soon after midnight on February 3, 1943, the Dorchester was torpedoed by a Nazi U-boat. The army transport ship sank into the icy waters of the North Atlantic in a mere 20 minutes, taking most of her passengers with her. But the heroism of Fr. Washington and three other chaplains – Lt. Alexander D. Goode, a rabbi; Lt. George L. Fox, a Methodist minister, and Lt. Clark V. Poling, a Dutch Reformed minister – has lived on.
On Sunday, February 5, St. Stephen's parish will mark the 80th anniversary of the sinking of the Dorchester and commemorate the Four Chaplains, as they have come to be known. 
"For the parish, there's a great sense of pride in that this was Fr. Washington's last assignment before he went into the military," Fr. Mancini said in an interview. "So there's a sense that he's one of us."
As the Dorchester began to sink, the four chaplains circulated among the troops offering comfort and encouragement. At one point, they took off their life jackets and gave them to troops because the ship's supply had run out. Eyewitness accounts give the description of the last anyone saw of the chaplains – standing against the ship's railing, arms linked and praying.
"Witnesses of that terrible night remember hearing the four men offer prayers for the dying and encouragement for those who would live," said Wyatt R. Fox, son of Reverend Fox, according to the commemorative website FourChaplains.org. 
One witness, Private William B. Bednar, remembers hearing men "crying, pleading, praying," as he himself floated in oil-smeared water surrounded by dead bodies and debris, FourChaplains.org said. "I could also hear the chaplains preaching courage," he said. "Their voices were the only thing that kept me going."
Of the 902 men aboard, 672 perished, including the four who had sustained the courage of their shipmates. Only 230 men survived.
Still praying for the deceased
In 1988, Congress designated February 3 as Four Chaplains Day. St. Stephen's has commemorated the anniversary for a number of years, and the Archdiocese of Newark designated the church as the official Sanctuary of the Four Chaplains in 2016. Ten years ago, St. Stephen's immortalized the chaplains' sacrifice when it commissioned internationally-renowned sculptor Timothy Schmalz to create a 12-foot, 2,000-pound bronze monument as a testament to their heroism. The statue stands outside the church building, along with a plaque detailing the Four Chaplains' story.
On Sunday, Archdiocese of Newark Auxiliary Bishop Gregory J. Studerus will celebrate Mass at noon to remember Fr. Washington and his co-chaplains. In years past, the anniversary Mass has been presided by Cardinal Joseph W. Tobin of Newark and Archbishop Timothy Broglio of the Archdiocese for the Military Services USA (now president of the United States Conference of Catholic Bishops).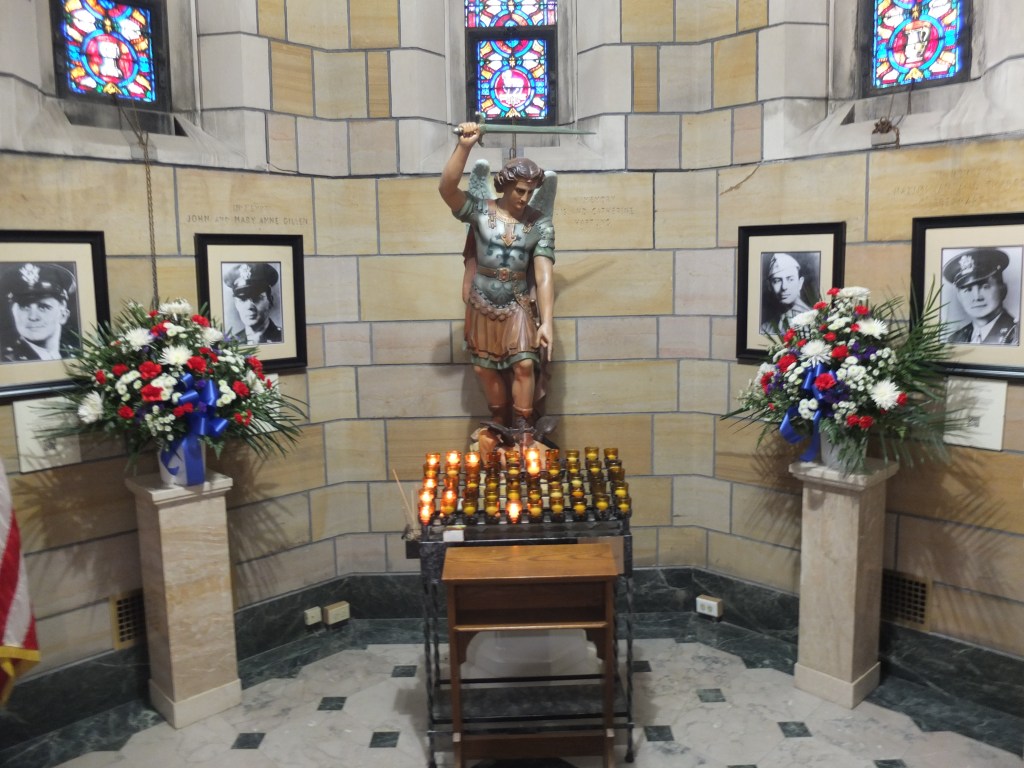 Courtesy of Archdiocese of Newark, New Jersey
Veterans are a constant presence at the Mass, and Sunday will see a presentation of colors involving bagpipers and veterans groups from throughout the Garden State. Boy Scout troops from as far as Ohio will receive special Four Chaplains patches after completing an educational program designed by St. Stephen's Boy Scout Unit 305 for the anniversary. 
Relatives of Father Washington, Rabbi Goode, and some of the soldiers and civilians who died on the Dorchester will attend the Mass to honor their loved ones' memory. Mark S. Auerbach, a cousin of Rabbi Goode and longtime champion of the Four Chaplains' legacy, will be among them. In addition, Auerbach will display a large collection of Chaplain artifacts in the church for visitors, including historic photos, commemorative stamps from 1948, and replicas of the medals the men received posthumously. He will also be on hand to answer questions from those interested in learning more about the heroes' bravery.
"I made a promise to my father when I was five years old that I would always keep the Four Chaplains' legacy alive, and I'm still keeping my word 70 years later," Auerbach said. "And I'm blessed to be doing that with Father Joe and everyone else at St. Stephen's."
To make a decision
For current parish leadership and laity, it's important to hand down the lessons of the Four Chaplains' story to new generations. It's one reason Fr. Mancini, the pastor, likes to see the Boy Scouts take a leading role in the commemoration.
Courtesy of Archdiocese of Newark, New Jersey
"The parishioners of St. Stephen's have a great appreciation for what Fr. Washington and the other chaplains did," said Nancy Waller, coordinator of the Four Chaplains 80th Anniversary Mass. "It's an ageless story of heroism and patriotism that everyone should learn about. It benefits your soul to know there are people who are willing to sacrifice themselves for their fellow man. And, hopefully, people will leave this Mass feeling inspired to give of themselves like all Catholics are called to do."
"I think it's a story of heroism and bravery that a lot of us might pause at," said Fr. Mancini. "They're under fire; the ship is sinking. Was it a quick decision? I don't know. I don't think it was thought out too long. It was 'This is what we have to do.' I don't think any of us can make a decision like that now. But Fr. Washington and the others, they saw the need and they responded to the need. That's the lesson for us. We might not have a lot of time to think about a need, but we have to make a decision."