Saint-Valentin is a village 260 kilometers from Paris with fewer than 300 inhabitants. It welcomes visitors every year for Valentine's Day.
Need an idea for Lenten almsgiving?
Help us spread faith on the internet. Would you consider donating just $10, so we can continue creating free, uplifting content?
Make a Lenten donation here
Tucked away in the middle of France is a little village called Saint-Valentin. It's the only village in France bearing the name of the patron saint of lovers. Every year around February 14, this quiet region becomes busy as the community welcomes visitors from France and abroad. It's a time for celebration in Saint-Valentin village, a time for young lovers and married couples to enjoy three days of love-themed activities.  
This year, for the 65th time, the village is honoring St. Valentine by celebrating Mass in the 12th-century church in the presence of Monseigneur Beau, Archbishop from the diocese of Bourges.
The Office of Tourism des Champs d'Amour, which is in charge of tourism in the region, plans romantic attractions, concerts, crafts, and gourmet markets. 
Consultant Fanny Chauffeteau says this year's program is even more spectacular. "There will be all sorts of exhibitions and shows – jewelry, fashion shows, wedding organizers, chocolate makers, and much more," she says. "We've organized games this year with lots of presents to be won"
With pride, she added," We aim to promote the village. After all, this is the only village in France called Saint-Valentin."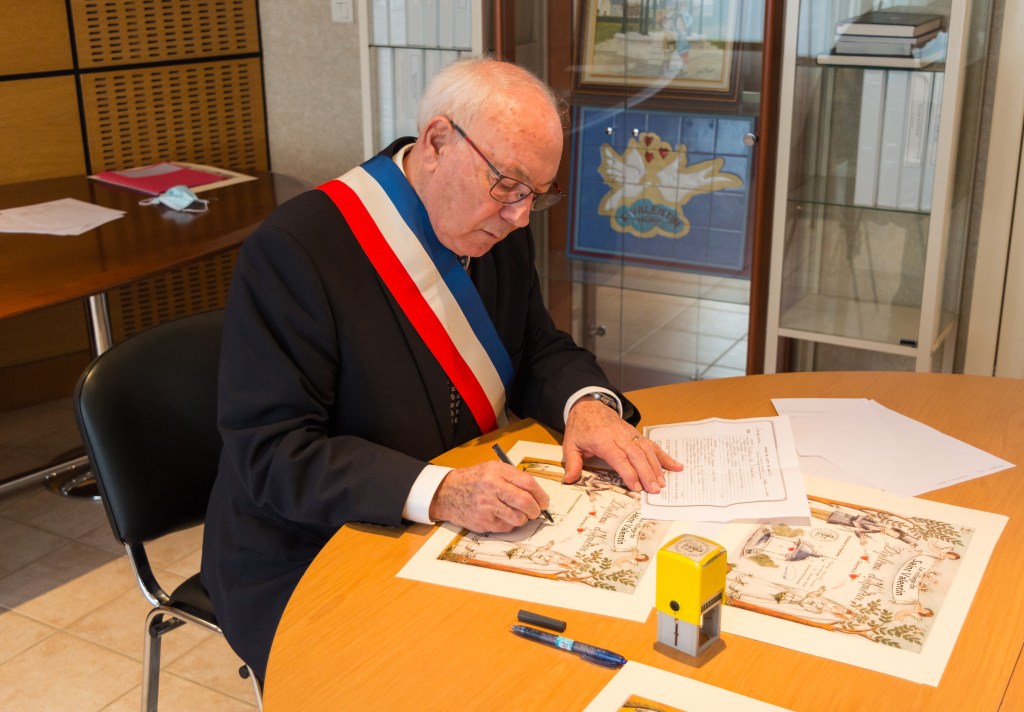 Fanny Chauffeteau / Office de Tourisme des Champs d'Amour
The success story of this small town with only 280 inhabitants started in 1983, with well-thought-out projects to lure visitors to this lesser-known part of France. The mayor, Mr. Pierre Rousseau, and the Town Council installed permanent structures — dedicated areas with romantic settings in the middle of the village. 
The plan to put Saint-Valentin on the map included alluring projects for devoted couples in France and overseas. Saint-Valentin was thus transformed into the "Village of Love."
"The village of Saint-Valentin now has the necessary assets to welcome lovers from all over the world, all year round," the mayor said.
Fanny Chauffeteau / Office de Tourisme des Champs d'Amour
Some of the sites and events couples enjoy in Saint-Valentin:
A Park for Lovers to symbolize their love
One of the most popular projects of the town was the creation of Le Jardin des Amoureux, a garden for Lovers, created in 1989: four hectares equipped with a bandstand and trees planted by couples as a symbol of their love. Each tree shows the name of the donor as well as the species of the tree. As the tree grows, so will the couple's love for each other flourish.
The Tree of Vows
Instead of carving their names on the tree trunks, lovers can engrave their names on heart-shaped metal sheets and hang them on the branches of the Tree of Vows.  
Confirmation of Marriage
Another unique feature of the yearly festivities is the opportunity for couples to seal their love for each other with a Confirmation of Marriage. 
Couples get to say yes a second time with a confirmation of marriage, a diploma of love issued by the mayor himself. 
"This is a symbolic gesture for couples to validate their mutual commitments. The COVID epidemic seriously hampered couples from seeking their Confirmation of Marriage, but last year I issued 80 certificates," says the mayor.  
Pierre Rousseau added, "All couples in love are welcome; some come from faraway places like Japan. We have a special relationship with Japan."
He explained that celebrating St. Valentine is very important for the people of Japan, where the custom is for women to offer chocolates to men on February 14, while men offer a gift in return on March 14, known as White Day.
The town's popularity with Japan started when the Japanese discovered a postage stamp designed in 1985 by one of France's most famous artists and painters, Raymond Peynet.
Fanny Chauffeteau / Office de Tourisme des Champs d'Amour
"It was this exceptional motif – a couple slipping a letter into a mailbox — that allowed Saint- Valentin to be discovered abroad, especially in Japan. "There's even a Japanese restaurant in Saint-Valentin," the mayor added. The sublime one-star Michelin Guide Japanese restaurant Au 14 Fevrier offers fine Japanese cuisine with a French touch.
Prompted by the popularity of Peynet's artwork for love-themed stamps, the mayor came up with yet another novel idea for the village —  a unique first-day cover stamp to be issued by the postal service for St. Valentine's Day.
The mayor's passionate enthusiasm and determination for his village is heart-warming.
"I'd like Saint-Valentin to be known as a village of love, not only around February 14 but throughout the year."