Blessed Stanley Rother to be entombed in new Oklahoma City site.
Stanley Rother was a farmer from Okarche, Oklahoma, who became a priest and served as a missionary in Guatemala. In 1981, Fr. Rother was murdered in his rectory during a violent civil war in the Central American country. In 2016, Pope Francis declared him a martyr for the faith – the first recognized Catholic martyr from the United States. He was beatified in 2017 in Oklahoma City.
On Friday, a $50 million shrine and pilgrim center will be dedicated to the memory of Blessed Stanley.
Avery Holt, Archdiocese of Oklahoma City
The site eventually will include a 2,000-seat church, a chapel where Blessed Stanley will be entombed, a museum and pilgrim center, an education building, an event space and several areas designated for shrines and devotion. Construction is still ongoing, and the site will be developed over time.
"This amazing church will serve as a beacon for anyone who passes by or visits or worships here," said Leif Arvidson, executive director of the shrine. "In this church, we endeavor to show Christ, to exalt Christ, and to manifest Christ to his people."
Along with the Spanish colonial-style church – which will be the largest Catholic church in Oklahoma – additional elements at the shrine site will be a "Tepeyac Hill," reminiscent of the site in Mexico City where Our Lady of Guadalupe appeared to St. Juan Diego in 1531. 
The church will host many large diocesan events and will help accommodate the growing Hispanic population whose parishes are significantly overcrowded.
Construction delays
The dedication of the shrine church, on February 17 at 11 a.m., originally was scheduled for November 4, 2022, but was postponed due to construction delays. Now, enough construction has been completed to allow people to safely gather at the site. 
Archbishop Paul Coakley of Oklahoma City, clergy, religious and faithful from across the Archdiocese of Oklahoma City gathered on February 12 for Vespers and an all-night vigil with the remains of Blessed Stanley at the Cathedral of Our Lady of Perpetual Help in Oklahoma City.
Avery Holt, Archdiocese of Oklah
Blessed Stanley's memory has been honored at Sacred Heart Church in Oklahoma City, and now the parish will be relocating to the new shrine. The first Masses at the shrine campus for Sacred Heart Catholic Church will be the weekend of February 18-19. The pastor, Fr. Donald J. Wolf, a cousin of Blessed Stanley, said his parishioners are excited to begin celebrating Mass in the new shrine.
"This will be a magnificent place of pilgrimage for generations of people who will come to honor Blessed Stanley and glorify God," Fr. Wolf said. 
A shepherd who didn't run
For 13 years, Fr. Rother served as a missionary for the Oklahoma diocesan mission in Santiago Atitlán, an isolated village 50 miles west of Guatemala City. 
"Once the Guatemalan civil war found its way to their village, Fr. Stanley not only remained faithful to his service to the Tz'utujil Mayan community, but he also embraced his role as a shepherd willing to stand with and suffer alongside his people," said Maria Ruiz Scaperlanda, author of The Shepherd Who Didn't Run: Fr. Stanley Rother, Martyr from Oklahoma. "Even with his name on a death list, Father Stanley emphasized (in a letter to Oklahoma Catholics published in the two diocesan newspapers Christmas 1980-81), 'the shepherd cannot run at the first sign of danger. Pray for us that we may be a sign of the love of Christ for our people.'"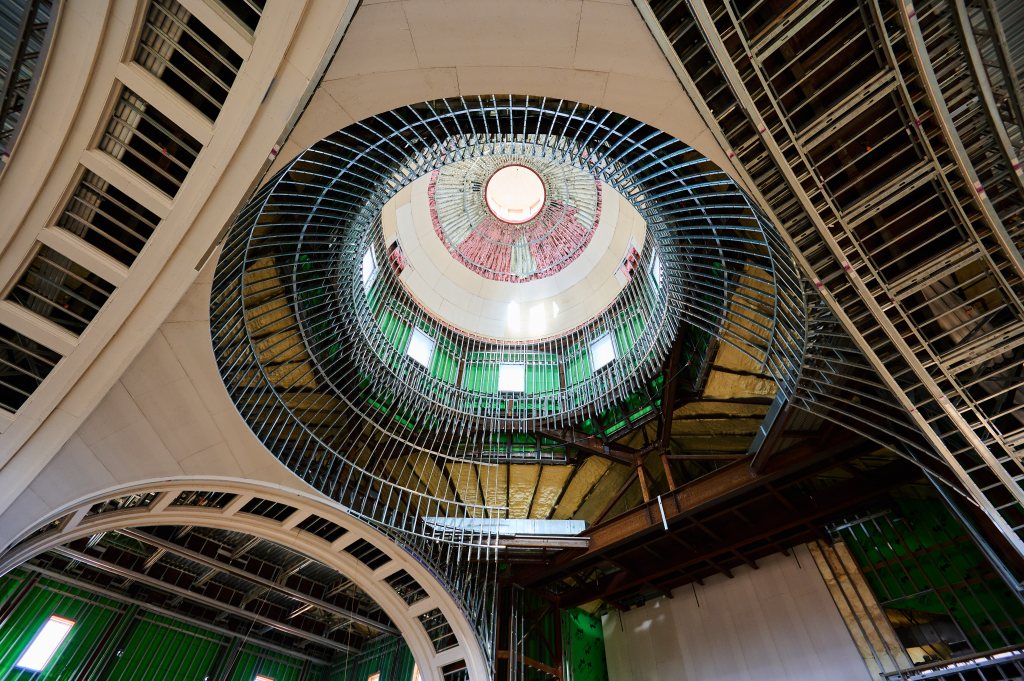 Avery Holt | Avery Holt
The Blessed Stanley Rother Pilgrim Center and Museum, a 6,000-square-foot facility, will include an orientation room with a video documentary, a gift shop, and a museum that will highlight the story of Blessed Stanley's life and mission. It will feature artifacts from every stage of his life and provide information about his martyrdom and beatification.
In addition, the shrine grounds will feature a two-story ministry building to respond to the religious education needs of the growing local Catholic community. This building will provide much-needed classroom and gathering space, administrative offices and additional space for gatherings, receptions and retreats for pilgrims visiting the shrine.
The new shrine is at 700 SE 89th St. in Oklahoma City. For more details and updates on dedication events, visit here.