From the port of Jaffa to the Jaffa Gate in Jerusalem, a 60-mile camino is the beginning of a much larger project.
Need an idea for Lenten almsgiving?
Help us spread faith on the internet. Would you consider donating just $10, so we can continue creating free, uplifting content?
Make a Lenten donation here
A few weeks ago, Israeli entrepreneurs Yael Tarasiuk and Golan Rice walked from the Jaffa Port, north of Tel Aviv, to the Jaffa Gate in the Old City of Jerusalem. This trail, known as the "Way of Silence," is the last part of an ancient pilgrimage leading to Jerusalem shared among believers from different Abrahamic faiths for centuries – the famed Way to Jerusalem.
For Tarasiuk and Rice, finishing the trail themselves is just a start. Years of research and hard work have finally yielded results. After gathering the required international institutional and governmental support, their project is coming to fruition. They intend to recover Jerusalem as a pilgrimage destination for the three biggest monotheistic religions.
Santiago de Compostela and Rome are two of the most important pilgrimage destinations for Catholic Christians, "but Jerusalem is different," Tarasiuk explains. "The city is also important for Jews and Muslims, as well as for Christians of all denominations ­­– even lapsed ones. Non-believers would also come to Jerusalem."
Golan Rice, Courtesy
An ancient Roman route
Tarasiuk and Rice had the idea to bring this Way back after walking the Camino de Santiago. Right afterwards, they wanted to walk the Via Francigena all the way to Rome, and wondered why Rome and Santiago had their own pilgrimage routes and Jerusalem did not – especially considering the Holy City precedes them both in terms of religious relevance as a universal pilgrimage destination.
Aided by historians and archaeologists, Tarasiuk and Rice reconstructed the ancient pilgrimage route leading to Jerusalem – the original route that famed pilgrims like Lady Egeria would have walked along since the 4th century. The final stage of this trail, they discovered, runs from Jaffa to Jerusalem, for 100 kilometers (62 miles), through an ancient Roman route.
Recovering this part of the ancient Way to Jerusalem is but the first part of the project: "Just as it happens with Santiago de Compostela, one reaches Jerusalem through many different roads. But they all converge in Jaffa. They all share this final stretch."
"Walking up" to Jerusalem: An ecumenical experience.
"One thing we realized," Tarasiuk and Rice explain, "is that the word pilgrimage in Hebrew has a very specific meaning: to walk up." Unlike Rome and Santiago, Jerusalem sits on top of a mountain. Pilgrimaging to Jerusalem, thus, implies going up, as if suggesting an elevation of the spirit as well: "It is not just a walk. The Way of Jerusalem has a very clear goal: We walk towards something meaningful. People make an inner pilgrimage while creating meaningful bonds with those they share the walk with," Rice explains.  
Rice and Tarasiuk learned that a young Spaniard pilgrim, Carlota Valenzuela, was walking all the way from Santiago to Jerusalem. They reached out to her and walked the final part of the Way together in Israel. "We are Jews. She is a Christian. And we all realized, quite clearly, that the Way to Jerusalem is a camino that believers in different faiths can do together. Once at the Jaffa Gate, some will go to the Western Wall, others to the Holy Sepulchre, and others to the Dome of the Rock. Everyone has somewhere to go in Jerusalem. The city has the power to connect people."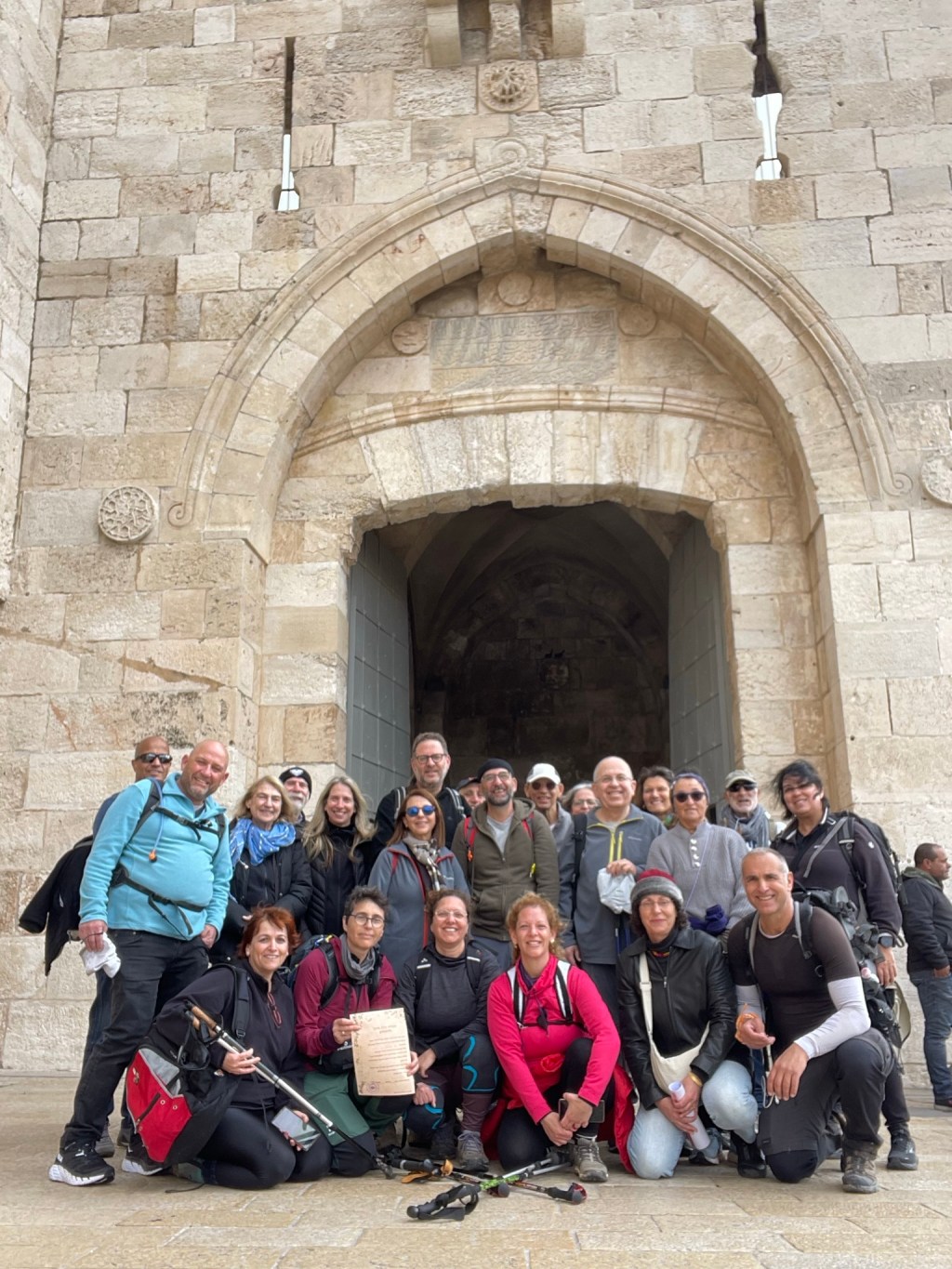 Golan Rice, Courtesy
There is an expression in Hebrew, Derech Tzlechah, that literally means "the good way." But there is a deeper meaning to it. It also means "I respect your way," "good luck on your way." "It refers to a personal-yet-shared experience," Rice and Tarasiuk explain. "It means one acknowledges and recognizes each other's personal experiences as unique. It is a movement that goes from respect to brotherhood."