When we are hungry, we stretch out toward something.
When Ash Wednesday and the Lenten Season approach, I feel a descending dread; I anticipate the penances to come: fasting. And I'm sure I'm not alone. Years ago, I heard a notable scholar give a talk on fasting, and he shared that it had taken him several years before he could fast without being in a bad mood. That's consoling (yet also discouraging; several years?). Who could ever find it attractive to deny something good? If fasting becomes purely about denial and resistance for the sake of itself, then even if we choose it, we'll be stunted from maturing into that stature of the fullness of Christ (Eph 4:13). 
But what if fasting were not a no, but rather a yes—a yesto love?
We kick off the Lenten season with Christ's fasting in the wilderness for good reason. The temptations to turn stone into bread, be carried by angels, and worship the Devil were all deeper strikes at the heart of His identity as a Beloved Son. If you are the Son of God, why don't you provide for yourself? Show off your power? Why don't you just take what you want?
In the garden, Adam and Eve chose to grasp for what they wanted rather than to receive all as gift from the Father. In some way, all temptations we experience strike at this primordial root: Is God a good Father, and will He really provide for me?
 The New Adam's response
We know how the New Adam responds: by affirming the Father's love with unwavering confidence. In claiming broken humanity, even entering our temptations, He created a new way for us to wade in the wilderness of our own hearts, where we can claim His own perfect yes to the Father and dispose ourselves to receive His love. His victory is ours.
"See yourself as tempted in Him, and see yourself as victorious in Him. He could have kept the devil from himself, but if he were not tempted, he could not teach you how to triumph over temptation," says St. Augustine (Commentary on Psalm 60). 
We fast to heal our broken tendency to cling to earthly loves, when we were made for an eternal and perfect love. In this light, fasting becomes an act of faith, and an outward expression of trust. In choosing not to eat certain foods or withhold from social media, we fast, not to deny what is good, but to choose that which is a greater good: making space for the Father to love us, and speak to us. This is why fasting and prayer complement each other—in fasting, we let the Lord make us into a capacity that He fills through prayer.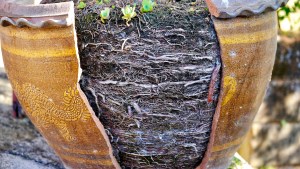 And, don't be afraid of the hunger (spiritually speaking, that is). Our temptations reveal to us what we are attached to that keeps us from Him, and the superficial hungers for certain foods, relationships, or media reveal the deeper hungers of the human heart that only God alone can quench. Speaking on fasting, St. Augustine notes:
"When men are hungry, they stretch out toward something. While they are stretching, they are enlarged. While they are enlarged, they become capacious, and when they have become capacious enough, they will be filled in due time." 
Because fasting draws our body to obey what we've chosen in our hearts, we are drawn into a deeper integration in our own humanity, living in the victory of redemption where Christ establishes harmony between our bodies and souls. We break the bondage of our own self love to make room for greater loves.
Unity in the mystical body
Even more wondrous is how fasting can likewise bring greater harmony in the mystical body of Christ, fostering unity.
Several years ago, we hosted a group of college students for a Spring Break in Manhattan, where we enlisted their help to cook and clean for the women we serve in our missions. In the evenings during dinner, we had what can be considered the quintessential conversations for any Christian spring break trip: highs, lows, and God Moments. 
One woman spoke about how moved she was by the community we've had, and vulnerably shared about her struggles with drinking. In response, one of her friends shared from across the table, "When you're struggling, text me—I'd fast for you!" Cut to the heart, the woman responded, "You'd … do that for me?" And we could see on her face the weight taken off her shoulders when she saw that someone was willing to carry her spiritual burden with her through fasting.
"When you're struggling, text me—I'd fast for you!" Cut to the heart, the woman responded, "You'd … do that for me?"
Fasting, without charity, is pointless. "Freedom exists for the sake of love," says John Paul II. Our ability to choose what is good and even to sacrifice for the sake of it is meant to form us in loving. This is why fasting and prayer join together with almsgiving during Lent. They are not three separate projects, but a three-fold yes to love. In creating a capacity for the Father to fill, we then generously share the goodness He has given us through almsgiving. 
Our fasting can be an outward expression of love if we use our bodies to express the deeper spiritual reality of our hearts towards the other: I love you more than myself.
Ask the Lord, who needs my fasting? We can use Lent as a springboard to form our disposition to more readily love others through our gift of self, a disposition to continue growing all year long. And as we fast in a spirit of faith, we allow the Spirit to more easily form us to have the Beloved Son's perfect yes of love to the Father.