Active listening, also called empathetic listening, shows respect and warm trust towards others.
It isn't news to anyone that one of the main causes of tension in a couple, in a family, or in a company is a lack of communication. The consequence? More or less serious conflicts and misunderstandings. In order to avoid them, one of the effective means is active listening, also called empathetic listening. It's an approach that is characterized by showing respect and warm trust towards our interlocutors, so that they break down their defenses and express themselves freely.
For Carl Rogers, an American psychologist of the late 20th century who developed this technique, the emotional content of a situation is more important than the intellectual content. This means that we must listen to others with our "heart" and not just with our "reason." Whatever technique we use, he says, is useless if we as listeners do not have an attitude of authenticity and understanding, without seeking to interpret or judge.
Rephrasing, an instrument of active listening, allows the person who has been speaking to hear what they said being echoed, which they can reaffirm ("Yes, that's exactly what I meant. You understood me correctly"), and thus allows the listener to confirm the accuracy of what he has heard ("So, I did hear what you said").
Rephrasing reflects the thoughts of the person being listened to. It's a way for the listener to get into the other person's experience, their feelings. "It's a reiteration of their words to refocus on the essence of what was said, and to pick up the thread of the discussion, because it often happens that the person being listened to gets lost in a lot of details because of their emotions," explains Fr. Joël Pralong, an expert on the topic, to Aleteia. 
When rephrasing, it's very important to find the right tone, one that really reaches the listener and thus redirects them back to themself. "The tone plays an essential role in avoiding the reformulation being perceived as annoyance or irritation, as if you were saying, 'Well, let's not get lost in the details. Let's get back to the point, because we're getting lost,'" the author continues.
On the contrary, the listener should rephrase the sentence in an affirming way: "Thank you for all these details that help me better understand what you have experienced, which now allows me to better identify the problem."
Empathy, the essence of active listening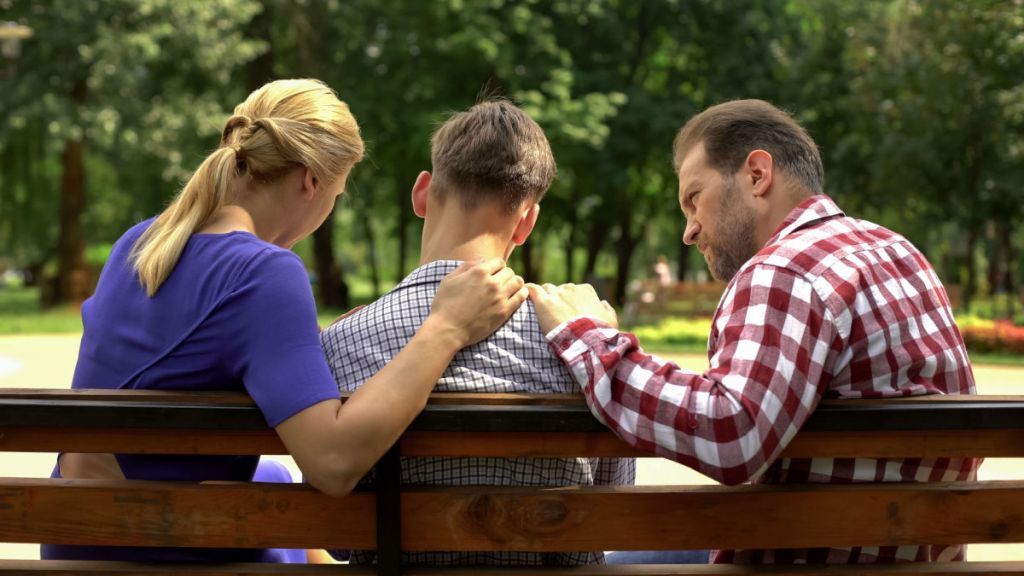 Motortion Films | Shutterstock
This is how listeners can reach the person they're listening to, and feel their inner world as if it were their own, without ever forgetting that it is not their own. For it's not a question of understanding the other person's inner world in order to take their place or to guide them, nor for any kind of fusion or identification. As Carl Rogers explains, it is about being "almost the other, without being the other and without ceasing to be oneself." Rogers insists a lot on empathy which is the essence of active listening. It makes the person being listened to feel important to the listener. "When a person feels valued by the other person, they can value and listen to themself, and therefore know themself better," says Fr. Joël Pralong.
If we take as an example a conversation between a couple, when one of the spouses expresses his or her feelings by saying, "I can't take it anymore," instead of answering, "I'm very tired, too," it's better to rephrase what has just been said by using the same words: "I understand that you are tired." This makes it possible to become aware of what the other person is feeling and to ask questions.
Dialogue is then possible. Beware also of small phrases that are actually a kind of SOS: "With you, it's always the same thing." It's then necessary to ask for clarification, by asking the question: "What do you mean exactly?" Or, "How long have you been feeling this way?" This is an effective way to move from a duel of SOS phrases to active listening, the key to avoiding potential conflict.
Pitfalls to avoid
To succeed in the art of listening through rephrasing, it's important to know the pitfalls to avoid when speaking:
1. Trying to give a quick answer and taking yourself as an example: "Yes, that's what you should do and without hesitation. If I were in your place, I would do it."
2. Relativizing the problem: "In the end, it's not that bad, you'll get through it, but yes!"
3. Asking questions not to understand better, but to push the conversation in a certain direction: "But finally, why didn't you react at that moment? It was time to defend yourself!"
4. Moralizing, which is already making a judgment based on rules or opinions: "There, you gave the wrong answer," "That's not appropriate at all!"
5. Reacting according to our own interpretation of the other person's words, and thus not addressing the real situation: "Yes, yes, I understood correctly, and I don't need any further explanation. I can see where it went off the rails!"
6. Abusing one's position of authority: "Certainly, that's what's expected of you. Besides, I have an assignment for you, which simply cannot wait!"
7. Giving answers that may confuse the person being listened to and subject them to a point of view that deprives them of their responsibilities or does not respect their conscience: "Oh well, since you say so, I'll do it that way."