Many of those who go to the parish for help aren't parishioners, but they have found God's peace and consolation there.
A short time ago the world marked the one-year anniversary of the Russian invasion of Ukraine. At dawn on February 24, 2022, the Russian forces began the attack by land, sea, and air. The bombardments destroyed entire buildings and, above all, thousands of lives. Families have been torn apart.
Help through the parish
In the midst of such pain and destruction, any help is needed and appreciated, big or small. This is where priests like Fr. Pedro Zafra come into play.
Fr. Zafra is from Córdoba, Spain, and Aleteia spoke to him for the first time 10 months ago, in April 2022. At the time, when asked about his decision to stay in the war-torn country, he said, "I'm not a hero or anything. God gives me the grace and strength to continue each day. I pray constantly for the grace of loving the enemy, because that's necessary too."
To be able to talk to him again and have a conversation has not been easy. The internet connection is unstable and the situation in Kyiv is now very tense. But bearing witness to what is going on is part of his ministry.
He has been in Kyiv for more than 10 years, where he went to study as a seminarian at the seminary of the Neocatechumenal Way in Kyiv. The war has caught him there, serving others and carrying out his mission of proclaiming Jesus Christ.
"Right from the beginning we opened the parish to the parishioners and to all those who needed help. We distributed humanitarian aid that came to us from different countries," he says.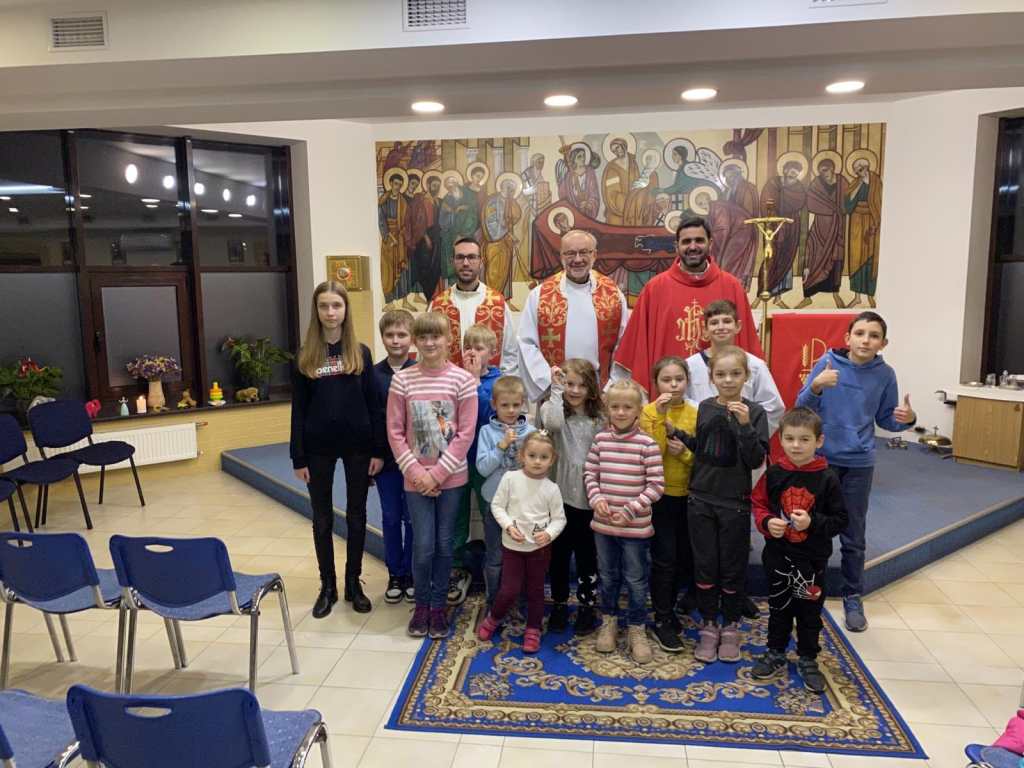 Gentileza Pedro Zafra.
Many of those who go to the parish for help aren't parishioners. "All those nearby who couldn't escape or who've decided to stay in the country have come to us."
Fear didn't stop people from coming
Even during the first chaotic days of the conflict they continued to celebrate their Masses and offer the sacraments to all those who requested them. They did so in a bunker under the building. They went there when the sirens sounded to protect themselves from the bombing. Fear didn't stop people from coming, though their lives were in danger.
The priests and parish team comforted all those who came, and offered them not only material but also spiritual help. "We continue to carry out our mission here, which is to evangelize. God sees the suffering of the Ukrainian people. He is not a stranger to them," Fr. Zafra explains.
In the midst of the pain, people draw near to the Church, look to heaven and seek comfort. It becomes almost indispensable. "Throughout this year we've seen how people who were not from the Church, who were not believers, have approached the Church. They came looking for material help, which we gave them, but then they've been staying and they've found comfort."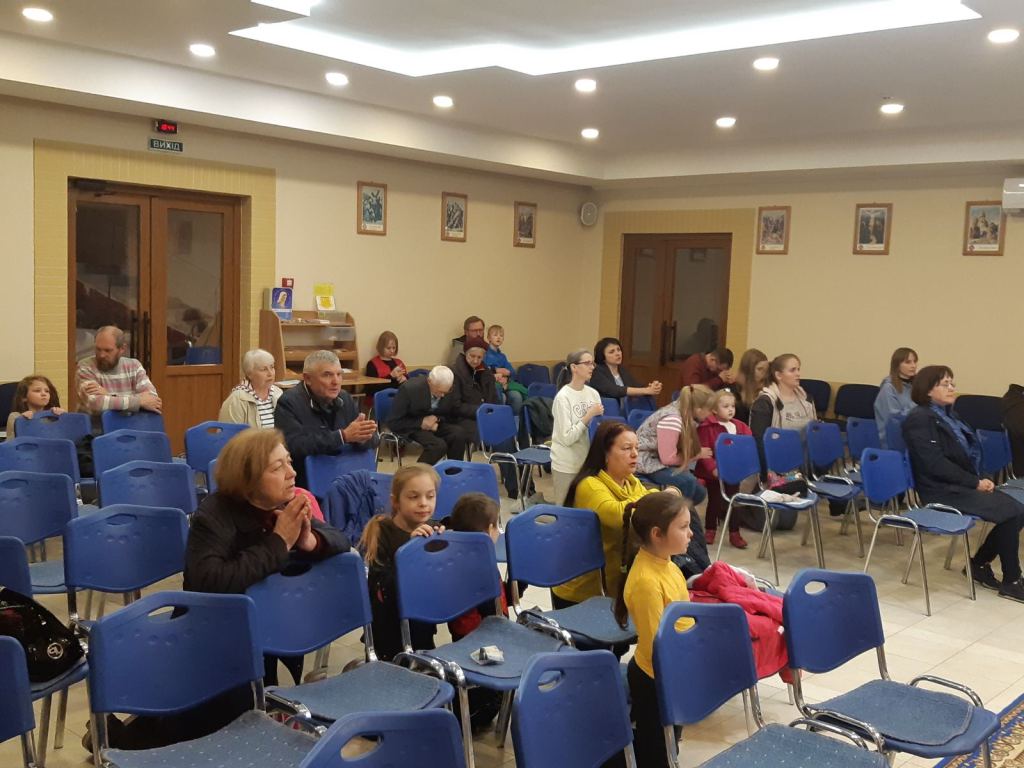 Gentileza Pedro Zafra.
"Many of them now attend Mass and turn to God. They receive the sacraments. They see how he is present and hasn't left them in the midst of this situation."
One year later
Day-to-day life in the country is very hard. Attacks continue and the fighting between Russians and Ukrainians is a daily reality. Russia continues its offensive and Ukraine refuses to surrender. It has stood up to Vladimir Putin's army for more than a year now in a conflict which, according to the UN, has left more than 8,000 civilians dead and 300,000 Russian and Ukrainian soldiers wounded or killed.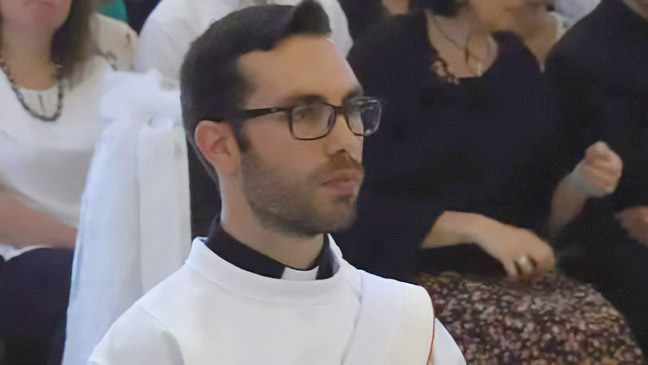 Courtesy of Father Pedro Zafra
The exodus of Ukrainian refugees is the largest in Europe since World War II. There are six million internally displaced persons in the country and more than eight million refugees abroad, mostly in Poland and Germany.
"After these months of war people can see that God has not abandoned them. God is present in our midst and we see it. We thank God every day for the gift of life."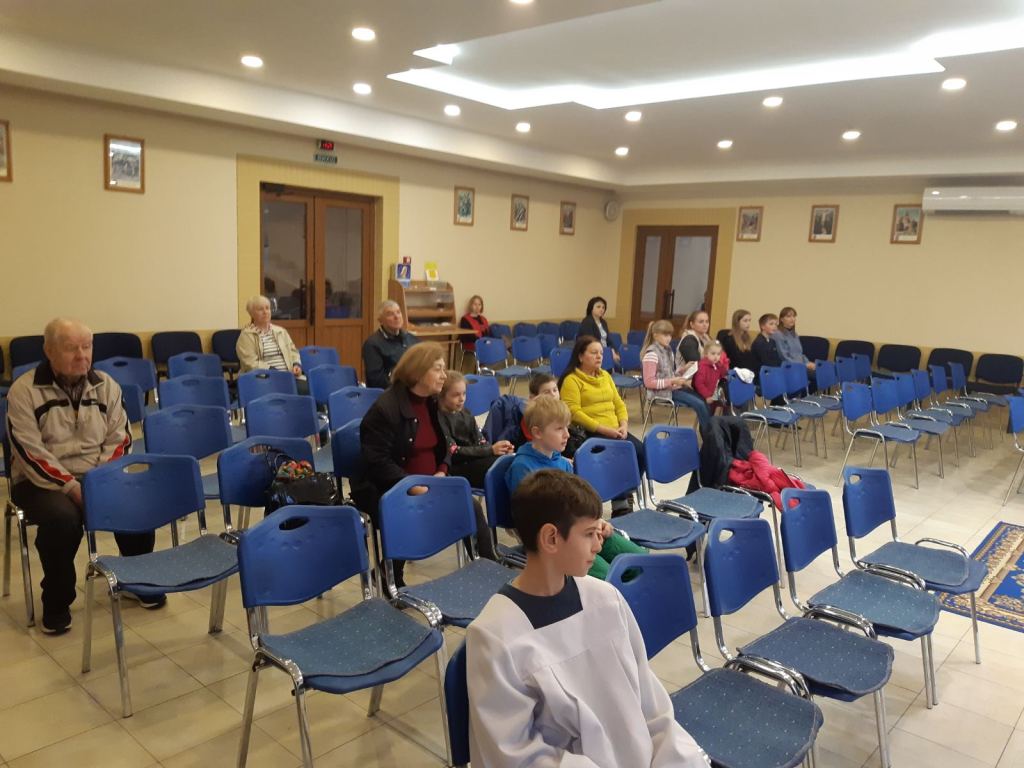 Gentileza Pedro Zafra.
Fr. Pedro Zafra and the other priests at the parish are very grateful to the people who have been sending aid or helping in one way or another, "the people who have shown solidarity with the cause and who have contributed their grain of sand."
"We continue with our mission, which is to proclaim Jesus Christ."