A diocesan association decided to support Italian inmates by teaching them how to make a popular snack. Now their "taralli" are also available in the US. ... "I must say that these are by far the most exquisite handmade taralli that I have ever tasted"
What can God do in your life with one Bible verse a day?
Subscribe to Aleteia's new service and bring Scripture into your morning:
Just one verse each day.
Click to bring God's word to your inbox
In 2017 an abandoned farmhouse surrounded by green fields dotted with olive trees in Italy's southern Puglia region suddenly came to life again. The San Vittore Association, of the local Diocese of Andria, refurbished the building to begin the project "Senza Sbarre" (Without Bars), which focuses on helping inmates and ex-inmates re-approach society through various activities as an alternative to normal detention. 
In fact, since 2018 the 25-acre property and its farmhouse has been used for the initiative "A Mano Libera" (Freehand), where inmates produce and sell "taralli," a small donut-shaped treat, which is typical in southern Italy.
As of March, these popular snacks made by the inmates are also be available in the US, thanks to a partnership between the Saint Pio Foundation and the San Vittore Association. The snacks can be ordered on the Foundation's website.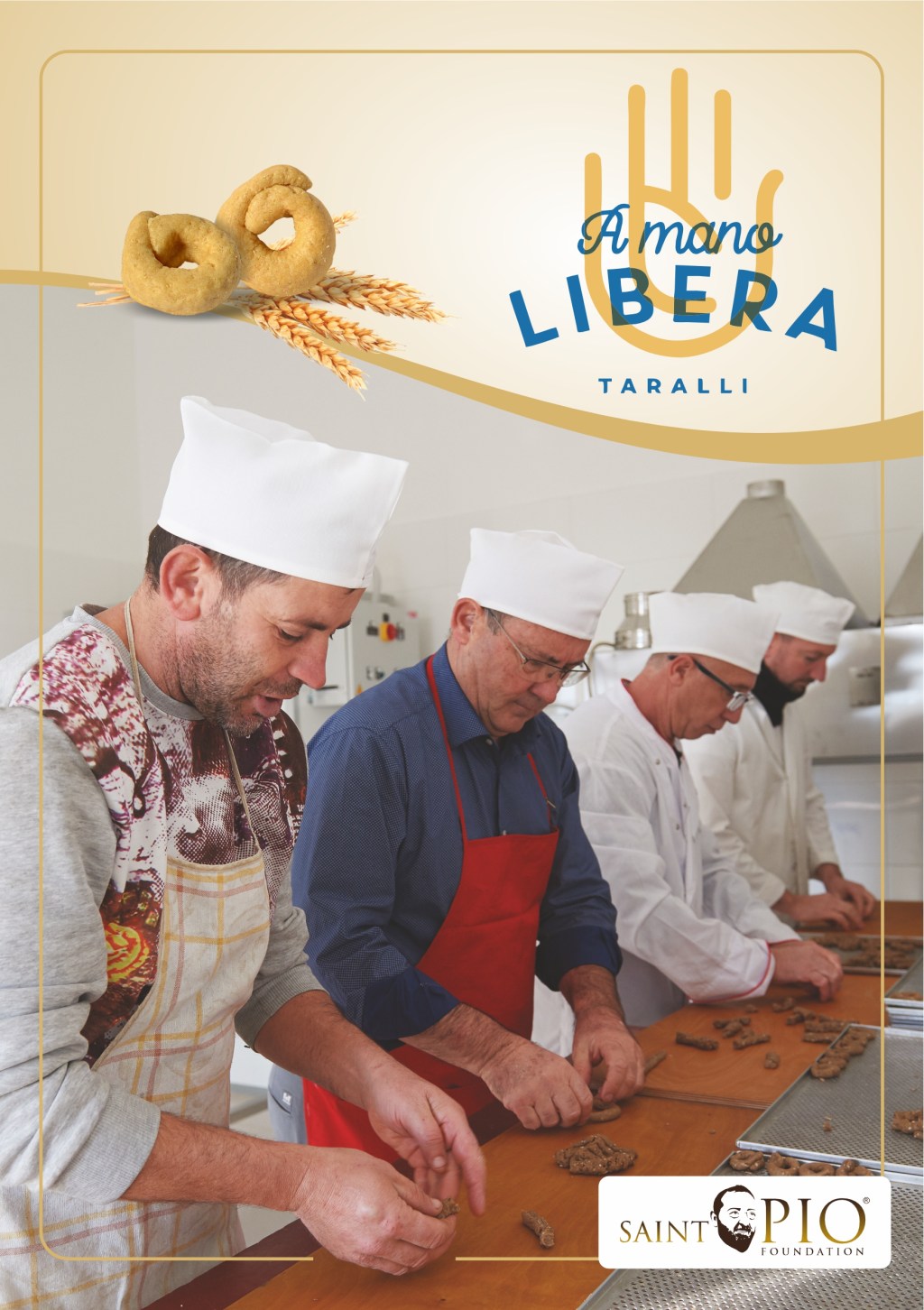 Courtesy of Saint Pio Foundation
The impact of the project
"Not a day goes by without thinking about what I did many years ago. I wouldn't do it again. I thank the 'A Mano Libera' project, which helped me," said Vincenzo Sgarra, an inmate featured in a video by the Saint Pio Foundation. According to an article in Italian daily Il Corriere della Sera, more than 40 years ago Sgarra was sentenced to life in prison for killing an Italian law enforcement officer.
"I also want to testify that for everything one does, sooner or later there is a price to be paid. I want to leave a good memory for my grandchildren and to let them know that I am a changed person – totally changed," Sgarra said in the video. 
The founder of this project to help prisoners is local priest Father Riccardo Agresti. He explains that "A Mano Libera" wants to "extend a hand to those who need it" and give "a second opportunity through a journey of faith, conversion, and redemption." 
On March 8, 2023, Father Agresti and the local Deputy Attorney General, Gannicola Sinisi, presented the initiative to Pope Francis at one of his general audiences. They gave to the Pontiff a basket filled with packages of taralli made by the inmates. 
The Holy Father has added his voice to that of his predecessors in opposing the death penalty, and he also speaks out against life sentences, saying that they are "penalties without hope" and thus useless for rehabilitation.
The Saint Pio Foundation: the Green Mile initiative
The Saint Pio Foundation called this partnership with the San Vittore Association the Green Mile initiative, as it focuses on promoting restorative activities and second chances for prisoners. The CEO and President of the Foundation, Luciano Lamonarca, said to the Italian TV Channel Rai News, that the name Green Mile was inspired by the 1999 movie featuring Tom Hanks.
In the movie green mile referred to the distance the prisoners on death row had to walk to reach the place they would be executed. Lamonarca explained that the initiative gives new meaning to this phrase as the word mile derives from a Latin expression meaning 1,000 steps and in fact the Saint Pio Foundation ordered 1,000 boxes of taralli from the San Vittore Association. Additionally, green is the color of hope and redemption. 
"The dedication of these inmates to their work is truly inspiring, and I must say that these are by far the most exquisite handmade taralli that I have ever tasted," said Lamonarca, who is originally from the Puglia region, where this initiative is based. 
The Saint Pio Foundation was created in 2014 and is based in the US. It focuses on promoting the spiritual charism of Saint Pio of Pietrelcina.