Co-authors Emily Stimpson Chapman and Dr. Scott Hahn want children to know "that she loves them and is always there for them."
What can God do in your life with one Bible verse a day?
Subscribe to Aleteia's new service and bring Scripture into your morning:
Just one verse each day.
Click to bring God's word to your inbox
I read a lot of children's books, and every now and then, I come across one that blows me away. 
One I really loved is Mary, Mother of Allby bestselling authors Scott Hahn and Emily Stimpson Chapman. 
The book explains Our Lady's role in salvation to children of all ages. It's so beautifully written, with such an important message. I tear up every time I read it to my kids. It's sure to be a new favorite in your home!
I had the chance to catch up with Chapman about the book, which is one in a series. Here's our conversation.
What initially inspired you to write 'Mary, Mother of All'?
It was actually the idea of one of our wonderful editors at Emmaus Road Publishing. 
She believed there was a huge need for more theologically rich children's books—books that were accessible for little ones, but also formative—and that turning some of Scott's best-selling books into children's books could meet that need. She and Scott then asked me if I would take the project on. 
I've worked with Scott in various capacities for 20 years now and know his work inside and out. Also, as both a writer and a mom of three young children, I have a lot of opinions on children's books. So, they figured I was the person to do it. 
I was hesitant at first; it was so different from anything I had done before. But I am so glad I said yes.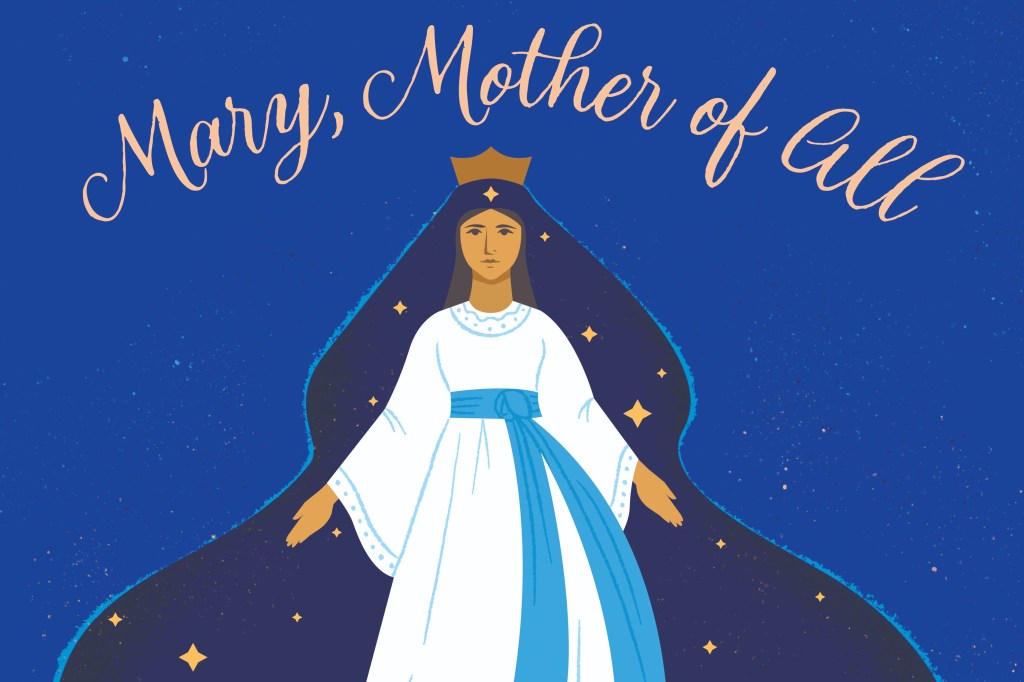 Tricia Dugat
How many more books will there be in the series? 
At least six. The next one, based on Scott's book The Lamb's Supper, will come out later this year, before Christmas. After that, there will be at least two a year for the next two years. Then, we'll reevaluate and see if we want to do more. 
What was the process of writing it like?  
It starts with me re-reading the source material, Scott's book, to make sure I remember and capture the most important points he makes and insights he has. Then, I walk around for a few weeks wondering how on earth I am going to turn that into a children's book. Finally, I sit down, write a bunch of horrible opening stanzas, and keep deleting them until a good one comes.
After that, things get easier, and I just keep plugging away as I can, sometimes during set writing times and sometimes as I'm making lunch for my kids. The discipline of working with a fixed pattern of rhyme and meter means a lot of wrestling and reworking and trying out different phrasings. 
I'm constantly reading the text aloud—to my kids, my husband, and pretty much every person who walks in the house. My children are a great bellwether for whether or not the book will hold other kids' interest, and reading it to others ensures that the book sounds right, which is so key with rhyming children's books. 
Once I'm happy, it goes off to Scott and my editor and from there it goes to Tricia Dugat, our illustrator. She draws up sketches; we give feedback. She does the color versions of the illustrations; we give more feedback. Then the final version goes off to the printers. It's a much more complicated process than adult books!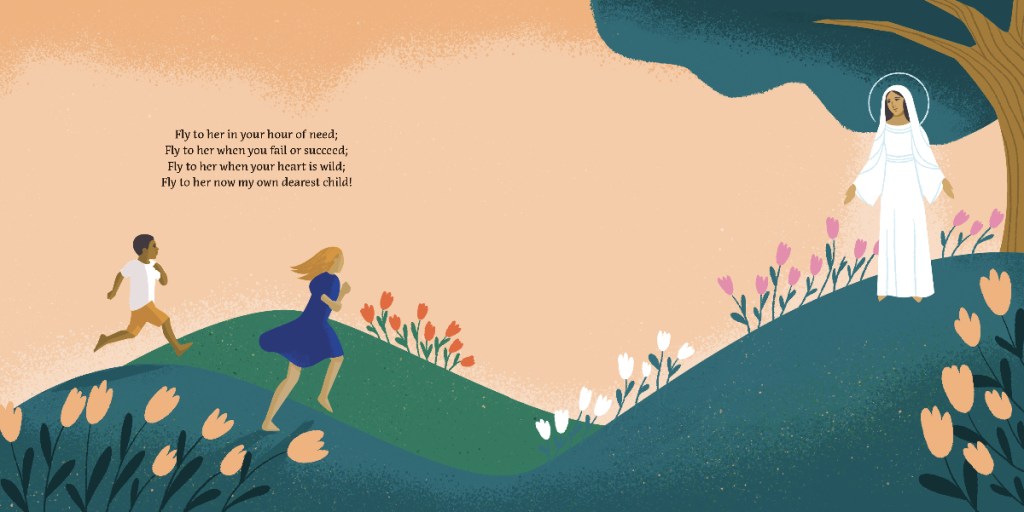 Tricia Dugat
This book has such a moving and inspiring message. What was your purpose or intention in writing it?
The Church's rich scriptural, doctrinal, and devotional treasures belong to children, too. They are their inheritance as Catholics, and we think it's important to start introducing them to their inheritance at an early age. 
Not because they will understand it in all its complexities, but because introducing them to the language and concepts early on will make it easier for them to understand them as they grow. It gives them a familiarity with the landscape of salvation history, so they can navigate it more comfortably and confidently when they really begin to explore these teachings. 
With Mary, Mother of All in particular, we want them to know their mother, know the fullness of her story and role in salvation history, and most importantly, know that she loves them and is always there for them. Doing it all in rhyme will hopefully help those lessons stick. 
What is the most important thing you would want to share about 'Mary, Mother of All' and the other books in the series?
The whole team working on the book—Scott, Tricia, the editors, me—we all take children's spiritual lives seriously. We believe children are capable of deep faith and a much greater understanding than we often give them credit for. 
The books we read to them should reflect that. They should be full of beauty and truth and fun, engaging writing. That's what draws children back to books again and again and again, helping the lessons they teach and the words they use to take hold of children's hearts and settle there. 
So, that's what we're trying to do with these books. We've set the bar very high for this project because we believe our children and yours deserve nothing less.