Clotilde Noël and her husband, parents of 6 biological children, chose to adopt three children with disabilities, and founded an association to help other parents.
What can God do in your life with one Bible verse a day?
Subscribe to Aleteia's new service and bring Scripture into your morning:
Just one verse each day.
Click to bring God's word to your inbox
When Clotilde met Nicolas Noël, she was 20 years old. Ten years later, they were married and had six children: Côme (22), Baudoin (21), Tiphaine (19), Marin (18), Philippine (15), and Brune (12). In 2013, she and her husband adopted a little girl with Down syndrome, Marie, who is now 10 years old. At the end of 2016, a second little girl, Marie-Garance, joined the family. She is now 7 years old and has multiple disabilities. And four years ago, little Frédéric-Moïse arrived in the family. The little boy, who has a cerebellar disorder, is 6 years old. 
Two years after adopting Marie, Clotilde Noël wrote the book Tombée du Nid ("Falling from the Nest"). In it, she tells her story, including the difficulties she went through as well as the great joys. From this unique journey, the Tombée du Nid association was born.
Accompanying families confronted daily with disability, the association's mission is to promote the inclusion of children with disabilities and to help parents who wish to adopt them. Clotilde Noël talks to Aleteia about her life as a mother of a large family, her spiritual life, and her life as a woman. 
Aleteia: You're the mother of nine children! How do you cope with a large family? 
Clotilde Noël: I don't know if we cope? It's really a delicate balance that you have to work at every day. A child can be fine one day and not be fine the next, and vice versa. I find this balancing act both beautiful and demanding. There is no routine. You have to be constantly on the lookout for each child. As a mother, you're there to pay attention, to listen, and to try to perceive signals which are not very visible but which are perhaps the beginnings of a malaise. Sometimes, in the silence of the house, once the children have left, I think about how the evening and morning went. One child was like this and another like that. I think about what I can do for them.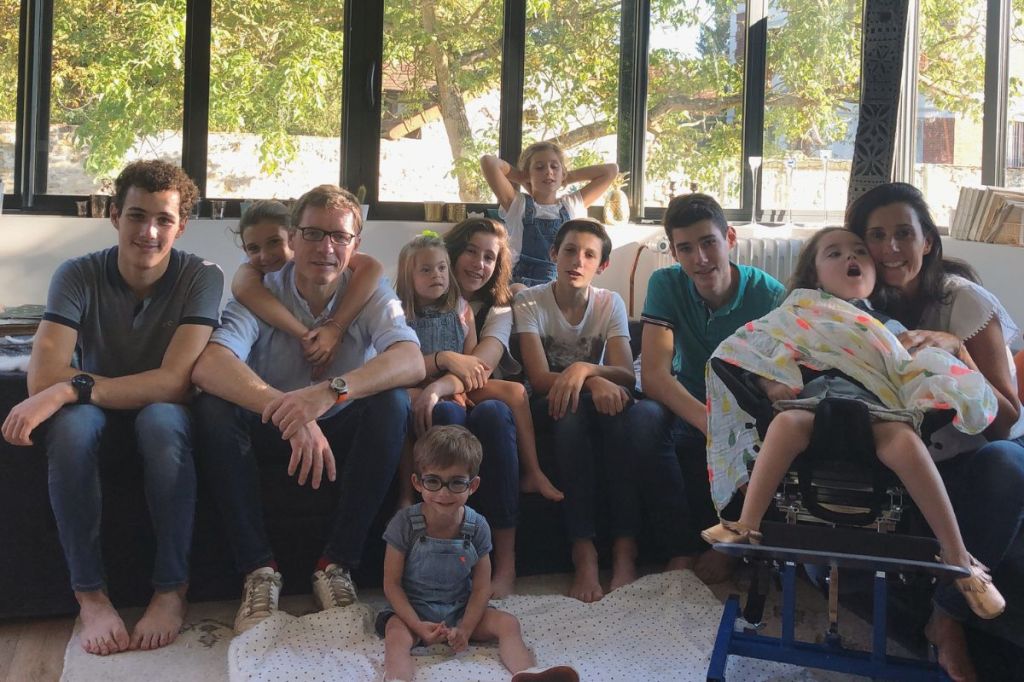 © Clotilde Noël
What do you like most about being a mother?
I love to observe my children, to see their character and their talents take shape. It's fascinating to see how different such a large group of siblings can be. Our oldest son is getting married soon. That's what I love about motherhood: seeing them take flight. It's beautiful to see them build their life project. 
With all your responsibilities within your association, how do you manage to devote time to your family? And to your husband?
My priorities are my husband and my children. When I have time left over, I devote it to the association Tombée du Nid and to the Saint Philippe Néri school (in Yvelines, France) that we founded. Of course, it takes time, but I'm not at all torn among these activities. Our last three children have little autonomy. Only nurses or trained people can take care of Marie-Garance because she requires special care and medication and is fed by gastrostomy. It's a choice I made when I adopted my children. My priority is to be a mother. We still have seven children at home and I want to be available for them. I really belong at home. And I love it!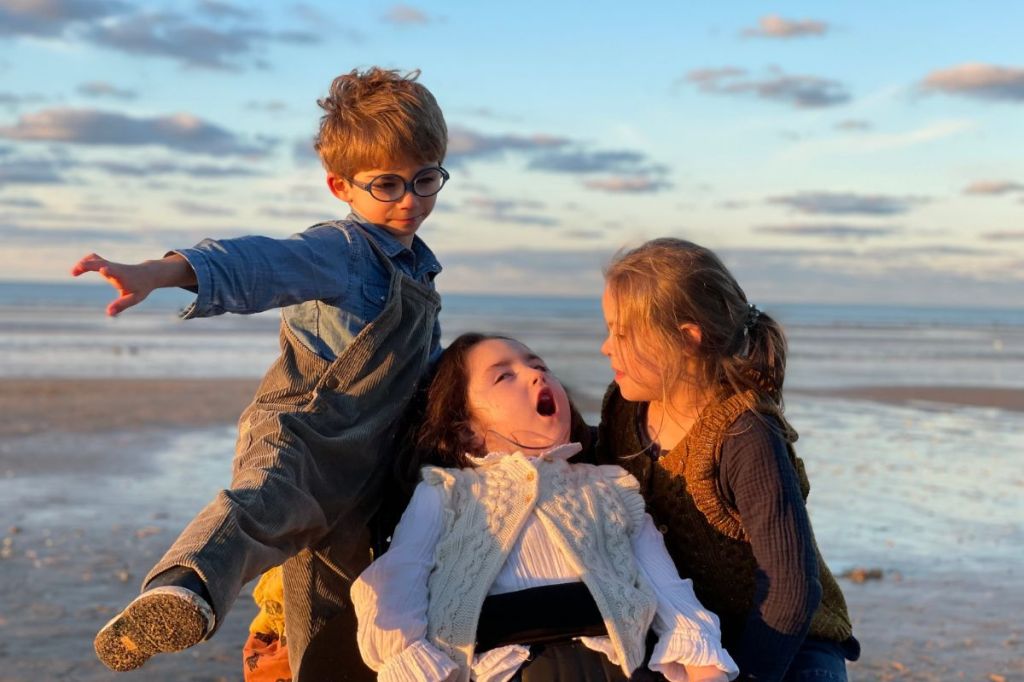 © Clotilde Noël
As for my husband, we spend a lot of time together. It's important and necessary for us. We regularly go away on weekends. As we cannot entrust Marie-Garance to a nurse for a long time, we've found some very nice places 30 minutes away from our home. We organize ourselves as best we can. When you live in a situation of very delicate balance – Marie-Garance can sometimes be hospitalized for 20 days – you learn to take better advantage of the lulls. When you have disabled children, it's important to take care of your relationship. This is why we give ourselves the means to be more united: a meal for just the two of us at home, a movie at the cinema, a walk in the forest … Moments together can be simple; what's important is that they be regular.
What's the start of an ideal day for you?
It starts with me doing exercise alone. It's really important for me to have that time. I run, do strengthening exercises, swim, and also ballet. And I like to have a leisurely breakfast before I start my day. 
A thought that helps you when you are in a bad mood?
Of course, there are times when I can't take it anymore. There are days when we slip and I'm okay with that. We aren't robots. The thought that helps me is to tell myself that it's temporary, that tomorrow it will be over. Am I less productive today? So what? I congratulate myself on the small things I've already accomplished. And it's okay if I don't do my whole to-do list. 
What saints help you in your daily life as a mother and wife?
Mother Teresa! I'm lifted up when I look at her. She helps me morally and spiritually. Our last adoption was difficult. Frédéric-Moïse suffered a lot; he vomited all night. He was 2 years old. It was hard. Each time, I asked Mother Teresa for help. It comforted me to know that she was by my side in those moments. A priest friend gave me a relic of Mother Teresa. It's a great opportunity! When Marie-Garance is sick, I put the relic on her. I also bring it with me to the hospital. I believe in the communion of saints. They're always working for us. It would be a shame not to take advantage of this!
Does your commitment to the protection and development of children with disabilities and the accompaniment of their families help you in your role as mother and wife?
Yes, of course it does! As a mother, I learn from all the mothers I meet. Seeing how each one cares for their children, with their own culture and traditions, inspires me. But the biggest breakthrough I've made is in my condition as a woman. Tombée du nid has allowed me to be in communion with all these mothers who have a special child. Our hearts as mothers are all connected. St. Hildegard of Bingen said that we are all connected. 
How do you recharge your spiritual batteries?
I nourish myself by reading. I love books by Christiane Singer, Martin Steffens, Christian Bobin, Stanislas Rougier … I don't have much time to read but whenever I have a moment, I open a book. I always have three or four books open that I read in parallel. Tombée du nid also brought me to the Bible. I've discovered and understood the Old Testament.
When we decided to go on the road to adoption, I understood the phrase: "I have called you by your name" (Is 43, 1). It was as if God were saying to me, 'I'm calling on you. You are the one I have chosen.' I have accepted that I have to trust Him and I receive incredible graces. Once you say 'yes' to God, everything happens naturally. He never abandons us. He's very patient and a wise teacher. He's always there."
Lastly, what's a quote that inspires you?
"Love exists if there is a struggle, friction, hand-to-hand combat with Creation, a struggle with the angel, a confrontation with the shadow that inhabits us," which is something that Christiane Singer wrote. It's very incarnate. I went through all that and I think that love is possible if we have crossed the shadow that inhabits us. That's what love is, it's not a long quiet river. On the contrary, it invites us to go and search in our depths.