Carlin Long puts his faith in action, running to support Cynthia's Kitchen and the memory of his best friend, Cynthia Phillipson.
What can God do in your life with one Bible verse a day?
Subscribe to Aleteia's new service and bring Scripture into your morning:
Just one verse each day.
Click to bring God's word to your inbox
Marathon runners have all sorts of motivations: fitness, mental health, love of a challenge. 
One runner, Carlin Long, is a Catholic athlete who's putting his faith in action to run the Boston Marathon for a reason that's both inspiring and deeply moving. 
The 23-year-old graduate student at Duquesne University is running to support Cynthia's Kitchen, a project of Mary's Meals. 
Cynthia's Kitchen feeds and educates children in Bomi, Liberia, in memory of Cynthia Phillipson, who was a close friend of Long.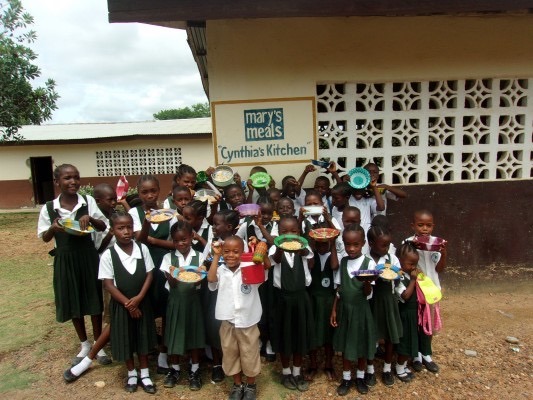 Courtesy of Mary's Meals
Long grew up in Steubenville, Ohio, where he graduated from Steubenville Catholic Central High School in 2018. It was at Catholic Central High School and BJKM Jr. High School where his love of running and Mary's Meals began.
I had the chance to catch up with him about his upcoming plans and the inspiration behind his efforts. Here's our conversation.
How did you first find out about Mary's Meals?
I first found out about Mary's Meals from my junior high principal, Mrs. Theresa Danaher. She had shown us the Child 31 film and began planning fundraisers for our school to get involved with Mary's Meals. The very first fundraiser we did was a rice bowl lunch on Ash Wednesday. For $5 we ate a bowl of rice and had a bottle of water for lunch and learned about Mary's Meals.
What inspired you to get involved with their work?
When I was in high school, my best friend Cynthia Phillipson tragically passed away, our freshman year. She loved raising money for Mary's Meals and she embodied everything the organization is about. 
She treated each person she met with dignity, respect, kindness, love and always remained strong in her faith. She inspired me to take on a larger role in Mary's Meals after her death when we were able to sponsor a kitchen in her name located in Bomi, Liberia. 
What role does your faith play in your marathon running and your work with Cynthia's Kitchen?
My faith has played a huge role in my marathon and Cynthia's Kitchen journey. After Cynthia passed away, I was incredibly angry with God and felt like abandoning my faith altogether as I could not understand why he would allow a beautiful person like Cynthia to be taken away from us. 
Working on Cynthia's Kitchen has allowed me to see the good God can bring out of so much suffering. It is through Cynthia's memory that over 350 children are fed every single day and are given an opportunity for a better future. 
God has used this situation and the memory of Cynthia to create thousands of little acts of love to make this project possible. Working on this project truly helped save my faith and grow in my understanding of God's love. 
On another note, running has provided an outlet for me to get out my anger and frustration with God in a different way. When you are on a run, you have a lot of time to think and be present in the moment. On my various long runs, I found myself talking to God in periodic moments throughout, asking him why he allows suffering in this world? 
It was once again through running I was able to discover the beauty of suffering and how God uses this to demonstrate his love for us. To run a marathon, you must suffer through hundreds of miles of training over a period of four months. It can be brutal on your body and requires a massive time commitment. 
However, all that suffering makes you stronger, more mentally focused and prepared when it comes time to run the marathon. The same applies to suffering in our life. 
It is through suffering that we become closest to God and experience his love and the love Jesus poured out for us when suffering on the cross. It is through suffering and adversity that we learn the most about ourselves, our faith, and God himself.  
What are you looking forward to as you prepare to run the Boston Marathon?
I am really looking forward to sharing the good work of Mary's Meals and the story of Cynthia and the Cynthia's Kitchen project with everyone I meet in Boston. I am also incredibly excited to have the opportunity to run this historic race. It has been a goal of mine to run this marathon for several years now and I am going to take in every mile and truly enjoy the experience. I also cannot wait to hear the stories of the thousands of other runners I will run alongside on April 17. 
What's the most important thing you would want to share about your story?
I would really like to emphasize that it is not just me who keeps the memory of Cynthia alive through The Cynthia's Kitchen Project. Everyone from my family, friends, BJKM elementary, Jr. High, Catholic Central High School, and the entire Steubenville community make this all possible. So many people perform countless little acts of love every single day to allow us to sponsor and feed 350 children at Cynthia's Kitchens every day. I am truly just a small piece of the puzzle and I feel blessed to work with such an amazing team and community to make all of this happen.